Luke Awtry
Tracy Stolese
During the decade that Tracy Stolese operated Arabesque, a gift and stationery shop in Shelburne, she heard a lot of wedding-related stories and recognized a common phenomenon: Colleagues in Vermont's wedding industry often convened with prenuptial couples at coffee shops; they had nowhere else to talk about vows, flower preferences or buffet options.
"There's a lot of people out there working at home in the wedding business, and they would tell me how they have meetings at Starbucks or are meeting a bride at Panera," Stolese says.
That sounded like an opportunity. Stolese, 51, closed Arabesque last May. In October, she launched two related ventures in a space farther north on Shelburne Road: Shelburne Gift Company and the Vermont Wedding Studio. The first is an order-only operation that maintains no retail inventory. The second is a coworking space that Stolese shares with other wedding professionals.
At her Shelburne Gift Company, Stolese sees customers by appointment for invitations and other stationery products, as well as customized gift bags, baskets and boxes. Currently, two other wedding professionals rent space in the studio for $300 per month.
"I worked in my living room and then my basement for several years, and then was meeting people in Starbucks, New Moon [Café], Speeder & Earl's [Coffee]," says Lorin Holmes. She operates the online directory vermontweddings.com and recently joined the Vermont Wedding Studio.
Holmes says she previously tried another coworking space, but it lacked the sense of community she enjoys when working with others in the wedding field. "The collaboration part of it is the part that really drew me in," she says.
Collaboration is key in the wedding world, in which the pros thrive on sharing customers. A florist might recommend a hairstylist to a bridal customer; a caterer will suggest a photographer — and each expects referrals in return. That's why Stolese has restricted her studio to matrimonial pursuits, rather than opening it up to tech entrepreneurs, graphic designers or others who typically use coworking environments.
Carmen George, a justice of the peace who officiates weddings and also offers florist and photography services, didn't know Stolese before inquiring about space in the wedding studio. Now settled in, she's already seeing the collaborative potential: After scheduling to marry a couple this summer at the Inn at Shelburne Farms, George directed them to Stolese for their invitations.
"We can also ask each other, when you run into unusual situations, 'Have you ever dealt with this?'" George says. "It's just nice to go into a space where people know what you're talking about. You don't have to explain."
Stolese's studio is bright and airy, with huge street-facing windows and wide-plank hardwood floors. Wedding-white tables, chairs and other décor dominate. The front area resembles a living room, with a sofa, stylish floral pillows, a cushy rug and a coffee table topped with fresh blooms. Here, wedding pros can go over invitation fonts and color themes with brides and grooms and, sometimes, their parents. They might get a bonus visit from Stolese's cockapoo, Shelby.
Stolese welcomes other planners, photographers, florists, officiants, hair and makeup stylists, and anyone else in the wedding business to use the space to meet their clients. For $25, they can rent access for the day.
"It's very comfortable. It's very quiet. It's just a nice place for people to relax," George says. "Meeting here is ideal."
Prior to joining the Vermont Wedding Studio, George met clients in her home, which she says wasn't always convenient. "I could be in the middle of creating flowers for a wedding, and every surface is covered with leaves," she explains.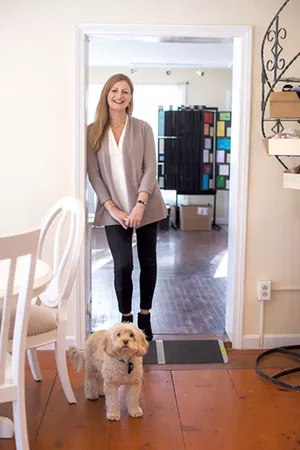 Luke Awtry
Tracy Stolese with her dog, Shelby
The need for personal interaction with clients — and for places to do it — is growing along with the state's wedding industry. The trade group Vermont Association of Wedding Professionals estimates that $175 million is spent annually on weddings in Vermont; 44 percent of that comes from out-of-state couples planning destination events.
"Lucky for us, right now, everybody wants to get married in a barn," Stolese says with a laugh. "And we have those."
As the wedding business has boomed, creative options for the big day have mushroomed, Stolese and Holmes note. They point to a company that builds wedding bonfires and works with caterers to set up s'mores bars. Another outfit does tarot card readings for guests. Others concentrate on after-event parties, often served by food trucks.
Stolese hopes the Vermont Wedding Studio gives these disparate experts a way to connect. One recent evening, she, Holmes and George hosted a networking event for wedding pros. About a dozen attended. If she were working alone, Stolese says, she might have found the effort daunting.
"It's hard for one person to throw an event, but three people with a space right here make it really easy," Holmes says. "We just wanted to do this to pull the community together."
Stolese found a similar camaraderie among Shelburne merchants after buying Arabesque from its previous owner in 2008. A traditional high-end gift store, she sold Simon Pearce glassware, pretty napkins, and all kinds of accoutrements for the well-appointed home and table.
A couple of years later, a nearby stationery store was closing and the owner asked Stolese if she wanted to take over that business. She did, selling to customers not only invitations but programs, place cards and menus for the wedding day.
Meanwhile, Stolese's business with her husband, Mike, was flourishing. The couple puts on the annual Burlington Wine & Food Festival, a huge undertaking that takes place in June at Waterfront Park. Stolese says she would take time away from her shop to produce the festival, and it was always stressful.
"I needed more flexibility, and I just didn't have it with a retail store," she says.
So, after 10 years — and with increasing competition from online outlets — Stolese decided to let go of the inventory and overhead and embrace the by-appointment model. At Shelburne Gift Company, party throwers can still page through the giant sample books of Crane, William Arthur and Vera Wang invitation samples, as well as funkier boutique options.
But Stolese has diversified beyond paper. One day while she was still running Arabesque, Stolese had coffee with Lisa Desmond, a friend who handles events for the popular venue All Souls Interfaith Gathering in Shelburne. Desmond mentioned that, time and time again, the wedding day would arrive and no one had remembered to put together the bathroom basket of amenities — Band-Aids, bobby pins, hair spray and ibuprofen — that have become standard with modern-day nuptials.
A flash went off in Stolese's head.
"I'm a retailer," she thought. "I can get things at wholesale. And I know how to make things look pretty."
Other wedding-planner friends suggested she not stop at bathrooms but offer wedding welcome bags, too, stuffed with the tasty tidbits that couples often leave at hotel rooms for out-of-town guests. Stolese also assembles personalized thank-you gifts for bridal parties.
But gifts, of course, are not just for weddings. During this past holiday season, corporate orders dominated Stolese's business. And she just completed a large order for a local real estate firm that bought gift boxes, tied with thick black velvet ribbons, to bestow on clients when they close on their properties. Stolese also sees possibilities in the convention market, creating welcome bags for conference attendees.
A table in the Vermont Wedding Studio displays several gift-package options, ranging in price from $120 to $150 apiece. Stolese will pack bags, boxes, even wooden crates. Welcome gifts for wedding guests would typically cost much less, she explains, but the display items give an idea of the goodies they could include.
One box has a Vermont theme, with a bottle of the Northern Bayou Cold Brew coffee, Big Picture Farm caramels, Douglas Sweets shortbread and maple syrup from Square Deal Farm. The Bride-to-Be box holds body butter, a silky nightgown, a scented candle and a gold makeup bag.
Stolese handles gift assembly in the back of the shop, where shelves are stacked with Arabesque stockroom leftovers such as candles, lotions and fancy matches, or packaged cookies from Klinger's Bread and O Bread Bakery and jars of Vermont honey. Between running her former retail store and producing the wine and food fest, Stolese claims she knows just about every specialty-food producer in the state.
The days of offering a generic mesh bag of Jordan almonds as a wedding favor are long gone, Holmes observes. Today's couples want something meaningful, memorable and connected to the event they took so much time to plan. Often it's maple syrup, or maybe a little bottle of bourbon — but not just any bourbon, she says. They want the exact bourbon they tasted when they took a romantic trip to Vermont, fell in love and decided to get married here.
Adds Holmes, "They want to give everyone a little taste of Vermont."