Cat Cutillo
Vermont Patriots founder and coach Iri Sunj
It's the day after a heavy rain and the mud puddles are deep, but they're no match for the stampede of young soccer players running laps around the Patch of Passion, their well-loved and aptly named field. The group of kids, ages 10 and younger, are members of the nonprofit soccer league the Vermont Patriots.
The league's founder and head coach Iri Sunj sends one player to wait for a picture-day portrait, leads the rest of the team — including his 6- and 7-year-old sons — in a stretching exercise, and pauses to catch a glimpse of his 3-year-old mingling on the sidelines with the other parents.
Carved out of the corner of Landry Park in Winooski, the Patch of Passion was created by Sunj, along with parent volunteers and the Patriots' five other coaches. They built a storage shed, purchased goals, and even hooked up night lighting with the help of a licensed-electrician parent and generators borrowed from the city.
Despite the mud, the rain and the players' masks — a coronavirus protocol — Sunj said the children model the same gumption as the grown-ups, often choosing to miss friends' birthday parties rather than skip practice.
"It was set up to be a community project ... a true nonprofit where we will volunteer as much as we can volunteer," said Sunj, who formed the club in 2018 with the goal of making soccer affordable to all children. Winooski residents pay just $20 per season; nonresidents pay $25. In return, players get a jersey, shin guards, shorts, socks, a soccer ball and structured, high-quality coaching.
If families can't afford to pay, the club covers the cost, thanks to donors including the City of Winooski and the George W. Mergens Foundation. Sunj said this model is like the European one he grew up with, where local community sponsors and organizations — not parents — funded soccer programs.
"It relied on your ethics, on your behavior, on your getting along, on listening to instructions and working hard. It didn't depend on how much my parents can pay," he said.
Born in Bosnia, Sunj and his family fled to Germany when he was 11, after the Bosnian War broke out. Sunj spent his teenage years playing soccer there before immigrating to the United States in the late 1990s, when he was 18.
He now lives in South Burlington with his wife, Ines Ogorinac, who also fled Bosnia as a child, and their three children. "I'm really happy my family decided to move to the United States," said Sunj. "It gave me opportunities that I would not have anywhere else. Same for my kids, the first-generation Americans."
Cat Cutillo
Vermont Patriots founder and coach Iri Sunj
Sunj continued playing soccer in the United States for Vermont Voltage, an elite soccer club. At age 23, he was preparing for Major League Soccer tryouts when he broke his leg.
"I'm not superstitious, but sometimes things work out or they don't," he said. Instead of pursuing soccer, Sunj earned his nursing degree in Florida.
He was working as an intensive care nurse at the University of Vermont Medical Center during the onslaught of COVID-19 but transferred to the hospital's Outpatient Infusion Center in September so he had more time to focus on opening up a Williston location of Salon Vermont, the hair salon he co-owns with Ogorinac. The couple opened the first branch in South Burlington in January 2019.
Despite his busy schedule, Sunj still volunteers a dozen hours a week coaching the Vermont Patriots. Soccer has always been much more than a sport to him, he said. It's medicine.
"We would be playing soccer in the streets [of Bosnia], and the grenades are flying and bursting. You didn't just run to the basement. [Soccer] protected my psyche quite a bit," said Sunj. When he fled to Germany, "I didn't speak a word of German," he said. "This kid sees me playing soccer and calls me into his club, so soccer started normalizing things for me and connecting me to people in the community. It was the same here in the United States."
The Vermont Patriots currently has 50 players, split between three teams, and nine adults who volunteer their time as board members and coaches. Practices are held three days per week, with games every Sunday. The club operates year-round, renting indoor space in Burlington at the Robert Miller Community and Recreation Center and the Boys & Girls Club during the winter months.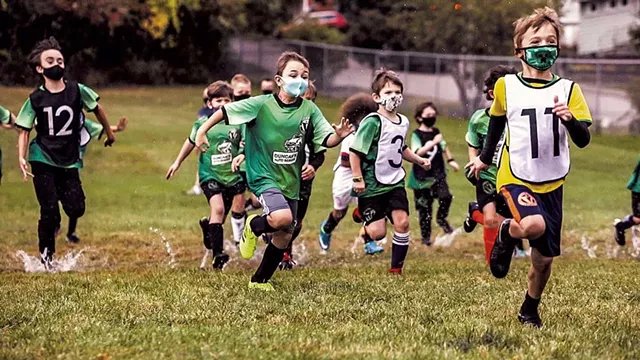 Cat Cutillo
Vermont Patriots
Sunj said that for the vast majority of his players, the Vermont Patriots is their first foray into organized sports. "Our main goal is really to develop these kids into productive citizens that do not abuse substances. We are integrating a lot of the Icelandic model for substance-abuse prevention, [which] basically says to replace your unhealthy high with a healthy high," said Sunj. "You build relationships, self-esteem, skills and stay healthy. If kids are not worth investing in, then I don't know who is."
Winooski resident Charlotte Blend has identical twins on the team and was so taken with the club's mission that she enlisted as both a coach and a board member.
"I started to realize that Iri had this bigger vision about bringing soccer to Winooski and to kids who don't have other opportunities, which aligns with the way I feel about the work that I need to do in the world. I really wanted to be involved," said Blend. "He runs a tight ship. He [is] teaching the kids the game of soccer, but also how to be a good teammate, how to listen, how to be part of a bigger community."
"He tries to make sure that everyone feels included and that everybody feels like there's a spot for them here on the team," said Alma Mujezinovic, the parent of two Vermont Patriots players.
Before ending practice with a team cheer, Sunj complimented the players' corner kick progress and reminded them to shower, eat dinner, brush their teeth and head to bed early. Then he took a more philosophical tone. "Remember we talked about relationships and moving forward in life and succeeding? You need all the friends and family to have good, trusting relationships. A lot of integrity is built on that trust and honesty. All right, one, two, three," he called.
The team responded with a cheer: "V-T-P family!"
Sunj said his own childhood is a testament to the power of resilience and luck. "We had to pick up so many times from the ground up," he said. "I know from experience that the right break at the right time can completely change your trajectory towards success."