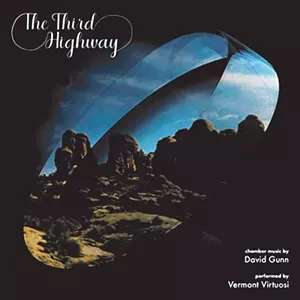 Vermont Virtuosi, The Third Highway
(Self-released, CD, digital)
David Gunn of Barre has been composing since 1969. Since he met his wife, flutist Laurel Ann Maurer, in 2009, his work has naturally paid particular attention to the flute, and with admirable results. Gunn's first piece for flute choir won the 2012 National Flute Association Flute Choir Composition Competition for best new composition.
Perhaps energized by that award, Gunn composed two new works for flute ensemble and revised four earlier ones (one without flute) between 2012 and 2016. These six chamber works comprise Gunn's new album, The Third Highway.
The excellent musicians of Maurer's ensemble, Vermont Virtuosi, perform all of them. The flutist — who is the new principal of the Vermont Philharmonic, the state's oldest community orchestra — plays concert and alto flutes on the album. Joining Maurer are pianist Claire Black, violinist Arturo Delmoni, violist Tatiana Trono, clarinetist Karen Luttik and bassoonist Julian Partridge.
Gunn's pieces forgo movements. Instead, they encapsulate condensed narratives that last 10 to 13 minutes. In this, they recall Gunn's "Postcard Parables," miniature works of fiction he wrote on the reverse sides of postcards for many years. (More than 500 are reproduced on his website, and some 300 were collected in his 2017 book Cautionary Chronicles: An Illustrated Compendium of Human Striving.)
"The Conchoid of Nicomedes," a work for flute, clarinet, bassoon and piano, opens with a tentative melody devised from the whole-tone scale. It soon strikes up a pulsing, jazzy beat that doesn't so much build toward something as maintain a sense of excitement throughout. That sets the tone for the album: Gunn appears to abhor a rhythmic vacuum.
In "Conchoid," all four instruments participate in creating the rhythm with running lines of melody. (The melodic lines are inspired by the lines and curves of a conchoid, an invention of the eponymous Greek mathematician). Soon, however, the piano takes up the driving beat, which Black plays with flair.
The exception to the rhythmic imperative may be the third track, "Les visions de Bellimar," which begins with pulsing but periodically mellows to lyrical interludes. The new work for flute, viola and piano includes some of the most sweepingly dramatic and melodically moving moments on the album.
The title track, in the penultimate position, begins with a sinuous piano melody soon joined by Delmoni's rich tones and Maurer's masterful flute. So rapidly does Gunn's trail of melodies progress here that the trio moves seamlessly from despair to regret to triumph, and a host of other emotions, almost from measure to measure. All build toward a dramatically feverish conclusion.
Gunn once described the compositions he and fellow Vermont composer Dennis Báthory-Kitsz aired on their long-running radio show, "Kalvos & Damian," as "non-pop new music." That seems an accurate way to think of The Third Highway: distinctive but not necessarily classical music that travels rapidly — by highway — through an ever-changing landscape.
The Third Highway by Vermont Virtuosi is available at CD Baby.