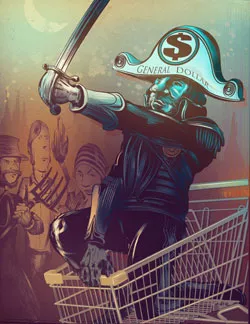 Unlike the big-box store Walmart, which has triggered titanic development battles in Vermont, small-box discount retailers such as Dollar General have proliferated throughout the state with little notice.
Until now.
Residents of Chester, the very model of a quaint Vermont village, have been fighting a local Dollar General franchise for more than a year. Some Ferrisburgh and South Hero residents are mobilizing to block construction of similar projects.
Grouped under the banner of Smart Growth Chester, Dollar General's foes in that town have forced the battle into state environmental court, where they are appealing approvals of the project by the town's development review board and the District Environmental Commission.
The Ferrisburgh store is also the subject of a court case. Jim Dumont, a Bristol-based public-interest attorney, has appealed the local zoning board's approval of the project to the Vermont Supreme Court on behalf of local residents.
Dollar General has submitted only a preliminary plan in South Hero, but opponents there have launched a preemptive strike, gathering more than 300 signatures on a petition proclaiming the store to be a menace to "the unique rural charm of our island community."
"It's out of keeping with the scale and character of what we want here," says Jocelyn Smith, a leader of the effort to block the proposed 9100-square-foot store in South Hero. Activists in Chester, which advertises itself as "the Vermont you've been hoping to find," say an identically sized Dollar General outlet there would be disturbingly out of character with the local shops that have helped make the town a magnet for second-home buyers.
Just as bumper stickers once warned that "Walmart sucks the life out of your town," Dollar General and its smaller national competitors, Dollar Tree and Family Dollar, stand accused of draining money from local economies. The Ferrisburgh franchise, for example, would hurt merchants in downtown Vergennes, says local opponent Judy Chaves. In Chester, fears are focused on the fate of Lisai's Chester Market, a family-owned grocery store that has built a loyal customer base over the past two decades.
To what extent would a Dollar General threaten a nearby food market?
Greatly, says Shawn Cunningham, a wine salesman who devotes much of his spare time to Smart Growth Chester. Dollar General sells more food than household goods, Cunningham notes, saying the discounter's shelves are stocked with soda, frozen meals, prepared meats and snack items. Dollar General's latest annual report confirms that "consumables," a category that includes paper products as well as food, account for more than 70 percent of net sales at the chain's nearly 11,000 outlets in the U.S.
Dollar stores also contribute to sprawl, charges Paul Bruhn, head of the Preservation Trust of Vermont. It's not the existence of discount stores that Bruhn finds objectionable; it's the location. "These stores are usually located outside downtowns and village centers," says the conservationist, whose group is spending $15,000 to supplement funds raised by the local opposition in Chester and Ferrisburgh. "We're totally happy with having a small-scale Walmart downtown," he says, citing the example of Rutland. But some might not consider the Walmart there to be "small-scale"; it occupies about 75,000 square feet.
Preventing sprawl was a winning argument for dollar-store foes in Royalton last year. State environmental regulators rejected Act 250 applications by both Dollar General and Family Dollar — proposed for sites two miles apart on Route 107 — as inconsistent with the town's goal of concentrating commerce downtown.
The anti-sprawl argument may be harder to make in South Hero and Ferrisburgh. The Champlain Islands' first dollar store would be built in a vacant lot on Route 2 less than a third of the mile from South Hero's main crossroads. The 10,640-square-foot Ferrisburgh store would share the intersection of Monkton Road and Route 7 with Vermont's largest ground-mounted solar array, a car dealership and a shopping center anchored by a Subway.
Dollar General spokeswoman Crystal Ghassemi says the company is a respectful neighbor, in Vermont and elsewhere. "With its nearly 75-year history grounded in the small town of Scottsville, Ky., Dollar General understands the unique needs of customers in rural areas and provides great values on products customers use and rely on every day in compact retail locations," Ghassemi wrote in an email.
Outspoken defenders of dollar stores are not numerous in Vermont. Cunningham of Smart Growth Chester says "only two or three" residents have publicly expressed support for Dollar General. Chaves similarly suggests there's scant visible support for the store in Ferrisburgh.
But the proliferation of the stores indicates that they meet widespread demand for affordable consumer goods. Dollar General's annual report defines its "core customers" as "low to lower-middle or fixed income households often underserved by other retailers." A report by an analyst for Morningstar investment advisors estimates that 40 percent of dollar store customers rely on some form of government assistance.
Indeed, Dollar General has grown considerably since the onset of the Great Recession five years ago, and now has more stores than any other discount retailer. Among chains, only McDonald's and Subway have more outlets in the U.S. Vermont is home to dozens of dollar stores, some run by national chains and others owned by local entrepreneurs.
Speaking generically, a "dollar store" is a 21st-century five-and-dime. Some portion of the merchandise is priced at one dollar, but in most such stores a lot of items sell for more than a buck. Dollar General, for example, says 25 percent of its stock carries a $1 price tag, with almost everything else selling for less than $10.
"We understand there are a number of people who want that kind of shopping experience," acknowledges preservationist Bruhn.
Smith, the South Hero activist who moved to the island in 1995, adds, "We're not making any judgments about the people who shop at dollar stores."
But dollar-store critics may face the same perception problem as those who opposed Walmart: that they are better educated and better off than those motivated by economics to shop at discount stores.
At Dollar Deals, an independent discount store on upper Main Street in Winooski, the sole customers at 3 p.m. last Saturday were a family of Nepalese immigrants. Rupe Khanal, accompanied by his wife and 6-year-old son, was browsing a display of colorful artificial flower bouquets, with the aim of buying "something to decorate" their Burlington home.
The day before, Tana Bullard was buying several packages of dining-table candles for a dollar apiece at Yankee One Dollar in the Ethan Allen Shopping Center on North Avenue in Burlington. She said she sometimes comes to the store from a nearby senior center in order to stock up on candles, which "I burn every dinnertime."
Louise Mongeon, a nurse at the Integrated Arts Academy at H.O. Wheeler in Burlington, was also shopping at Yankee One Dollar, where, she said, she occasionally buys cleaning supplies and hand sanitizers for use in schools. "The prices are better here," explained Mongeon, who cochairs the sales committee of the Vermont State School Nurses' Association.
While conceding that a lot of Vermonters shop at dollar stores, Bruhn says they're not needed "on every block." There's a Dollar General in Springfield, eight miles from Chester, while South Hero residents live a short drive from two dollar stores in Colchester and another in Milton.
Bruhn says that Dollar General and the other chain discounters appear to be following Walmart's marketing strategy: saturate an area with a particular brand to scare off potential competitors. "It's questionable whether large numbers of the same store within a small area can survive," Bruhn says. "But they seem to be OK with cannibalizing themselves."
Dollar stores do die in some Vermont markets. The Yankee One Dollar in Burlington's Ethan Allen Shopping Center on North Avenue, where Bullard and Mongeon were happily shopping on Friday, permanently shut its doors two days later. The More Than a Dollar store in Essex Junction also recently went out of business.
Keith Flike, the owner of 23 Yankee One Dollar stores in New York and Vermont, did not respond to a request for an interview. But an employee in the North Avenue store, who declined to give her name, blamed the closing on the spiraling cost of petroleum. It's raised the price of plastics that account for much of Yankee One Dollar's merchandise, the employee said, making it increasingly difficult for the store to keep items at the dollar-or-less level.
Business at the store has tapered off since the winter holiday season, when it was "super-busy," said assistant manager Josh Villanave.
What are the most popular items at Yankee One Dollar?
"Pregnancy testing kits," said cashier Ming Lei. "That and Mylar balloons."