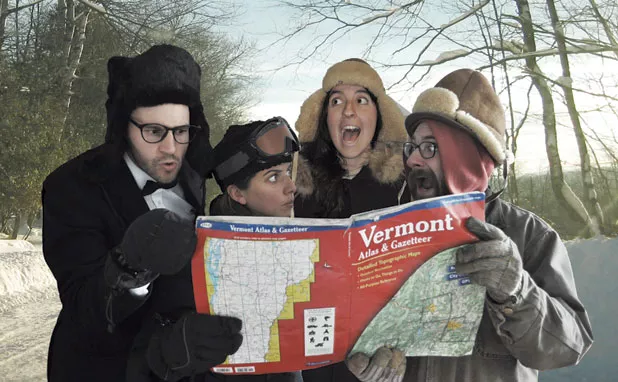 Based in Hardwick, Vermont Vaudeville makes the most of its rural residence. On its website, a stylized logo is adorned with a cow, a classic cupola'd town hall, an NEK sign, a snowflake, a thermometer indicating a very low temp, and a jagged mountain skyline. But the troupe's devotion to place doesn't end with art. Justin Lander and Rose Friedman — partners in life as well as onstage, and alums of the Bread and Puppet Theater — sit on the board of the Hardwick Town House, where they have performed for the past five years and have contributed to venue upgrades. "We now have lights and a soundboard," Lander notes with satisfaction.
This year, with the help of a grant from the Vermont Arts Council, Vermont Vaudeville is leaving home. The company — whose other core members are Circus Smirkus-trained Brent and Maya McCoy — will conduct its funny business on nine stages around the state, beginning this Saturday at Goddard College and winding up at Burlington's FlynnSpace on March 1. Lander describes their show as "a modern update of vaudeville humor, music, slapstick comedy, circus skills and juggling." And, he says, "We're always trying to get audience participation."
Along the way, Vermont Vaudeville will feature some guest performers. One of them is Woody Keppel, a vaudeville veteran who performs in Waldo & Woodhead, the Hokum Brothers and other acts, and organizes Burlington City Arts' annual Festival of Fools. Keppel will join in at the FlynnSpace.
"It's a cool idea," he says of VV's mobile funny fest. "Though it's not a new one — in the '80s and '90s, we used to tour variety shows in the same way." Keppel's happy to see the tradition continue, if not surprised, he says. The popularity of vaudeville, which began in the 1930s, has scarcely abated, particularly in Europe; if anything, it's resurged in the U.S. in recent years.
Why does this mostly wholesome entertainment have such staying power? Keppel suggests it's because the demographic is so large. "Parents and kids can do it together, laugh together." He recalls a friend telling him that even his often-sulky teenagers enjoyed the show. "Parents' greatest joy is to see their kids happy," Keppel says.
Speaking of parents and kids, Keppel notes that Lander and Friedman — "not only comic performers but wonderful musicians" — have "an adorable 3-year-old" who travels with them to shows. "She's this little Shirley Temple waiting to happen," Keppel says.
Regardless of age or other variables, he adds, "Vermont audiences are really appreciative." That's not news to Vermont Vaudeville. In Hardwick, the group's first show attracted 120 people. "Last year," Lander says, "it was 800."
Time to spread the fun around.
Vermont Vaudeville, Saturday, January 25, Haybarn Theatre at Goddard College; Friday, January 31, Big Picture Theater in Waitsfield; Saturday, February 1, Barton Memorial Building; Friday, February 7, 7:30 p.m., Town Hall Theater in Middlebury; Saturday, February 8, Oldcastle Theatre in Bennington; Saturday, February 15, Tupelo Music Hall in White River Junction; Friday, February 21, Bellows Falls Middle School Auditorium; Saturday, February 22, New England Youth Theatre in Brattleboro; and Saturday, March 1, FlynnSpace in Burlington. All shows 7 p.m. unless otherwise noted. Prices vary. Tickets at vermontvaudeville.com.
The original print version of this article was headlined "Road Riot"