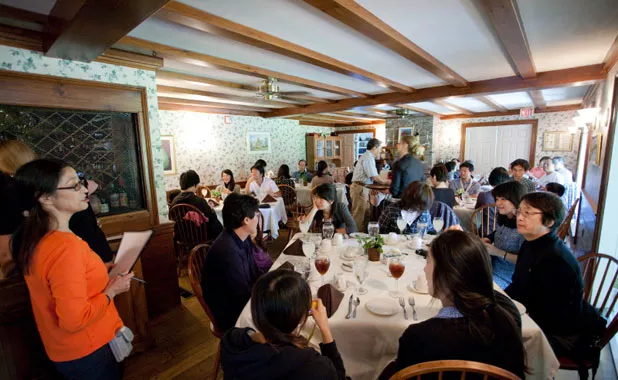 Japanese tourists in Quechee
When Japanese student Takahiro Mise came to Vermont this fall to see the work of Douglas Brooks, a Vergennes builder of traditional Japanese wooden boats, he became evidence of a trend.
Vermont's tourism promoters have their sights set on Asia — and especially on Japanese tourists like Mise. Long before Tropical Storm Irene complicated the business of selling Vermont, state officials, resorts and tour agencies had been striving to increase the number of visitors to the state by tapping huge new markets overseas.
A growing percentage of those who come here to ski, hike, paddle, leaf-peep and shop are Asian. Tourism promoters aim to keep the Japanese interested, while attracting Malaysians, Koreans and increasingly affluent Indians. Meanwhile, the biggest of bonanzas beckons in the form of the half-billion Chinese who have achieved middle-class status and are beginning to visit distant destinations, such as New England. But Vermont has yet to attract them in significant numbers.
Tourist dollars are vital to the state's economy. Visitors to Vermont spent a total of $1.4 billion in 2009, adding an estimated $200 million in tax revenues to state government coffers, according to a study completed in March of this year by the Vermont Department of Tourism & Marketing and the Williston-based Economic & Policy Resources consulting firm. Tourist spending supports more than 10 percent of all Vermont jobs — a total of 33,500 — the study noted.
Federal statistics show that Japan is the fourth-leading source of international tourism to the United States, behind Canada, Mexico and the United Kingdom, respectively. Vermont lacks data on where its own foreign visitors come from, but Shoko Hirao, a Boston-based Japanese travel consultant to the Vermont Tourism Department, estimates that about 6000 Japanese come to the state annually — just five years ago that figure may have been only 2000, she suggests.
Mise says he was already familiar with the state before his visit; two fellow Japanese students had taken graduate classes at UVM. He adds that "almost all people in Japan know the name of Vermont" because of a curry sauce sold by the House Foods Corp. under the brand name Vermont Curry. "I do not know exactly why they named it that," he says, noting that the sauce contains honey, apple and cheddar cheese.
Mise was dazzled by the leaves' changing colors — the spectacle that brings busloads of visitors to Vermont in October. What else do the Japanese seek out? Shelburne Farms, Ben & Jerry's, the Trapp Family Lodge, the Manchester outlet stores and the Tasha Tudor Museum.
"Japanese really love The Sound of Music," says Trapp Family Lodge marketing chief Paul Richey, who has made two promotional visits to Japan in the past five years. "They come here because of the Trapps' heritage."
They're also apparently big fans of children's-book illustrator Tasha Tudor, who lived in West Brattleboro for 35 years before her death in 2008 at age 92. Tudor never visited Japan, the museum's curator of collections, Leigh Branson, notes. "We really don't know specifically what it is" that attracts scores of Japanese, Branson says. It could be the teahouse and gardens, she suggests. Or it could be that Tudor's drawings have appeared in more books published in Japan than in the United States.
Hirao, Vermont's Japan-focused marketing consultant, expects even more Japanese tourists next year with the planned start of nonstop flights between Tokyo and Boston. In the past, Asian tourists tended to visit cities, but now they're getting curious about rural New England, notes Gwendy Lauritzen, vice president of Notch Above Tours. Her Colchester agency has hired a Japanese-speaking guide to accommodate the anticipated influx.
Vermont's natural beauty leaves some first-time Japanese visitors agape. "Not many of us realize what is in Vermont," says Hank Nakatsuka, president of Boston International Travel. "I need to show more Japanese how beautiful is your state."
Still, this year "has been a very difficult time" for Japanese tourism to the U.S., observes Michi Yo Suzuki, Boston branch manager for Tour Operation Services. She says her company has brought only about 100 Japanese to Vermont this year — about half as many as usual. Some people canceled trips due to concerns about Irene-related damage; others postponed because of the devastation wrought at home by the earthquake and tsunami in March. Even though the dual calamites affected a relatively small part of Japan, "they put a cloud over the notion of having fun," Lauritzen says.
Japanese visitors to Vermont, however, don't just come from Japan. Many come from the Boston and New York areas, tour operators say. Expatriate business executives, as well as diplomats, take their families on foliage and ski trips. Of the 42 tourists of Japanese origin on a bus at Quechee Gorge last weekend, for example, over half hailed from the Boston area, according to tour guide Yumiko Fujita, an English-speaking guide with Boston International Travel.
So far, however, Americans and Canadians of Chinese descent are traveling in much larger numbers to upstate New York than they are to Vermont, laments Lauritzen of Notch Above Tours. That could change when Porter Airlines starts offering nonstop flights between Burlington and Toronto. The new service, which Gov. Peter Shumlin announced Wednesday, targets Canadian skiers.
Meanwhile, efforts in China to promote the state as a travel destination are lagging, Lauritzen adds, even though the Vermont Chamber of Commerce has been operating a trade office in Shanghai for the past eight years.
"Visas have presented challenges" for Chinese wishing to visit the United States, Deputy Commissioner of Marketing and Tourism Steve Cook points out. He remains bullish about that market, however, suggesting that more and more Chinese will come to Vermont in the next few years, including parents of prospective students being recruited by the state's universities and colleges.
Preethi Sehrawat, a Los Angeles-based tour organizer, agrees. Her agency is focusing on the Malaysia and Singapore markets, but "I am sure there will be many Chinese visiting Vermont in the future," she says. "Chinese like the landscapes you have there."