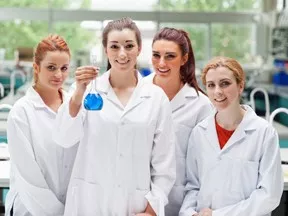 Know any Vermont girls ages 12-18 with an interest in science, technology, engineering or math? We know they're out there! And we're inviting them to a free Girls and Women in STEM luncheon at the Vermont Tech Jam on Saturday, October 25.
The number of jobs available in STEM fields is
on the rise
as computers and smartphones become increasingly ubiquitous. Careers in STEM fields pay well — according to the White House Women in STEM initiative, women who have STEM-related jobs
earn 33 percent
more than their counterparts in other fields.
But men are still
far more likely
to pursue these careers than women, and they're
more likely to stay
once they're employed.
Vermont schools, employers and policy makers are addressing this gender disparity in a variety of ways.
Kids VT
and our parent company,
Seven Days
, have written about their efforts. This year, we decided to try a different approach.
[jump] Every October, we organize the
Vermont Tech Jam
, a job fair and tech expo that brings Vermont tech companies together with job seekers, students, teachers and tech professionals for two days of networking. This year's Jam takes place on Friday and Saturday, October 24 and 25, at Memorial Auditorium in Burlington.
This year at the Tech Jam, we're hosting a Girls and Women in STEM luncheon on Saturday, October 25, from noon-1 p.m. We've invited several Vermont women in STEM careers, including
Maureen McElaney
, a Dealer.com software quality-assurance engineer who founded Girl Develop It Burlington,
Rebecca Grenier
, a website developer at EatingWell and one of the 2014
Vermont Business Magazine
Rising Stars, and
Mercedes Rincon
, professor of Immunobiology Medicine at the University of Vermont College of Medicine.
Girls ages 12-18 will join these women for lunch in the Generator maker space at Memorial Auditorium. We want them to see what's possible when you stick with science and math beyond high school. Know any girls who would like to attend?
Click here to register.
Space is limited; the event will be closed once all of the spots are filled.
Questions?
Email the Tech Jam organizers here.