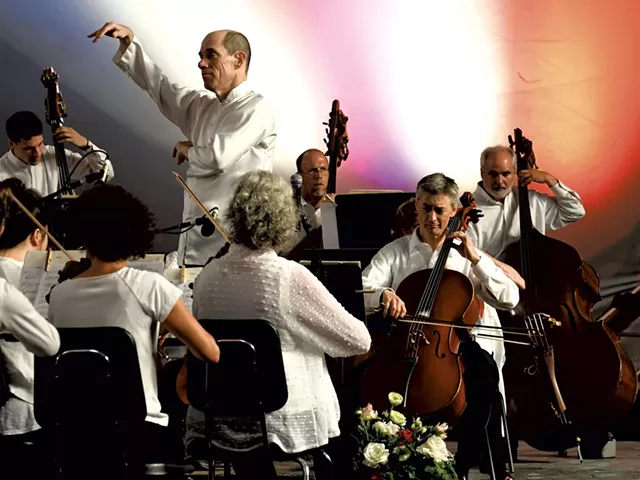 Courtesy of Vermont Symphony Orchestra
Anthony Princiotti
Anthony Princiotti, the Vermont Symphony Orchestra's guest conductor for the past 16 years, is known to be musically exacting and fearless in his programming. He elicited precise performances of the most challenging work the VSO has lately performed, including works by Stravinsky and Mahler. So it was a surprise for many in the audience attending the December Masterworks concert to hear that the performance would be his last with the orchestra.
No one was more surprised than Princiotti, who learned in September that his contract would not be renewed via an email from executive director Ben Cadwallader. Princiotti spoke with Seven Days about his departure and other matters for two hours by phone while on a long walk in the Boston area, where he's currently engaged in work on educational video projects. But he insisted that nearly everything remain off the record.
The knowledgeable and passionate 59-year-old, who conducted from memory, had a reputation as a taskmaster who could be impatient and sharp with others. "I'm prickly," he admitted.
Princiotti also tends not to talk to the media. When Dartmouth College abruptly announced his resignation from his 23-year position as music director and conductor of the Dartmouth Symphony Orchestra in late July 2015, more than 300 college and community members signed a petition requesting that the administration reinstate him. Princiotti refused to comment on the situation to DSO members or the media.
According to Cadwallader, the reason for Princiotti's departure involves the future of the VSO. The executive director, who came into the job in late 2015, said he and Jaime Laredo, the VSO's current music director and conductor, wanted to free up the guest-conductor position and use it to audition conductors from around the country who might one day fill Laredo's position. Princiotti is free to apply when the time comes, Cadwallader added.
"If the position is of interest to him and to the players, we would be happy to consider him," he said. "But the reality is that it would be irresponsible to not think more broadly."
Princiotti, who conducted more than half the VSO's concerts during his tenure, was given the same reasoning in his termination email. When asked to respond on the record, he said simply, "I think that statement begs a whole lot of questions."
Princiotti studied violin, viola and conducting at the Juilliard School and earned a doctorate in musical arts at the Yale School of Music in 1998. A year later, then-VSO manager Tom Philion asked him to devise a program for a pops concert on short notice, and then to conduct it.
When star violinist Laredo became the VSO's music director and primary conductor in 2000, Princiotti suggested that then-new executive director Alan Jordan create a position for him as associate conductor. Laredo's out-of-state performance and teaching schedule meant he would miss several concerts a year.
Princiotti became the substitute. About five years into the position, he requested that his title be changed to guest conductor.
For his part, Laredo insisted he has "no plans" to retire. Reached by phone, the conductor, who is nearing his mid-seventies, joked, "First of all, I'm never going to use the word 'retire.' Musicians don't retire." But, he added, he was taken aback when Cadwallader mentioned that 2019 would mark Laredo's 20th year as music director.
"I do feel the day will come when new blood is needed," Laredo said.
Cadwallader said that three guest conductors are already lined up to conduct a Summer Festival Tour concert in late June and two Masterworks concerts next season.
Ultimately, he explained, the VSO is looking for a conductor who will "speak with the media and connect directly to our community — come to ArtsRiot [in Burlington], go into fourth-grade classrooms, go into a bar. We need someone who's interested in thinking creatively about what the orchestra's role in the community could be."
Cadwallader, 32, has already instituted a host of changes in that vein. Musically, the ED is spearheading four new initiatives using the Northfield Savings Bank-funded VSO innovation fund. In August, the organization bestowed its first Award for Best Integration of Music Into Film at the Middlebury New Filmmakers Festival, on filmmaker Jesse Kreitzer. The award includes a commission to collaborate with a Vermont composer on the director's next film — Kreitzer chose Paul Dedell of Brattleboro — and performances of the excerpted score on the VSO's Made in Vermont tour.
In October, Cadwallader organized the first annual Sound & Soil, a curated dinner at ArtsRiot featuring nine dishes by three local chefs paired with nine brief selections of music played by a quartet.
On January 7, the organization launched JukeBox: A Warehouse Chamber Music Project, also at ArtsRiot. The evening series, curated by local composer Matt LaRocca, is designed to draw new audiences to the Masterworks concerts by previewing selections from upcoming programs in a pay-as-you-can environment. Discounts on Masterworks tickets are included in admission.
Finally, current Masterworks concertgoers can observe the process of violin making in the lobby this season, thanks to the VSO's new violin maker-in-residence, Douglas Cox of Cox Violins in Brattleboro.
In administration, Cadwallader is streamlining the marketing and development staff — traditionally two separate positions, each with a full-time assistant — down to one director of philanthropy, one marketing position and a part-time PR consultant whose duties will span both areas.
VSO violinist Hilary Hatch regrets Cadwallader's most recent change to the organization. "Many musicians were surprised and questioned the wisdom of it," she said during a phone call. "Tony is a one-of-a-kind musical genius, and that's what musicians want. But we were not consulted, as we never are."
Hatch has been playing with the VSO since 1983. "I've seen a ton of changes, but in the face of Jaime's eventual retirement, to get rid of Tony, who's a known quantity, seems ill-advised," she said.
"Everyone has their faults," Hatch added, "but few people have the kind of gifts that outweigh their faults. Tony is a rare bird. It will have to be a remarkable person who takes over."
Laredo noted, "I think Tony's a phenomenal musician, and I'm hoping that he's going to be back."