Never mind the recent snowstorms; spring is officially here. And one of its sure signs is steam rising from sugarhouses all over the state. Along with the popularity of small-scale backyard evaporators and the influx of "big maple" manufacturers, much has been made of Vermont's 20-year surge in production of the sticky stuff. The tiny state is leading the nation, producing nearly 2 million gallons in 2017. According to the Vermont Agency of Agriculture, Food & Markets, that's quadruple the quantity produced in 2000 — extracted from four times the number of taplines.
Sustained demand and a reliable price point have driven much of this growth, while new technologies pave the way for more.
Mark Isselhardt is a University of Vermont Extension maple specialist at the Proctor Maple Research Center. He attributes the continued demand to consumers' "desire for products that are not complicated" and to maple's reputation for purity. It "has a very clean label — there's maple sap, and that's that," Isselhardt said. "There's no refining that goes on."
Vermonters have known that for a long time, but in recent years, everyone from the Food Network to high-end chefs has been praising the amber liquid.
Some local producers are optimistic that maple could become a mainstream sweetener in America's pantries. "The industry is trying to educate consumers," Isselhardt said. "They want people to think of [using it in] entrées and culinary things, cocktails — not just on pancakes and waffles."
As for maple's relatively stable prices, we have Canadians to thank: The Federation of Québec Maple Syrup Producers sets tight global supply and price controls. And it's no wonder: Québec supplies 70 percent of the world's syrup, a product that is at the mercy of fickle spring weather every year.
Price stability is crucial on this side of the border, too. According to a 2013 report from UVM's Center for Rural Studies, Vermont's maple industry poured as much as $330 million into the state's economy that year.
New technologies abetting this production include vacuum-suction devices that hook into taplines, extracting more sap from the trees. Reverse-osmosis machines concentrate the sap to diminish boiling times and process it faster. Right now, two Vermont Technical College students are seeking a patent for a new tool — developed using 3-D printers and robotic milling and lathe machines — that eases the process of connecting taplines to trees.
Innovations are taking place indoors, too. Notably, both large and small enterprises are expanding their maple-enhanced product lines. In Island Pond, Sweet Tree Holdings is making maple-sweetened teas and sports drinks, which it sells to major national grocery chains under the brand the Maple Guild. In Cabot, Hooker Mountain Farm's owners use their small maple harvest — collected in buckets and boiled over a wood fire — to flavor distilled liquors. And Cambridge's Runamok Maple is marketing barrel-aged and smoked maple syrup, as well as syrups enhanced with elderberries and lime leaf.
Will these newer products have staying power? "Infused flavors [are] an innovation that wasn't here 20 years ago," said UVM's Isselhardt. "I think it's a little early to tell how enduring that can be. Are people going to buy it a second time, after they've bought it once?"
Vermont producers are banking on it. And many — perhaps most — of the state's commercial sugarhouses are likely to continue on a growth-based capitalist path. Operations will swell as farmers tap more trees and purchase new infrastructure to streamline the process, dreaming up more new products in the process.
To be sure, many Vermont families still boil sap in backyard sugarhouses, much as they have for centuries. Farmers — particularly old-timers whose seasons follow rhythms buffed out over generations — still count on sales of their bottled syrup as early-spring capital for the plantings that will become autumn bounty. Children still delight in spring's first sugar on snow — as they will at this year's Maple Open House Weekend, March 24 and 25, throughout the state.
And Vermont continues to pass on its traditions to the next generation. At Thetford Academy, for instance, students learn the art and science of sugaring as part of the school's outdoor education curriculum.
Their operation is one of four that Seven Days visited last week for a taste of Vermont's sweet deal.
Good Spirits
Hannah Plamer Egan
Kempton Randolph
A well-trodden path connects Hooker Mountain Farm's sugarhouse, distillery and livestock operation with Kempton and Carrie Randolph's residence — a quirky old Cape, painted cranberry red, just inside the Cabot town line.
The Randolphs live on a 66-acre spread with their three children, ages 6, 2 and 4 months. They raise beef and pork and recently added two dairy cows, whose milk they'll use to make a maple-cream liqueur. About half of their 25 open acres is pasture. The rest is for growing grains — flint corn, rye and oats — that feed the animals and the still. In the remaining woods, the family manages a scattered 300-to-400-tap sugarbush.
The farmers have sold syrup in the past, but, Randolph explained, "I never made enough volume for it to be a significant source of income." Instead, the operation now flavors an array of spirited beverages produced in the family's distillery.
On a snowy morning last week, Kempton Randolph wore a crumpled green felt hat and a barn jacket tossed over gray plaid bibs. Stepping into thigh-deep snow, he followed the trail to the farm's sugarhouse. "This was the first thing I built on the farm," he said. The building, erected in 2010, is a loosely hewn, graying wood affair with a splintered old door affixed to the front; open eaves let the steam escape.
Inside, light and a cutting March wind came through the cracks. The dirt floor was strewn with bits of bark and kindling. A handmade barrel-arch holds up the three-chamber boiling pan in the center of the room. Its front opening is just large enough to admit wood.
After moving to Lovely Road in 2004, Randolph said, he hung buckets on 12 trees and boiled sap in a small pan on cinderblocks over an open flame. Now, the farm's production is about 30 gallons per year. "I could probably make more than that," he said, but the harvest suits his needs.
The family's original farming plan didn't involve making liquor. But, when raising expensive-to-feed animals led to growing grain, distilling that grain was a natural next step, Randolph said. Though grain is time consuming and costly to grow, it can do double duty: Spent grains from the distillery go straight to the animals' feed troughs.
"We have no waste," Randolph said. Even the fuel for the wood-fired kettle is harvested on-site, and the ash goes onto the fields.
In the distillery's tasting room, with its Oriental rugs, hand-milled pine-board walls and bookshelves crowded with old volumes and encyclopedias, Randolph poured a taster of brand-new Sugarmaker Liqueur. A sip revealed a creamy, pungent whiskey nose — the base liquor is a bourbon-mash whiskey, 51 percent flint corn and 49 percent oats — and a sweet maple finish. The latter was gleaned from this year's first-run syrup, boiled during a weeklong spring tease earlier this month.
In this liqueur, syrup comprises 13 percent of the final product, Randolph said. By using maple to enhance the alcohol, he added, "I'm able to supply the whole distilling operation on a very small sugaring operation. The value is really coming from the spirit."
And yet, on the palate, the liquor is much improved with a light maple kiss.
Randolph added that, among agricultural products, distilled spirits have an uncommon magnetism. While the family slings their products at the Capital City Farmers Market and through a new spirit CSA, liquor is "the only thing that brings people to the farm," he said. "Then, once they're here, they buy beef and pork, vinegar and syrup."
And the farmers, who tend to hunker down for days on end, welcome the company. "It's nice getting people to come out here," Randolph acknowledged. When they do, he said, "They can really get it. You can see the grain growing a few feet from the distillery."
Come spring, they can also smell the sugar-scented steam billowing from the sugarhouse rafters.
— H.P.E.
Tapline Tech
Courtesy Of Vermont Technical College
Left to right: Manny Aretakis; Tom Torti, Lake Champlain Regional Chamber of Commerce president; Jack Beauparlant; and John Antonucci, executive director of LaunchVT
Jack Beauparlant, a junior at Vermont Technical College, lives up to his French surname: He's a good talker. A few months ago, Beauparlant put that talent to use, along with his sugarmaking experience, to help his two-man team win the LaunchVT Collegiate Competition. The annual contest sponsored by the Lake Champlain Regional Chamber of Commerce celebrates and rewards entrepreneurship.
For the winning project, Beauparlant worked with VTC senior Manny Aretakis, a manufacturing engineering technology major who won the school's 2018 engineering prize.
The students conceived and designed a tool that they say makes collecting sap more efficient. The contraption connects the spout that screws into the trunk of the maple tree with the plastic tubing into which the sap flows, using a mechanism that pushes the spout into the tube.
The aluminum gadget is not much bigger than an office stapler. It's light and portable, both desirable qualities for sugarmakers who trudge through acres of woods, often in the snow, to place thousands of taps in trees. Part of the tool's beauty is its sheer simplicity.
The traditionally used plier-like tool requires "three hands and a hip to use," said Beauparlant. Sometimes, he noted, sugarmakers employ other parts of the body, as well, in the service of connecting spout and tube.
"It's efficient," he said of the VTC product, "because it's easier than chewing on the tube and jamming a spout in."
Beauparlant and Aretakis met last semester in their Foundations of Entrepreneurship class, where they developed their maple project. An entrepreneurship major, Beauparlant, 21, grew up in Danville and started mowing lawns at seasonal camps on Joe's Pond when he was 12.
"I got interested in making money and took off from there," he said. By high school, he had started a landscaping business called Cuttin' It Close, which he still runs. (He holds an associate's degree in horticulture from VTC.) And, this time of year, he works at a sugaring operation in Plainfield.
Aretakis, 22, is from Pembroke, Maine, a small town in the eastern part of the state. He transferred to VTC after his freshman year at Clarkson University in Potsdam, N.Y., drawn by its smaller class sizes and by family ties to the region. His mother grew up in Huntington and Burlington, one of 14 siblings named Cannizzaro.
The project began when Beauparlant approached Aretakis about the tubing problem and presented a few sketches for a possible tool. As they worked on a solution, Aretakis used computer-aided design to model the product. He then made a prototype with a 3D printer before crafting one in VTC's machine shop.
"It has taken off really quickly," he said.
The students said the resources available to them at the college, including the 3D printer and a CNC (computer numerical control) lathe and mill, were instrumental in allowing them to design and build the tool.
"You can't make this with a torch and a welder," Beauparlant explained.
Their teacher, adjunct professor Shawn Twing, said he was "most interested" in the manner in which the two approached the project and noted their ability both to articulate and execute an idea.
"They took this assignment very seriously," Twing said. "Not seriously like they wanted to get a good grade. They took it very seriously from the perspective of 'How do we get through this exercise in a way that's meaningful?'"
Beauparlant and Aretakis are using the $4,000 they won at the college competition last month to start a company, tentatively called Green Mountain Maple Innovations. They are applying for patents in the U.S. and Canada and envision a partnership with a machine shop that will manufacture their product.
The victory propels the young men to the LaunchVT finals on May 17, at Main Street Landing in Burlington, where the winner will get $75,000 in cash and prizes toward launching their business.
In the meantime, it's sugaring season. Beauparlant is in the Plainfield woods, tapping 7,000 trees at Farnham Farm Maple Sugaring. With his and Aretakis' tool still in prototype, he uses his teeth and "three hands and a hip" to rig up his tubing equipment.
— S.P.
Old School, New Learners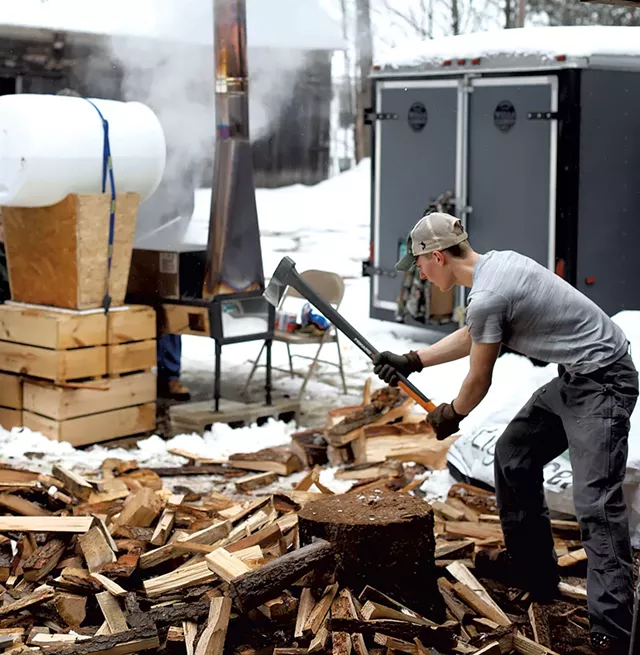 Sarah Preistap
Student chopping wood
All of the students in the Thetford Outdoor Program love maple syrup, with the exception of one newcomer to Vermont. So educator Scott Ellis made sure an exploration of all things maple would be part of the curriculum.
"If students are interested in something, harness that," said Ellis, 38. "That's what this maple project is all about. They're excited about it 'cause they like maple syrup, but there's lots of lessons to learn along the way."
Thetford Academy's outdoor education program began in 2014 with the more unwieldy name of Environmental Science and Outdoor Education Initiative. Last fall it launched a half-day environmental sciences class in which nearly all of the instruction takes place outdoors. Nine students in grades 10 through 12 — by chance, all boys — are enrolled this semester. They meet from noon to 3 p.m. every day and spend much of their time outside on the school grounds and in the surrounding state forest. In all, Ellis said, he and the students have about 800 acres available to serve as an outdoor classroom.
"My philosophy is, use what you got," Ellis explained. In late winter and early spring, that means maple trees, firewood and an evaporator pan.
Most of the lessons associated with the maple project naturally happen in the woods, where students collect sap from 55-gallon drums and split wood to feed the fire burning beneath the evaporator. Their learning process covers a range of disciplines, including math (ratio of sap to syrup, amount of syrup produced); English (maple-themed vocabulary words); natural science (tree health in the state forest); and physics (evaporation, gravity).
The students also learn by the age-old method of trial and error. The first batch of syrup they made reportedly wasn't very good. They deduced that they'd let the sap sit too long before boiling it.
"I'm learning, too," Ellis said. "I think you can learn more from failure than success."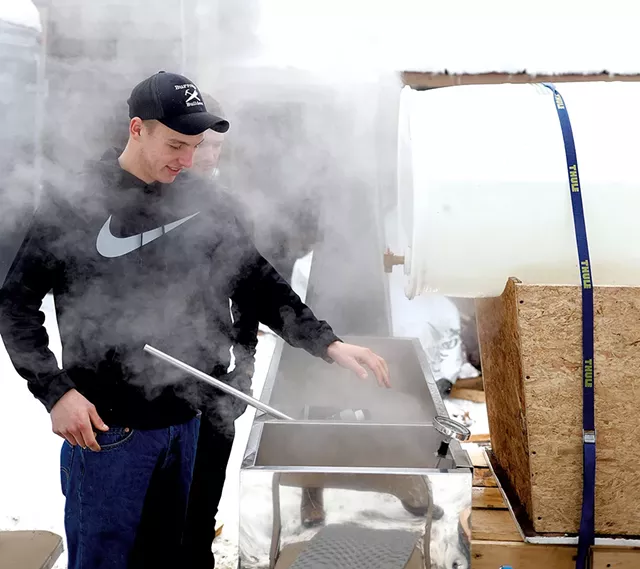 Sarah Preistap
Alex Emerson
Last Thursday, class began with a tasting — sampling the maple syrup the boys had made the day before. They commented on flavor, color and texture and came to a near-unanimous conclusion: It was very good!
Some students had previously made maple syrup at home by collecting sap in buckets. But using plastic tubing and a process called reverse osmosis — which filters water from the sap — was new to many of them.
Sophomore Alex Emerson of Topsham said he plans to learn more about reverse osmosis for his independent study.
"I want to see how high I can get the sugar content [through reverse osmosis]," he said. "I have no clue whatsoever."
Other students are investigating that factor by removing ice that has formed in unfiltered sap and measuring the sugar content of the ice and the sap separately. By this method, they can learn how the sugar is concentrated when water, in frozen form, is removed from the sap absent the reverse-osmosis filtration system.
Spencer Williams, a junior from Hartland, worked on a family sugaring operation when he was a kid. At school, he's helped other students set up tubing.
"We've all learned to work with each other," Spencer said, "and how each individual works."
In the woods behind Thetford Academy, observing sap flowing on a cold afternoon, Spencer used his mouth to create a quick suction effect to help move the liquid along. Then he revealed his trick for getting sap out of the big containers in the woods: "will power."
Hunter LeFevre, a sophomore from Thetford Center, noted that the maple project connects the students with the rhythms of the season — and with a longtime Vermont practice.
"Once deer season is over around here, and before turkey season, it's sugaring," he said. "It's like a big loop."
Hunter said he's never tasted maple syrup he didn't like. Now, after making it for the first time, he imagines doing it on his own.
"I might have to start this on my small property and maybe pass it down to my kids," Hunter said. "I'd like to keep it going from generation to generation."
— S.P.
Going Global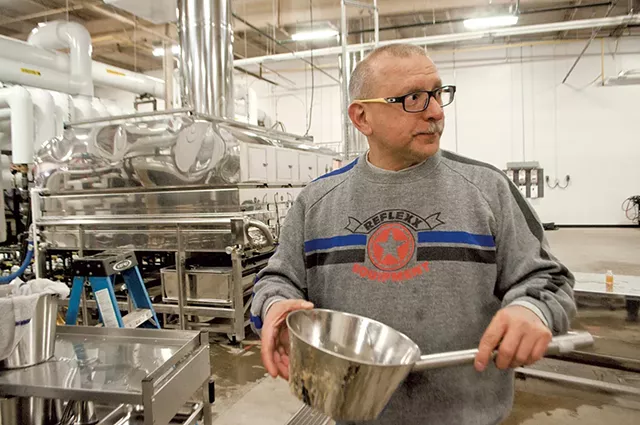 File: Hannah Palmer Egan
Joe Russo
On a blustery but sunny afternoon between snowstorms earlier this month, Joe Russo stood in front of a bottling line at Sweet Tree Holdings' Island Pond production plant. Sixteen-ounce bottles containing a clear brown liquid trucked by on a conveyor belt.
"What's in the bottles?" a visitor asked.
Russo declined to get specific. "We are making a maple sweet beverage," he said, adding that, at peak production, the line can turn out 100 bottles per minute.
"It looks like iced tea," the visitor said, an assertion Russo would neither confirm nor deny.
While most of the products that fly out of Sweet Tree's plant are sold under the brand name the Maple Guild, the bottles on the line that day were part of a million-case order for a third-party company. That company will distribute the drink under a private label, Russo said.
He couldn't name the company or the label the drinks would be sold under. "That's private information," he said.
No matter. A million 12-bottle cases totals 1.5 million gallons. That's enough to fill 129 large tanker trucks (the kind typically used to haul milk or propane) — in other words, a lot of "maple sweet beverage."
The sap that fuels the production comes via taplines connected to 450,000 trees in Essex County. That number makes parent company Sweet Tree Holdings the largest single-source maple operation in the world. The company is hedging its bets on the idea that adding maple to everything from beverages to bouillon cubes to barbecue sauce will help build an international market for Vermont's native sweetener.
Courtesy Of Sweet Tree Holdings / Oliver Parini
Sweet Tree Holdings taplines
"We can go national with these products," Russo enthused. "It's very important to get the word out. Maple can be used for everything — in cooking, baking, whatever. We know that, but people outside of this area, they don't."
On boiling days, the plant's four gleaming stainless-steel evaporators — each cost a quarter-million dollars, company reps told Seven Days in 2015 — can produce 6,000 gallons of syrup per hour. Most of that syrup is stored in stainless-steel barrels until workers add it to giant, steaming kettles of iced tea, "maple water" sports drinks and other products. Some syrup is used to make vinegar or infused with cinnamon or vanilla flavor; other batches are aged in former bourbon barrels. The company also sells some straight maple syrup.
A maze of pipes connects the kettles to the bottling line, where workers operate machines that transfer the liquid into bottles, then into cases. These are placed on pallets, warehoused and finally sent to the loading dock to be shuffled into 18-wheelers. Sweet Tree's products reach regional and national grocery chains, including Albertsons, Wegmans Food Markets, Texas-based H-E-B Grocery Stores and Whole Foods Markets.
The company's full-time employees number about 100, Russo said. That's up from 24 when Sweet Tree fired up the boilers for the first time three years ago, and the company shows no signs of slowing down soon.
All of this — the global prospects, local jobs and market innovations — starts with the simple process of turning sap into liquid gold. And, after more than 50 years in the business, Russo still finds that process irresistible. "Come back when we're boiling," he said. "Everyone wants to see that."
— H.P.E.