What do sparkling herbal tea, a microfiber-catching laundry ball and a virtual-reality surgery simulator have in common? They're all made by startups appearing in the 2018 LaunchVT Pitch Competition, a program of the Lake Champlain Regional Chamber of Commerce.
Each year, LaunchVT selects eight Vermont companies to compete in its annual early-stage acceleration program. For eight weeks, the entrepreneurs in this "cohort" work with a coach, strategic advisers and each other to refine their business models and hone their pitches.
The grand finale is the Pitch Competition, Vermont's version of the TV show "Shark Tank," during which the entrepreneurs present their ideas to a panel of judges, as well as an audience of local businesspeople, investors and the general public. At stake is $100,000 in cash and in-kind services that could give these businesses a big boost.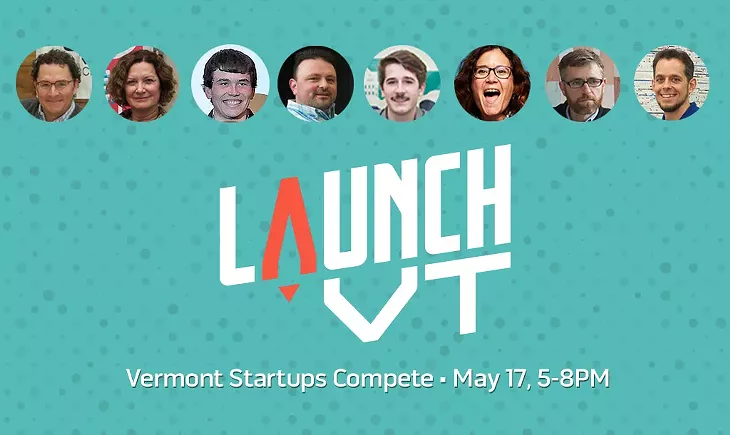 9 slides
This year's event takes place on Thursday, May 17, from 5 to 8 p.m. at the Film House in the Main Street Landing Performing Arts Center in Burlington. Entrepreneurs from eight different cities and towns across the state will get a turn in the spotlight, and a chance to make the argument that their startup is the most likely to succeed and generate significant employment in Vermont.
Along with practiced pitches, this free event will include a DJ, food, a cash bar, and entertainment from MC and legendary serial entrepreneur Alan Newman (click here to pre-register).
Here's a sneak peek at the eight teams vying for this year's top prize. We asked them to share what inspires them, why they chose to start their businesses in Vermont, what they consider to be their "secret sauce" — the thing that distinguishes them and elevates them above the competition — and what they think of as their spirit animal.
The big winner, of course, is the state of Vermont, which this talented and eclectic group of entrepreneurs calls home.
Cora Ball
Rachael Miller, CEO
Granville, Vt.
Did you know that by cleaning your clothes, you're polluting the oceans? When textiles go through the washing machine, they shed thousands of tiny fibers, some plastic, others coated with chemicals. These microfibers are too small to be caught in conventional filters; the smallest are just half the size of a red blood cell. They drain into lakes and rivers and make their way into the marine food web — and into our own food and water.
Enter the
Cora Ball
, a microfiber-catching laundry ball. Designed, like coral, to filter water, the Cora Ball is made of recycled plastic and can be added to any washing machine. It picks up microfibers and keeps them from ending up in public waterways.
Cora Ball is produced by a startup of the same name, an offshoot of the nonprofit Rozalia Project for a Clean Ocean. The organization, founded in 2009 to address the problem of marine debris, operates the oceanographic research vessel,
American Promise
. Says Cora Ball and Rozalia Project founder Rachael Miller: "Don't be fooled by the name 'for a clean ocean.' We may not have saltwater in Vermont, but we are connected; the ocean is downhill of everything."
What inspired you to start a business?
"The Cora Ball was born from our work with Rozalia Project," says Miller. "We learned about the problem of microfiber pollution and knew we had to come up with a solution."
Why Vermont?
"There are few better places to be inspired by nature and to protect nature than in the mountains and along the lakes and rivers of Vermont," she says.
Secret sauce:
"We believe that to protect the water, you need to be on the water," she says. "Our solution was born from our work on Lake Champlain and in the Gulf of Maine." Miller points out that her team has seen up close the effects of debris on ocean life, and it motivates them to solve the problem. Their success can "make a big difference for the creatures who call our public waterways home and the people who rely on clean food and water."
Most inspiring place in Vermont:
"Mad River Glen on downhill skis," says Miller, "Rikert on nordic; Blueberry Lake and Lake Champlain for standup paddleboard; and anywhere my mountain bike takes me."
Spirit animal:
"We're inspired by all of the creatures we see while doing our work," says Miller, "from the plankton who don't want to eat microfibers to the harbor seals, common dolphin, ocean sunfish, and humpback, minke and fin whales we see while on our oceanographic research sailing vessel working off the coast of Maine."
EZ-Probate
Byron Batres, founder
Williston, Vt.
Following the death of a loved one, grieving relatives often have to settle debts and distribute any inheritances. Completing this process involves navigating the probate system, which can be time-consuming and expensive. But Byron Batres, founder of
EZ-Probate
, says it doesn't have to be. His startup prepares ready-to-sign court forms and provides step-by-step instructions that help anyone probate an estate for a flat fee, without an attorney. As Batres explains it: "We do what Turbo Tax does, but for probate."
Born in Guatemala, the 42-year-old entrepreneur grew up in Bucks County, Pa., and moved to Vermont, where he met his wife, Kerry. A few years ago, Batres, a Certified Financial Planner, was named an executor for a family member's estate. In an effort to save $6,000 in legal fees and countless hours of time, he completed probate by himself. After some of his financial planning clients asked for help with probate, Batres saw an opportunity to simplify the process. He's since successfully closed 47 cases all over the country, from a $17 million estate in California to a $1,500 estate in Georgia.
How much could his customers save? Typical attorney fees for simple estates range from $2,500 to $6,000, with many states allowing attorneys to charge up to 5 percent of the value of the estate. This can result in legal fees in the tens of thousands of dollars. The California estate Batres helped settle would have cost more than $85,000 to probate with a lawyer, he says. Using EZ-Probate, his clients did it for just $500.
Target audience:
Anybody who has been named as an executor or administrator of an estate.
Why Vermont?
"I love,
love
winter," says Batres. "I joke that I am the world's greatest Guatemalan ice climber. Of course, I'm probably the only Guatemalan ice climber." Also, he adds, "inspiration and ingenuity are kind of standard here, I think."
Secret sauce:
"I've actually been in my customers' shoes."
What inspired him to start a business?
"I feel strongly that probate can be done for a fraction of the cost and a fraction of the time," Batres says. He also credits Kerry for pushing him to pursue his idea. "I wouldn't be able to do it without her," he admits. And he notes that they have two kids, ages 12 and 15; he wants to contribute to helping young people like them stay in Vermont. Lastly, he adds that "it's especially rewarding to support clients during a difficult time by empowering them to tackle what would be a daunting task."
Spirit animal:
A wolf, though he disputes the lone wolf stereotype. "They're actually strong, social animals," he says, adding that they prey on the old and the tired. He thinks the established probate system, a slow and expensive probate lawyer, is perfect prey.
Northview Weather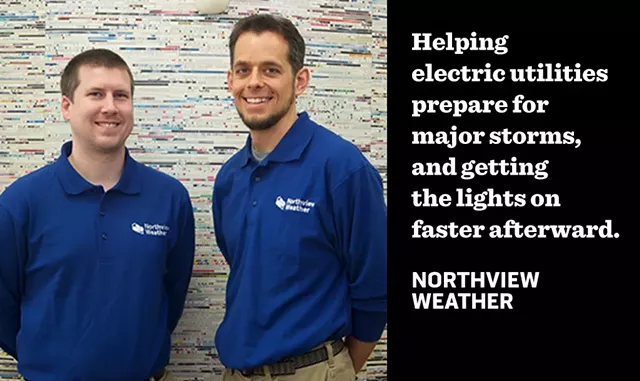 David Siuta, chief technology officer
Jason Shafer, president and CEO
Barton, Vt.
Powerful wind-, rain- and ice-storms are a fact of life in Vermont. They can cause tremendous damage, especially to power lines.
Northview Weather LLC
uses new technology and applies unique research and methods to help electric utilities prepare for major storms, and get the lights on faster afterward.
Founder Jason Shafer, 40, is a professor of atmospheric sciences at Northern Vermont University — Lyndon. An accomplished forecaster, Shafer developed an early interest in extreme weather as a kid growing up in the hills of northern New Jersey; he often woke early on snow days eager to shovel snow and track storms on the Weather Channel. In addition to working on Northview Weather, he has forecast weather conditions for climbers on Mount Everest.
Target audience:
Electric distribution utilities and emergency managers.
Why start a business?
"To use my expertise to help society be more resilient to weather," says Shafer. "The latest scientific advancements often lag behind adoption within various industries, and Northview intends to bridge this gap."
Why Vermont?
"We live in Vermont, and our partners are based here," he says. "Vermont has been an ideal place to develop and test our technology because of its complex terrain, occurrence of winter weather and access to the right people."
Place in Vermont that most inspires him:
Lake Willoughby
Secret sauce:
"The right combination of expertise, opportunity and timing," says Shafer, as well as "access to high-performance computing in the cloud."
Spirit animal:
"No comment," says Shafer. "I would say our spirit cloud is nimbostratus, however."
Varises
Bryan Huber, MD, cofounder
Steven Berlin, cofounder
Stowe, Vt.
Since the late 1800s, surgeons have learned their craft solely by watching and participating in actual operations, but the founders of Varises believe that's about to change. The startup — the name stands for Virtual and Augmented Reality Immersive Surgical Education Systems — uses new technology to allow surgeons-in-training to operate under realistic conditions. Explains cofounder Steve Berlin: "We build the flight simulator for surgeons to improve the practice of medicine and bring teaching, training and testing to the next level."
Berlin, a self-described "startup alchemist," has worked with technology-based businesses for more than two decades. Cofounder Bryan Huber brings medical expertise; he cofounded Mansfield Orthopaedics at Copley Hospital in Morrisville and serves as team physician for Burton Snowboards and the U.S. Snowboard Team.
The pair met and struck up a conversation at the top of Mount Mansfield, where both were volunteering with the ski patrol. They're working with a team from Champlain College's Emergent Media Center to make their idea a reality. Says Berlin, "We are excited to build the future of medical education right here in Vermont."
Target audience:
Medical device companies, medical schools and students, curious consumers
Why Vermont?
Says Berlin: "Quality of life and an abundance of talented individuals are a great foundation for building new ventures."
Where do you go in Vermont to get inspired?
"Skiing at Stowe Mountain Resort," says Berlin. And, he adds, "anywhere with fresh air. Being outside helps clear my mind and organize my thoughts."
Secret sauce:
Says Berlin: "Expertise, perspective, technology and the experience of having done this for more than 20 years."
Team's spirit animal:
"The butterfly," says Berlin. "It represents metamorphosis and personal transformation."
Burlington Code Academy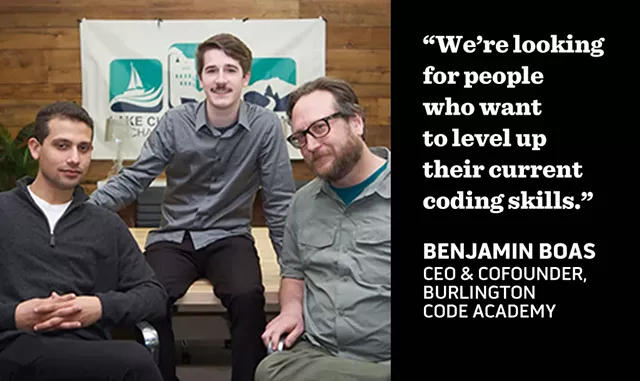 Benjamin Boas, CEO and cofounder
Alex Horner, CMO and cofounder
Alex Chaffee, CTO and cofounder
Burlington, Vt.
Tech companies in Vermont have been complaining for years about a shortage of employees with coding skills. The three cofounders of
Burlington Code Academy
think their immersive, 12-week training program will help those firms fill the skills gap.
All three cofounders grew up in Vermont: twentysomethings Benjamin Boas and Alex Horner in Proctor, fortysomething Alex Chaffee in Burlington. All three left the state after high school or college to find work in other cities. As coding boot camps spread to every major U.S. city, they decided to establish the first one in their home state.
BCA's first web-development boot camp starts on June 4. Classes take place from 9 a.m. to 5 p.m. Monday through Friday. According to Boas, there are just three spots left. "If you're interested in applying to our program," he says, "visit burlingtoncodeacademy.com."
Target audience:
"The average boot camper is around 30 years old and has a few years of work experience but has never had a job as a programmer," says Boas. "We're looking for people who want to level up their current coding skills, or learn an entirely new set of skills, without having to go back to college."
Why Vermont?
"We want to provide Vermonters with the opportunity to learn skills that employers need and provide companies with talent they need to grow," says Boas.
Most inspiring place in Vermont:
"Vermont Center for Emerging Technologies," says Boas; the BCA founders work out of VCET's downtown Burlington coworking space. "So many talented and ambitious people come through those doors every day, and we feel energized by the community."
Secret sauce:
"Burlington Code Academy sets students up for success by blending soft skills, such as communication and teamwork, with technical instruction, such as coding and product development," Boas explains. "We also have a network of more than 15 hiring partners, including some of Burlington's largest tech companies."
Spirit animal:
Alex Chaffee's dog, Abby. Says Boas, "She's our class mascot."
Still Thyme Botanicals
Dejung Gewissler, founder and CEO
Middlesex, Vt.
Next time you're shopping for a cool, refreshing beverage, Dejung Gewissler hopes you'll try some of his
Still Thyme Botanical
soda. The 41-year-old herbalist makes the sparkling tea from organic medicinal herbs and a splash of lemon juice and sweetens it with local honey. Flavors include Rose Balm, Holy Basil and Hibiscus Mint.
"I came up with this concept after being fed up with the current beverage options out there for my 10 year-old," he says. That frustration coincided with his clinical herbalist training at the Vermont Center for Integrative Health in Montpelier. "I was compelled to make an easy way for parents to get medicinal herbs into their kids."
After being in business for about a year and a half, Gewissler has learned that the beverage world "revolves around cheap ingredients marketed as healthy," he says. "We are challenging this paradigm! Like us on Instagram or Facebook for updates on how you can support bringing real alternatives into the marketplace."
Target audience:
"Everyone!" Gewissler exclaims. "Our unique and refreshing drinks pair well with many foods and activities, are loved by kids, and are a wonderful, guilt-free base for cocktails."
Why Vermont?
"I have lived here for nine years with my family," says Gewissler, "and am continually inspired by the natural beauty that surrounds us, and the food-as-medicine ethos that has been fostered here."
Where in Vermont do you go to get inspired?
"Out for a walk on my land," he says. "It keeps me focused on what is real and tangible. I tend to set lofty goals quickly when I am cooped up inside."
Secret sauce:
"My training as an herbalist provides me with an arsenal of flavors and constitutional remedies that are unknown to practically the entire beverage world," says the entrepreneur. "Pairing together great unique tastes and functional categories is the key. My drinks aren't just different flavors of a base product like a kombucha. Instead, the herbs from which each tea is made are completely different. Just like choosing a warm herbal tea, you look at the ingredients to determine what needs you would like to meet."
Spirit animal:
Bear.
The Maple Connection
Manny Aretakis, cofounder
Jack Beauparlant, cofounder
Randolph, Vt.

The cofounders of this maple sugaring equipment and tool business are still in school — Jack Beauparlant, 21, and Manny Aretakis, 22, met last semester in a Foundations of Entrepreneurship class at Vermont Technical College. For a class project, the VTC students developed a tool to help sugarmakers produce maple syrup more efficiently. Their lightweight, portable connector makes it easier for sugarmakers to connect their taps to the tubes that carry maple sap to the sugarhouse.
Beauparlant, who started a Danville landscaping business in high school, works at Farnham Farm Maple in Plainfield during sugaring season. He came up with the idea. Aretakis, a Maine native, designed the tool and made a prototype with VTC's 3D printer before crafting a final version in the school's machine shop.
The pair won their class' pitch competition, which qualified them for the LaunchVT Collegiate competition. They won that, too, beating teams from other colleges. They received $4,000, which they used to start their company, then called Green Mountain Maple Innovations. They also secured a spot in the Launch VT 2018 Pitch Competition Finals.
Target audience:
"Sugarmakers in Vermont and throughout the 'maple belt' of the United States and Canada," says Beauparlant.
Why Vermont?
"Because we're both students based at Vermont Technical College," says Beauparlant. "It's a great location to produce tools for the maple industry, as our great state has such a rich tradition for maple production!"
Where do you go in Vermont to get inspired?
Says Beauparlant: "We go to the sugar woods to get inspired, so we can be inspired to create new tools for the maple tubing installation process."
Spirit animal:
"The red squirrel," says Beauparlant, "because they're always chewing our maple tubing!"
Home Outside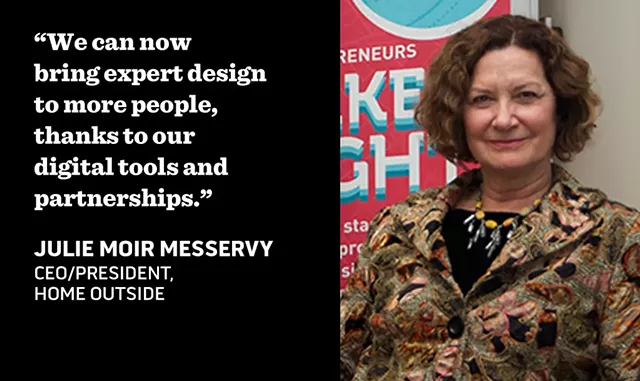 Julie Moir Messervy, CEO/president
Saxtons River, Vt.
Forty years ago, Julie Moir Messervy was inspired by pictures of Japanese gardens and was able to apprentice with a garden master in Kyoto, Japan. "I've been building gardens, landscapes and parks ever since," she says.
As the principal at her own firm, Julie Moir Messervy Design Studio, she has worked with planners, architects, artists and engineers on everything from intimate residential gardens to large-scale master plans. She's written eight books and won numerous awards.
Recently, the sixtysomething Westminster resident decided it was time to try something new. Her studio recently developed an online service and app, called
Home Outside
, to make expert landscape design available and affordable for homeowners everywhere. People can work with Home Outside's award-winning designers online to craft a personalized landscape plan, or they can use the simple Home Outside app to design it themselves.
Target audience:
Communications manager Jennifer Silver says Home Outside clients appreciate having access to the studio's quality, excellence and creativity — at a price they can afford. She adds that many of them also prefer working remotely with designers. "Many are busy millennials who enjoy the convenience of digital communication around their schedule," she says. "Some live in places that are too remote or expensive for designers to travel to, and others say that they haven't been able to find local designers with the level of expertise they're seeking."
Why Vermont?
Says Messervy: "The five members of my team and I all live in southern Vermont, and we wanted to find new ways to bring design projects to us." She adds that she's grateful for the mentoring and advice from Vermont business leaders that she's received as a member of the 2018 LaunchVT cohort.
Where do you go in Vermont to get inspired?
Says Messervy: "I get inspiration from working on our gardens, swimming in our pond, hiking the trails around our property and driving around this beautiful state."
Secret sauce:
"We set a high standard for ourselves — we design exquisite, one-of-a-kind landscapes of beauty and meaning for our clients," says Messervy. "With our Home Outside program, we can now bring expert design to more people, thanks to our digital tools and partnerships."
Spirit animal:
"Our property overlooks a beaver pond," says Messervy. "I'm constantly amazed by their hard work and collaborative efforts, not to mention the beautiful lines of their dams and waterways."
Want to attend the 2018 LaunchVT Pitch Competition?
This article was commissioned and paid for by LaunchVT.