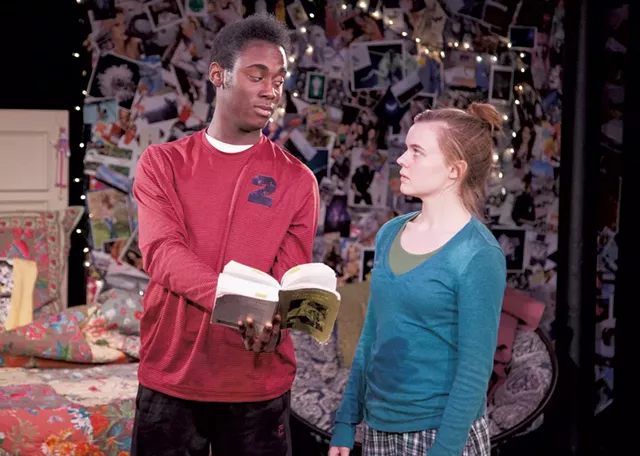 Courtesy Of Vermont Stage
Jabari Matthew and Victoria Fearn in I and You
Young Vermonters will have new opportunities to learn about theater on and off the stage with Vermont Stage Youth Company at Main Street Landing, a year-round theater education program with multiple productions, workshops and classes launching this fall.
Kids and teenagers ages 11 to 20 will be able to join one of two companies and take part in weekly classes and workshops, as well as perform in a fall play, a spring musical and an all-company showcase.
Summer will hold even more opportunities, with three productions, including a partnership with Human Rights Watch to tell the stories of young people separated from their parents on the U.S.-Mexico border.
Participants may also enroll in a technical apprenticeship with the Youth Company to study sets, lighting, sound, wardrobe and stage management, as well as to assist in producing Youth Company shows. And they can join the Vermont Stage Arts Alliance, a new collective of young theater enthusiasts interested in arts leadership and arts administration. Members of the alliance will attend and discuss plays, as well as provide input on the future of the Youth Company.
Vermont Stage is Burlington's only year-round professional theater company. Since its founding in 1994, it has employed more than 2,000 local actors, directors, designers and technicians, according to its website.
Artistic producing director Cristina Alicea said she doesn't know of any similar technical education programs in northern Vermont. Vermont Stage has had a program for young playwrights since the company's inception, but this is its first move into broader theater education.
"This is sort of tackling all these other elements that go into making theater," Alicea said.
Alicea noted that she has wanted to start an education program since joining Vermont Stage eight years ago, but the organization didn't have the capacity until now.
"Here's this whole body of work that we're not doing as an organization, fostering the young talent in the community," she said.
In 2018, Vermont Stage moved out of the FlynnSpace into a larger venue at Main Street Landing Performing Arts Center. The desire for a youth program was a big factor in the move. Alicea said the FlynnSpace was booked with other events and performances throughout the year, whereas Main Street Landing's summers were largely open.
Registration is open online for the Youth Company fall programs. Tuition ranges from $200 to $450. Alicea said that a scholarship program is still in development and that she's seeking businesses and community members to sponsor scholarships.