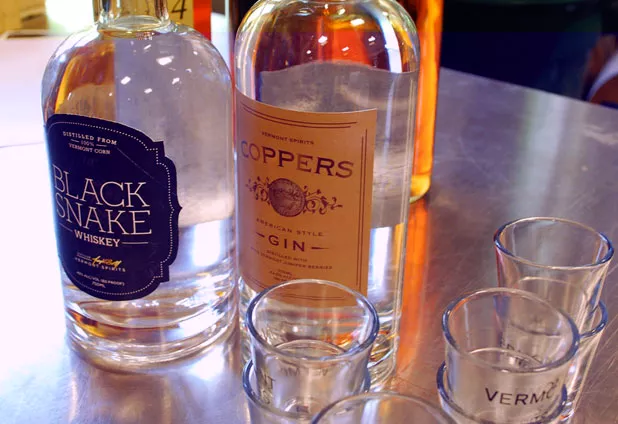 Vermont Spirits' Black Snake Whiskey and Coppers American Style Gin
It took five years to age — and then, it was gone.
A few weeks ago, Quechee's Vermont Spirits became the latest distillery to release an apple brandy, the woodsy No. 14. Yet by last week, almost every bottle had been sold. "We only made eight cases of it," says Mimi Buttenheim, Vermont Spirits' general manager, and it could be a while before the product appears again.
Meanwhile, the growing distillery released a trio of new spirits: a gin, a white whiskey and a barrel-aged bourbon, all of which rely on Vermont flavors to varying degrees.
For the 85-proof Coppers American Style Gin, distillers Harry Gorman and Joe Buswell source juniper berries harvested in the Northeast Kingdom for a warming spirit that also layers in hints of coriander, angelica, cassia, orange peel and cardamom. For the crystal-clear Black Snake Whiskey, the crew distills Vermont corn in a new copper still. And for the upcoming No. 14 Maple Bourbon Whiskey, Vermont maple sap is blended with bourbon that's been aged for five years.
The original print version of this article was headlined "Local Buzz"