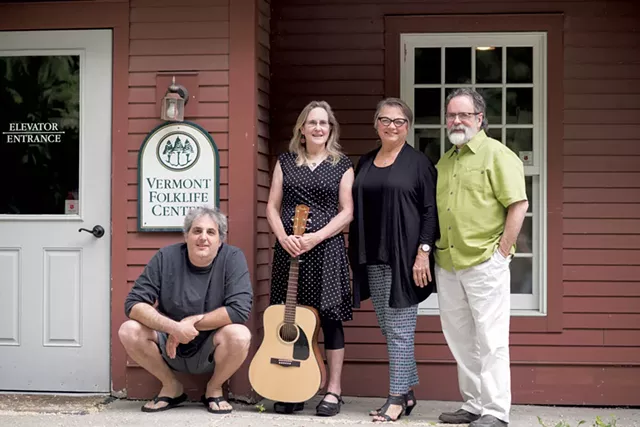 Caleb Kenna
From left: Andy Kolovos, Kim Chase, Carmen Beaudoin Bombardier and Mark Sustic
Kim Chase is an atheist, but she considers Franco-American music sacred. In her first year teaching at Lyman C. Hunt Middle School in Burlington, when she tried to lead the class in French folk songs, a student began singing "Kumbaya," Chase recalled. Incensed at the mockery, she immediately returned her guitar to its case and ended the lesson.
Chase, who's of French Canadian descent, went on to teach middle schoolers for 20 years, but she never attempted to share French folk songs with her students again.
"I'm not taking something that's very dear to me," she said, "and sharing it with people who're at a developmental stage where they're just going to mock it."
It's been difficult finding people who share her passion for Franco-American music, said Chase, 56. But soon she may have a more receptive audience.
Since last winter, Chase has been part of an educational outreach project called "Revitalizing Franco-American Song in the Champlain Valley of Vermont." Led by the Vermont Folklife Center and Young Tradition Vermont, it aims to record and facilitate the sharing of French-language songs. The organizations received a grant of $5,000 from the Champlain Valley National Heritage Partnership to provide materials for a series of singing classes that will begin in the fall, open to middle schoolers, older students and adults.
From roughly 1840 to 1930, French-speaking Québécois migrated across the border to farm and to work in the mills and stone quarries of central Vermont. Towns known as p'tits Canadas include Barre, Burlington and Winooski. Chase's maternal grandmother moved from Cap-Santé, Qué., between 1905 and 1910 to Winooski, where her mother was born. Growing up in Massachusetts, Chase spent every summer with her grandparents in Winooski, and her family moved permanently to Vermont in 1970.
Like other immigrant groups, later generations of Franco-Americans assimilated into the dominant culture of the English-speaking Yankees. The repertoire of Franco-American songs hasn't been considered part of the corpus of folk music in Vermont in the way that English-language songs are, said Andy Kolovos, director of archives and research at the Vermont Folklife Center, because, for many families of French Canadian extraction, "that strong connection isn't there."
For such descendants, "that 'Frenchness' is a last name and a grandmother," added Kolovos. He hopes the project will rekindle these people's interest in their background.
Mark Sustic of Young Tradition Vermont, a nonprofit devoted to teaching traditional music and dance, agrees with Kolovos' assessment. Musicians may be familiar with the works of Québec-based groups that perform in Vermont, he noted, but they're "not so aware of the existing French community that's here and the songs and music that come from them."
Chase, who's working on a book about Franco-Americans and French Canadians in Vermont, said the contributions of her community are often "ignored." But, at the same time, "we were an insular people," she noted.
"We have not done a great job of trying to assert our culture," said Chase. For decades, she and her late mother, Claire Bouffard Chase, worked to raise public awareness of the presence of Franco-Americans in New England; Bouffard Chase received an honorary doctorate from the University of Maine for her historical work in that area.
Kolovos, who knew about Chase and her mother through their work with the Vermont Folklife Center, reached out to Chase about "Revitalizing Franco-American Song." Until she joined the project, Chase said, she had felt something was missing from her life. The collaboration, the Essex Junction resident continued, is "an opportunity to celebrate and to immerse myself in an aspect of the culture ... I haven't found a lot of other people who still have that love."
For several weeks, Chase worked with Carmen Beaudoin Bombardier, a Burlington-based Franco-American singer, to select songs that they will first record, then upload to a website and publish in a songbook.
Like Chase, Beaudoin Bombardier has classroom experience. She and her sister have taught middle school students French songs and culture in Lyndonville, Sutton and Woodstock.
And her musical experience goes back further. Beaudoin Bombardier, 69, started singing when she was 4. Her mother, Julie, was born in Princeville, Qué., and moved with her family to Burlington's Lakeside neighborhood at age 2. Beaudoin Bombardier's paternal great-grandparents were from the village of Sainte-Émélie-de-l'Énergie in the Lanaudière region of Québec. They later moved to Lowell, Mass., where Beaudoin Bombardier's father, Louis, was born in 1920. When he was 17, the family relocated to Burlington.
Louis Beaudoin was a fiddler, the patriarch of the La Famille Beaudoin band and a board member of the Northeast Fiddlers Association until his premature death in 1980. The family spoke mainly French until they found themselves switching to English to accommodate friends and customers of their family radiator business, said Beaudoin Bombardier.
The Beaudoins played for their Franco-American community in the Lakeside neighborhood and at public festivals, and they appeared on television. Beaudoin increased his stature by making two recordings in the 1970s for the Philo Records label, said Lisa Ornstein, a fiddler based in Olympia, Wash.
Ornstein, who first met Beaudoin in 1973 at a folk festival in Alexandria, Va., likened his family to the von Trapps. She's been working with Kolovos on several archival projects related to the Franco-American song and music collections at the Vermont Folklife Center; for the "Revitalizing Franco-American Song" project, she's creating a phonetic guide to the songs.
Last Thursday, Chase and Beaudoin Bombardier recorded four songs at the center's studio in Middlebury. While Kolovos set up the microphones, the women practiced singing.
Beaudoin Bombardier was pleased at how well their voices blended; she's a tenor, Chase a contralto. Singing together took some getting used to, but it helped that both came from musical families, said Beaudoin Bombardier.
The recording session wasn't just about work; the women also shared family anecdotes. Chase made Beaudoin Bombardier chuckle when she said her mother used to refer to the latter's "rock star" family.
Traditionally sung at social gatherings, Franco-American songs are participatory in nature. The women took turns wearing Beaudoin Bombardier's two-inch heels so they could tap their feet on a wooden board while singing lively tunes. Chase strummed her guitar along to a few songs, but Beaudoin Bombardier gave up on playing the spoons, wanting to focus on the lyrics of songs that were new to her. Generally, she said later, she can tap her feet, play the spoons and sing at once.
"Let's remind each other of our motto," said Chase to her partner at one point. "We're not professionals, but we're not hicks."
"We're both learning new songs, and it's not easy," said Beaudoin Bombardier.
"But we're having fun," Chase added.
The women were careful in their song selection. They avoided those that were bawdy or about drinking, opting instead for nursery rhymes and songs that have cultural or personal significance.
For instance, Beaudoin Bombardier used to sing "Ventr' de son" ("Empty Belly") to her children and grandchildren. "La Bénédiction d'un père" ("A Father's Blessing") describes a custom that Beaudoin Bombardier's family observed on New Year's Day. First thing in the morning, she and her sisters would kneel before their father, who would put his hand on their heads and bless them.
Chase chose "La Destinée, la rose au bois" ("Destiny, the Woodland Rose"), which describes a time when women's primary role was to tend the home.
It's Sustic's job to book a location for the singing classes, which he hopes will take place in the Lakeside neighborhood. Many French-speaking families settled there, he explained. "In terms of the music and dance that was held on to, presented and thrived, that South End of Burlington has been an important place," said Sustic.
The classes will welcome everyone, whether or not they speak French or have French ancestry or musical experience, Sustic and Kolovos said. The only criterion: "You have to be open to learning things," said Sustic.
"My parents would be very pleased to see that it's continuing," Beaudoin Bombardier said, "because it was very important to my family to be proud of our heritage."