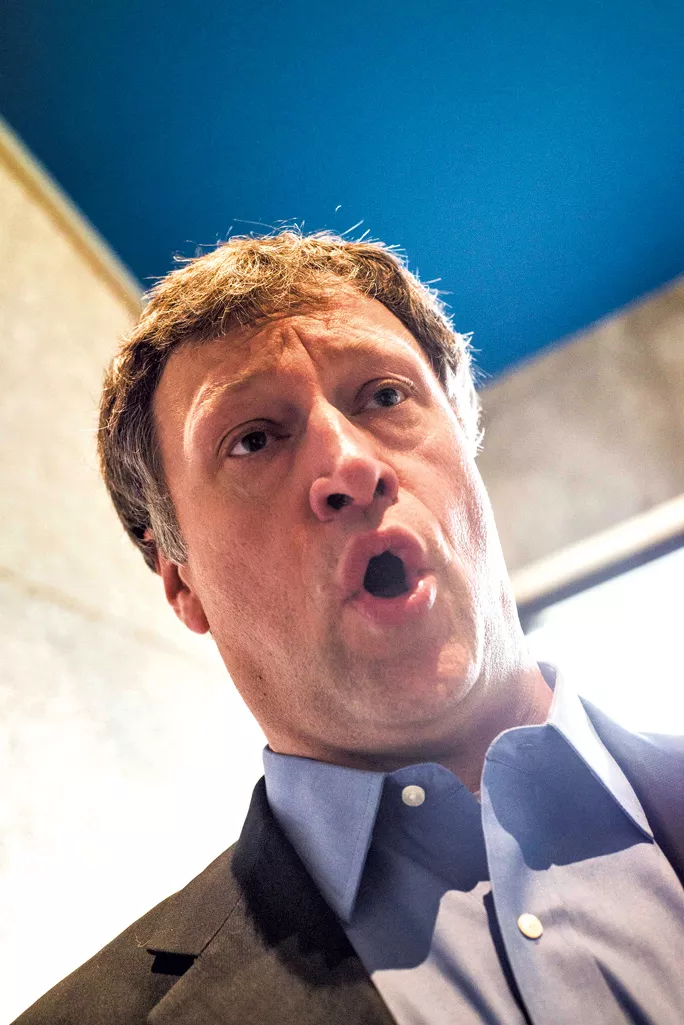 Erik Kroncke of Montpelier has the kind of speaking voice you'd expect from a bass singer: so low in pitch it's impossible to imitate, but fun to try. On a recent afternoon, the 6-foot-2-inch professional rumbles a polite greeting to this reporter at the Spot in Burlington, and then sits down to ... a glass of water.
Kroncke lost 40 pounds in the past few years and is intent on shedding a few more, he explains. On his smartphone, he pulls up a photo of his formerly rotund self in full costume as Henry VIII in a Houston opera house's 2011 production of Donizetti's Anna Bolena. Local audiences wouldn't recognize the image as the same man who sang in the Opera Company of Middlebury's Eugene Onegin in 2013, in the role of Prince Gremin; and La Traviata in 2014, as Dr. Grenville.
But the 45-year-old isn't losing weight for health reasons. He is, quite literally, finding his voice. As Vermont's premier bass opera singer, Kroncke has recently expanded both his singing ability and the kinds of performances he does. The result is that Vermont audiences will likely see and hear more of him in this opera season and beyond.
Five years ago, Kroncke began making the transition from singing mostly heavy, stand-and-deliver Wagner repertoire to more nimble Italian roles. The change coincided with a shift in his singing style, from Germanic — "a lot of forced singing," as Kroncke describes it — to a more limber bel canto style. The initial suggestion that he expand his voice in this way came from Victor DeRenzi, artistic director of the Italian-opera-centric Sarasota Opera. DeRenzi worked privately with Kroncke to move his voice toward a more Italian style for performances in Don Carlos and Tosca.
"My high notes opened up, and my voice became freer," Kroncke recalls. "But I didn't know what I'd done or how to translate that." So the singer went to work plumbing the technique. Since then, he has explored the new realm of bel canto with vigor, and found a voice teacher to help: Claudia Pinza, daughter of Ezio Pinza, who is often considered the best bass singer who ever lived. Kroncke flies to Pittsburgh two or three times a year to consult with Pinza, and studies annually at the summer institute she directs, the Ezio Pinza Council for American Singers of Opera, in Oderzo, Italy.
Vermont audiences may have heard the result of Kroncke's pursuit most recently at the Burlington Choral Society's fall production of Handel's oratorio Solomon, in which he sang the solo part of Levite in an arrestingly nuanced performance.
Soprano Mary Bonhag, who sang the solo parts of Solomon's queen and the First Harlot in that production, recalls, "That was a delightful surprise to hear his voice move so effortlessly through the melismatic passages" — that is, when multiple notes are sung on a single syllable. "It's harder for bigger voices to move agilely. And Erik's always had a very commanding voice, a big instrument — a very rich, rich, rich, deep voice."
Basses are the latest of all singers to develop their voices, and they often stick around the longest. Samuel Ramey, for instance, made his Metropolitan Opera debut at age 42 and has been a regular there for the past 30 years. So it's natural that Kroncke considers himself to be just now reaching his prime.
Yet his search for his true voice has involved more than the usual number of bumps in the road. Along the way, Kroncke was deemed a failed tenor, sang in roles he felt unsuited for and signed on with more than a few opera houses that subsequently went under. Which makes his present state at the top of his game even sweeter.
Kroncke's beginnings as a singer were promising. As a child growing up in rural Colorado, he sang all the time. His parents finally found him an auditioned children's chorus, in which he was soloing by the age of 10. At 13, he sang in the children's chorus in a production of Carmen in Colorado Springs. It was a pivotal experience. "I thought, I want to do this," Kroncke recalls. At 14, he began studying with Martile Rowland, a former Met singer.
The trouble began in college. At the University of Colorado Boulder, Kroncke, whose voice had changed but wasn't yet the bass it would become, trained as a tenor. His top range ended at a high F, a normal tenor's range, but his voice "got smaller and smaller." By senior year, on the eve of launching a career, he recalls, "My teacher was saying, 'I don't think you're a singer.'"
Kroncke moved around the country during the next decade, obtaining increasingly better advice from each new teacher he encountered. In Boston, he studied at the Longy School of Music of Bard College; in Austin, he found a teacher who "discovered the bottom part of my voice and went, 'Now, let's explore this.'" Back in Colorado, another teacher finally declared him a "true bass."
Kroncke felt the force of truth in that pronouncement. When he sang as a tenor, he recalls, "Someone said, 'You don't act like a tenor.'" Tenors, he explains, have "a really strong ego mixed with innocent fearlessness," a combination that enables them to sing the tenor repertoire's typically young, heroic roles.
"When I found out I was a bass," Kroncke continues, "I looked at the roles and thought, Oh, that's me. Most of them are kings and priests and fathers. They fit my personality." And, he adds, "basses are a lot more laid-back [than tenors], slower. We play older people."
Kroncke's level of thoughtfulness comes through in his singing. Doug Anderson, artistic director of the Opera Company of Middlebury, says Kroncke "plays beautifully this big, gruff character who's also very thoughtful and sensitive and intelligent." As Prince Gremin, Anderson recalls, Kroncke was singing the part of an older, wealthy man who gets the woman — "and yet he brought so much vulnerability to the role, so much warmth and caring."
That's different from many of the basses Anderson auditions in New York, he adds. "You get a lot of basses who are stiff; it's all about the big voice."
Dick Riley, the Burlington Choral Society's director, who conducted Solomon, declares of Kroncke that "He was able to create real character intensity" through a character who doesn't consist of much and "non-flashy music." (Levite, a brief part, is an omniscient narrator of sorts.) In oratorios, Riley adds, "you often get people who seem anonymous. Erik was able to create real personality." Riley calls the bass "a first-class voice."
Kroncke officially launched his career as a bass at the age of 31 in New York City and Connecticut, where he lived for seven years. Since then, he has made Vermont his home. His daughter is an eighth grader at the Lake Champlain Waldorf School in Shelburne — Kroncke's next performance is a benefit concert there — and he met his accompanist-girlfriend, the accomplished pianist Mary Jane Austin, in the Green Mountains. Meanwhile, his career as a professional singer takes him where the work is. Kroncke has sung with the Opera San Jose and with the Seoul Philharmonic Orchestra, among others.
He has also signed on for various singing jobs only to find the opera world shrinking. Planned gigs with the recently shuttered Green Mountain Opera Festival are only part of the picture. Kroncke also agreed to sing at New York City Opera before it failed in 2013, at Lyric Opera Virginia before it closed in 2014, and in roles that were dropped for financial reasons at Opera San Jose and elsewhere.
As a result, he is adding more oratorios and recitals to his repertoire, including a recent recital sponsored by the Stowe Area Opera Lovers called "Opera in the Snow." In an ideal world, one where "expensive, expensive" opera is fully funded, Kroncke would have another chance to sing his favorite role, Philippe in Don Carlos. "He's a really complex character with some fantastic music," the singer says. He'd also try out his most coveted role, Boris Godunov in Mussorgsky's eponymous opera. ("It's just the best role for bass, ever," he says.)
For now, though, Kroncke is pleased as punch, in his laid-back bass way, about the new direction his singing has taken. "It's lit a spark in me again," he rumbles. "We'll see where this goes."