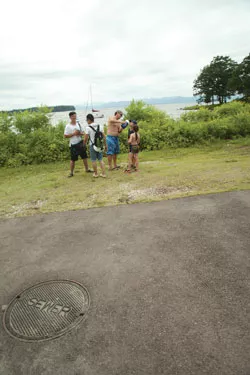 Matthew Thorsen
South Cove
As record-breaking rainfalls gave way to sunshine last weekend, local waterways were once again bustling with swimmers, boaters and anglers. Many people likely assumed that someone had tested the waters to ensure they were safe for public recreation. The same folks probably figured that if thousands of gallons of raw, untreated sewage had inadvertently spilled into those waterways, they'd have heard about it.
Guess again, says James Ehlers, executive director of Lake Champlain International, a nonprofit organization committed to improving the quality of Vermont's largest body of water. Ehlers says sewage spills and overflows from Vermont's wastewater treatment systems are common occurrences.
But the public is only notified when they're exceptionally large, as was the case in April 2005, when a Burlington sewer line ruptured, spewing millions of gallons of raw sewage in the Winooski River for days before it was repaired; or when fecal bacterial counts exceed safe limits at publicly managed beaches, shutting them down.
By law, the Vermont Agency of Natural Resources is required to post on its website notice of any illegal discharge that "may pose a threat to human health or the environment" within 24 hours of learning about it.
Practically speaking, however, Ehlers says that it can take days, if not weeks, before ANR receives those notifications from wastewater treatment plant operators. This is especially true when spills and overflows occur during intense rain events such as the ones Vermont experienced in May and June.
As a result, people often learn about those spills, assuming they know where to find the information on ANR's website, long after they need the information.
"What good are weather reports when they come on and tell us it rained yesterday?" Ehlers says.
Even after sewage spills are reported, the volume often remains a mystery. ANR confirmed nine "sewage overflows and incidents" between June 12 and July 4. Only one of them provided an estimated quantity: a dechlorination system failure in St. Albans City that allowed 1.17 million gallons of chlorinated water to flow into Lake Champlain. The other eight listed discharge amounts as "unknown."
In the event of a spill, plant operators have no obligation to notify the Vermont Department of Health — the state agency charged with testing water to ensure it's safe enough for fishing, swimming and boating.
Admittedly, some of the discharges are small and brief, such as a July 4 spill at pump station No. 9 in Middlebury. According to Middlebury wastewater superintendent Bob Wells, that discharge was a "combined sewer overflow," aka CSO. During intense rains, combined wastewater-stormwater systems are designed to allow some runoff to bypass the treatment plant so as not to overwhelm the machinery.
Wells says the pump station's overflow only lasted a half hour and spilled no more than 100 gallons of "true wastewater" into Otter Creek. That's a tiny fraction of the 750,000 to 4 million gallons of wastewater the Middlebury facility processes every day.
"I'm not trying to minimize it," Wells emphasizes, "but it is a small amount."
Ernie Kelley, program manager for the wastewater program within ANR's watershed management division, admits that the state has a "somewhat inconsistent policy" regarding the reporting of CSO events. Some municipalities acknowledge them immediately, he says, while others wait until they file their required monthly reports.
"We definitely realize that it's a deficiency in how we're reporting things at this time that we need to correct," Kelley says, adding that plans are in the works to include spill volumes on the state website.
Part of the problem, Kelley explains, is that combined stormwater and wastewater systems are considered outdated technology. The state's goal is to phase them out, but larger systems such as Burlington's would be too cost-prohibitive to replace all at once.
A contributing factor, Kelley explains, are roof drains and basement sump pumps that are illegally hooked into the sewer system — instead of the stormwater one. "It's amazing how much storm-induced flow comes from those two sources alone," he says, noting that it would be "quite the major undertaking" to find the offenders. But doing so would alleviate some of the problem.
Anthony Iarrapino, a senior attorney with the Conservation Law Foundation in Montpelier, says that some of Vermont's recent sewage spills can be blamed on systems that date back to the Civil War era. But many others occurred during dry spells, he says, in systems not designed to mix stormwater and wastewater.
"It isn't anyone's fault if it rains," says Iarrapino, "but it is their fault if they're not investing in their systems, especially when it's the case that you're getting multiple discharges year after year."
Between January 2007 and March 2011, CLF documented 142 incidents involving unpermitted sewage discharges, the effect of which was nearly 21 million gallons of raw sewage dumped into Vermont waterways. Iarrapino emphasizes that none of these discharges were CSO events but rather failures of sanitary sewer systems caused by operator error and aging infrastructure.
Neither Iarrapino nor Ehlers put the blame on plant operators. As Ehlers puts it, "It'd be like criticizing someone who's forced to drive around on flat tires for their poor driving skills." Both men suggest that there's a lack of political will to hit up taxpayers to adequately fund needed infrastructure improvements.
A major spill can change that. Iarrapino notes that in 2006, following Burlington's huge sewer-line rupture, CLF and others convinced lawmakers to pass a law requiring every sewer plant to submit to ANR an "operation, management and emergency response plan" that also identifies infrastructure in need of upgrades and repair. That plan must be updated each time the permit is renewed.
But Ehlers points out there's still no comprehensive way of measuring the environmental or public health impacts of all this untreated sewage flowing into Lake Champlain. Last week, the Vermont Department of Health issued a press release touting its volunteer system for reporting blue-green algae blooms on Lake Champlain. The algae is toxic to humans and animals, and some emerging scientific research suggests it may even be linked to certain deadly neurological disorders, such as ALS.
There's no systematic tracking of more common health problems associated with sewage spills, such as earaches, stomachaches and diarrhea. State toxicologist Sarah Vose says that testing for E. coli, considered a "fecal indicator bacteria," only occurs at managed beaches and swimming areas, such as Burlington's North Beach and Oakledge Park. When the public swims, boats or fishes at other locations, she says, they do so at their own risk.
"It would be great if there were a centralized location that beachgoers could use to look on their phones and say 'Oh, look, the E. coli is high at this beach,'" Vose adds. "That might be a possibility in the future, but right now, you have to check with each beach."
Until someone invents the fecal coliform app for smartphones, Vermonters will have to rely on yesterday's "weather report" to figure out where to go swimming tomorrow.