Vermont Sen. Mark MacDonald (D-Orange) suffered a mild stroke on Sunday and is being treated at the University of Vermont Medical Center, according to a statement from his family.
The medical setback comes as the 79-year-old veteran legislator is running for reelection. He faces a stiff challenge from Republican candidate John Klar.
"Mark is in good spirits as he tackles this unexpected challenge," his family wrote in a statement. "He and his family expect a speedy recovery. "
The Williamstown farmer has served in both the Vermont House and the Senate, where has represented Orange County since 2003. He is a Vietnam veteran, retired teacher and beef cattle rancher.
The Vermont Democratic Party
wishes MacDonald a speedy recovery,
executive director Jim Dandeneau said.
made retaining MacDonald's seat in the Senate a priority because of concerns about Klar's political views, Dandeneau said.
The makeup of the district also shifted slightly during this year's redistricting process, as it lost "deep blue" Thetford and added Bradford, Dandeneau said.

"We were already worried about the seat, and keeping it was already a priority for us," Dandeneau said. "This just underscores the urgency of that."
Klar, a Brookfield farmer and attorney, ran for governor in 2020 and lost in the primary to Gov. Phil Scott. He is running on a platform of shrinking government, rejecting renewable energy and reforming the public pension system.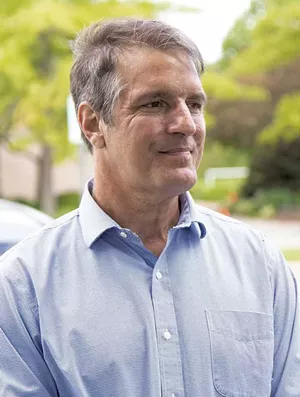 Courtesy
John Klar

MacDonald's daughter Janet MacDonald Kaempf has flown in from California to help her father recover, Dandeneau said. She is a registered nurse.

"Mark's trademark riddles and one-liners are keeping his nurses in stitches," MacDonald Kaempf said in the statement.

MacDonald will undergo physical therapy and resume his campaign when he hits certain recovery milestones, the statement said.