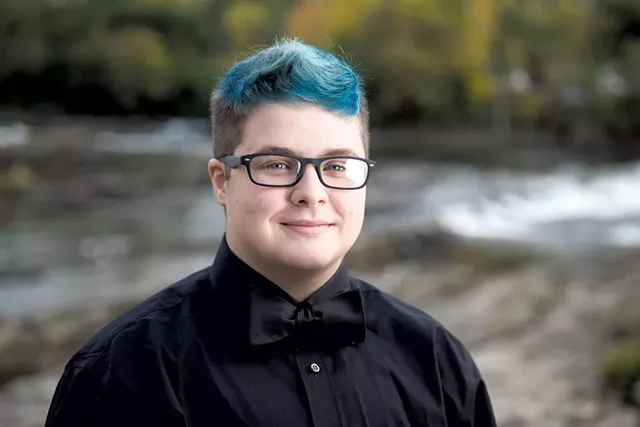 James Buck
Simon White
Missy Semprebon of Waterbury sees herself as a mom in the know. So her ears pricked up when she overheard her 16-year-old son chatting about a new and unfamiliar school policy designed to promote fairness and a sense of belonging for transgender students.
The boy, who is not transgender, was explaining to his younger sister that in each of his classes this year at Harwood Union High School, students have been asked to introduce themselves by name and preferred pronoun. The idea was to give them a choice to use "he," "she," or gender-neutral options such as "ze."
The introduction policy at the South Duxbury school echoes a trend in college classrooms, and counts as one of several steps Vermont high schools are taking to accommodate teens who are transgender.
Semprebon's son had no problem with the pronoun question, but his mother was rattled by it. She thought it put students on the spot, and she immediately contacted school officials to say that parents should have been consulted before the school rolled out the new practice.
She is equally uncomfortable with the idea that when her 13-year-old daughter goes to Harwood in a few years, she could be changing in a locker room alongside students with male genitalia. That's because Harwood, like some other Vermont high schools, allows students to choose bathrooms and locker rooms that correspond with their chosen gender identity — an issue that has become a flashpoint in the national debate about transgender rights.
The way Semprebon sees it, schools are asking teenagers to make accommodations that might make their own parents uncomfortable, even though the elders are presumably more mature.
"These things aren't being addressed very much in the adult world, so why are we testing them on our kids?" she asked during an interview at her home.
Others say the changes are overdue, and applaud the Vermont Agency of Education for issuing a list of best practices last spring to help schools become more inclusive of transgender students. "These practices are intended to help schools ensure a safe learning environment free of discrimination and harassment, and to promote the educational and social integration of transgender students," the report reads.
Burlington-based Outright Vermont helped Vermont Education Secretary Rebecca Holcombe draft the rules, which some schools expressly requested. Similarly, the nonprofit gay and trans youth organization is conducting voluntary trainings with faculty and staff around the state to make schools more inclusive.
The ed department's guidelines are written broadly to allow schools to make policy and physical plant changes that are right for the local community, Holcombe said in an interview with Seven Days. She declined to discuss the policy at Harwood Union High School, as did the two coprincipals there, although they released a public statement in response to comments Semprebon made on Facebook, saying the pronoun policy was a student-driven suggestion and was optional, not mandatory. The school also stands by its locker room access policy and is planning to convert an existing girls-varsity changing area into a new, unisex one with a separate entrance.
"What we're really trying to encourage our schools to do, is to talk to students about how they feel best supported," said Holcombe. Many advocates for trans children and teenagers say giving them access to spaces that correspond with their gender identity is a key step to reduce bullying.
Meanwhile, other states around the country "are actively resisting acknowledging or supporting these children," Holcombe observed. In August, a federal judge in Texas rejected the Obama administration's contention that transgender students have a right to use the bathroom or locker room of their choice under Title IX, the 1972 law that bans sex discrimination in schools. The ruling blocked a U.S. Department of Education directive that schools must allow students to choose restrooms or locker rooms based on their gender identity.
In Vermont, "limited feedback" to the Agency of Education recommendations has been mostly positive, according to Holcombe. But there is some parental resistance out there, and not just at Harwood: In August, the Chittenden Central Supervisory Union school board, which oversees Essex High School, formalized a policy that made clear students could choose to use the bathroom or locker room consistent with their gender identity. At a school board meeting shortly before the start of school, many parents complained and one called the policy "ultra PC" and a "tyranny by the minority."
It's unclear how many Vermont students are transgender. Nationally, about 0.6 percent of the adult population is trans, according to a study by the Williams Institute earlier this year.
Last Tuesday, 175 teachers filed into the auditorium at Essex High School for a training session with Outright Director of Education Dana Kaplan, who is visiting schools all over the state. At Essex, he urged teachers to start looking beyond the heteronormative world and create a school climate where transgender students see themselves reflected in everything from pronouns to curriculum.
From little things, such as greeting a class with "Hello, folks" rather than "Hello, boys and girls" to big things, such as calling out students for making insensitive comments, teachers can vastly improve the school experience for gender non-conforming students, Kaplan said. "You all really do have the power to make it better," he said.
The teachers listened closely as a panel of seven teens — five current Essex High students and two recent grads — talked about their experiences as students who are transitioning to transgender status or have already done so. The students introduced themselves with their preferred pronouns, with some opting for "they" rather than "he" or "she."
Faculty members posed a series of friendly questions. On pronouns, did the students like it when teachers asked everyone in class to state their preferred pronouns at the beginning of the year? Some students said they did and some said they preferred to write their preference down on a "getting to know you" form.
One student pointed out that some kids don't know the parts of speech and find the pronoun question baffling for that reason. "They are like, what's a pronoun?" the student explained, to chuckles from the faculty.
Another teacher asked, what if I make a mistake and use the wrong pronoun? Apologize and move on, students said.
A French teacher explained that the language she teaches is rooted in gender, with masculine and feminine forms of nouns and adjectives. She asked the students: "Is that an uncomfortable situation?"
One of the students said it might be, but stopped short of suggesting the French language undergo remodeling. There isn't always a simple answer, and that's OK, the students said.
The students also shared steps the school has taken that made them feel validated and respected. For 18-year-old Simon White of Essex Junction, a transgender boy who uses the "he" pronoun, it was hearing his chosen name being called at graduation in June, and seeing it on his diploma.
White's legal name is different, a reminder that he was born a girl. The fact that the school did not insist on using his legal name at commencement meant a lot to him, he reiterated in a post-panel interview with Seven Days.
"Honestly it just felt like it was a right to be able to graduate with the name I go by instead of the name I'm forced to use most of the time," White said.
From his earliest memories, White wanted to be a boy.
"When I was younger I thought I was a boy until I got to school and they told me I wasn't. That was quite a rude awakening."
White went forward, backward and sideways in the transition to a male identity. In seventh grade, White came out as a lesbian girl. Junior year of high school, White came out as a trans boy, but it was too difficult to constantly explain his new name "Simon" or navigate the bathroom situation, he said. During his transition, White wasn't comfortable using either the boys' or the girls' group bathrooms. At the time, only one of Essex High School's three unisex bathrooms was unlocked — a problem that has since been remedied.
White gave up on being outwardly transgender for about a year. "It was too hard, I wasn't really ready to deal with all of the injustices that transgender people face," he said. During most of his senior year, White tried to live as a girl, he said, but "felt like I was burying myself alive."
A few months before graduation White recommitted to living as a transgender boy named Simon. He's now studying criminal justice at Community College of Vermont in Winooski, and is happy to say that the college allows him to use his chosen name in almost all records and forms. There's also a unisex bathroom on every floor, he notes. White has been taking testosterone for a month and wants to have what he refers to as "top surgery" to remove the breasts he has disliked ever since they developed during puberty. Until then, White binds his chest, and he looks forward to a time when being trans is more socially acceptable.
The Vermont Agency of Education is preparing for that day, too. Its guidelines suggest that schools keep two sets of records in some cases: one with a transgender student's preferred name and gender for student IDs, report cards and attendance lists; the other with the legal name and assigned gender at birth for federal government and health forms.
Also, students should generally be allowed to participate on sports teams that correspond with their chosen gender identity, according to the guidelines, which echo rules that have been in place since 2008 per the Vermont Principals' Association.
It's unclear how many Vermont trans students play on sports teams that match their gender identity, but they are fully entitled to in Vermont, said Bob Johnson, associate executive director of the VPA.
A few years ago, a girl who had transitioned to a boy was allowed to play football at Burr and Burton Academy, according to Johnson. So far he hasn't heard any allegations that boys who transition to being girls would have an unfair advantage competing as female athletes.
Most of the calls he gets are about locker room and bathroom access.
Kaplan, at Outright, said it's time for society to revise the belief that gender is a function of "plumbing." He went on to say: "Just because somebody has a vagina doesn't mean that person is a girl."