Courtesy of Pacem School
Pacem School teens testing homemade boats
In 2010, my oldest son moved his family to Norway, abandoning a senior-level position with the federal government to live in a cottage on the edge of a fjord. My two granddaughters had spent their early childhoods in a progressive, nature-based day school in the Washington, D.C., suburbs, and the eldest had one year of U.S. public kindergarten under her belt. I wondered what first grade in her new village school would be like.
Both children were fluent in the local language by the time school started that fall, and my older granddaughter, Anika, excelled academically. But stark differences in educational approaches soon became apparent. Norwegian parents and educators put an emphasis on fostering cooperation, independence and self-esteem over academic skills. Norwegians feel these social and emotional attributes are best learned by students spending the majority of their time in nature, engaged in exploration, exercise, nature study and teamwork.
My youngest granddaughter, Freya, spent her entire Norwegian preschool career outdoors. Picture this: 3-year-olds exploring heavily wooded unfenced areas, climbing trees, breaking ice in a fjord with an ax, boating, building a fire, rock climbing, carving wood, and taking midday naps outdoors in all but the most inclement weather. Visiting Norway, I was astounded by the fearlessness and physical capabilities of very young people. Norwegians are not typically afraid that their kids will get lost, injured or attacked by wild animals, so there is not the risk aversion we see here. They know that in order to become truly intelligent, one must explore their world, and the study and enjoyment of nature is woven throughout the entire curriculum. Even in the higher grades, when more time is spent on academics, all young people spend a minimum of an hour outdoors daily, year-round. And guess what? Young people tend to do as well or better academically as their U.S. counterparts in high school, even though there is little testing and a great deal of emphasis on creativity and project-based learning.
courtesy of Thetford Elementary School
Students at Thetford Elementary School cleaning sweet potatoes
Though more of us are becoming aware that children suffer from "nature-deficit disorder," a term coined by author Richard Louv, outdoor learning has been slow to catch on in the U.S., despite studies showing that those students have fewer sick days, better motor skills and improved fitness — and are more attentive and engaged when they do focus on academics.
I did a case study in the 1990s, funded by the Vermont Institute for Science, Math and Technology, of the Barnet School, a public school in the Northeast Kingdom that had organized its K-8 curriculum around the themes of food, hunger and community. The educators at this school made full use of the surrounding 98 acres of wilderness. Students and community members had built educational spaces for water study, bird-watching, weather monitoring and the arts. The school had numerous raised garden beds where students planted and cared for indigenous crops and herbs, and a composting station in which the heat of decomposing matter was measured. These fortunate young people often went fishing on Fridays and enjoyed cross-country skiing in the winter. Teachers noticed a number of benefits from the outdoor learning: fewer discipline problems, broader academic achievement among all kids and more enthusiasm for learning.
A number of Vermont educators have received mini grants to implement outdoor education this fall, and I recently spoke with school leaders who are enthusiastic about moving some school activities outdoors. Pacem School in Montpelier is an independent middle and high school that serves both full-time students and part-time homeschoolers. At Pacem, students cocreate the curricula, learn at their own pace and incorporate environmental stewardship into their lives. Lexi Shear, director of the school and a science teacher, told me the school has long made good use of the woods and fields surrounding the school building on the campus of the Vermont College of Fine Arts.
This fall, educators there are planning to move even more of their academic classes outside. Although the impetus for this move is to mitigate the risk from the coronavirus, teachers and students are excited for the curricular opportunities it will afford. As the middle school science teacher remarked, "Being outside makes unanticipated discoveries and adventures in learning much more likely. My youngest group can traipse around looking for insects. My oldest group can be investigating water quality." The high school U.S. history class will study changing land use in New England, from Native people through settlement to the present, with a big focus on what can be learned from physical clues in the surrounding landscape. The middle school social studies class will learn about civics through building a model village, with the goal of wrestling with what it really takes to build a new community and understanding how the landscape can impact society. The school will also offer new enrichment classes for younger homeschoolers, which will focus on topics including nature journaling and math in nature in the fall.
Chance Lindsley is the principal of the public K-6 Thetford Elementary School and an ardent supporter of outdoor education. Thetford has been fortunate to have the services of Cat Buxton — local community organizer, educator, consultant and founder of the Vermont Healthy Soils Coalition — who helped the school set up a gardening and compost program years ago. Lindsley is collaborating with local parents and teachers who would like to see that aspect of the school expanded to include a greenhouse and an animal barn.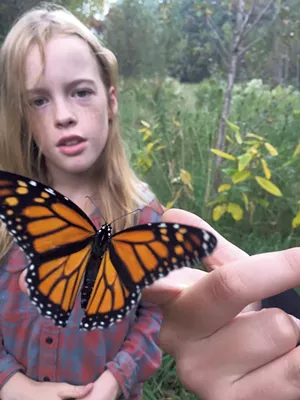 courtesy of Pacem School
Pacem student Ripley Boyden tagging a monarch butterfly
Outdoor education at Thetford is not just about food production. Kindergarten teachers Sue Rogers and Bette Nuñez have used the surrounding forest as a learning environment for many years. In their outdoor classroom, children make fires; build structures; identify insects, animals and plants; and engage in play-based learning. The teachers report that the children love it outdoors and that little "discipline" is required.
Our attitudes toward outdoor education may change as we begin to see innovations such as these taking hold in Vermont schools. Brewster-Pierce Memorial School in Huntington, in a joint project with the Securing Access at Huntington Community Forest project, has just received a $50,000 grant from L.L.Bean to enhance its outdoor education program. Educators, students and community members will reap the many benefits of learning in the 245-acre forest right outside their door.
In this era of climate instability and species extinction, it is urgent that young people learn to live sustainably and responsibly. Vermont, with its stunning scenery and unique working landscape, is the perfect place to learn how to do this. Moving the classroom outdoors is a great way to start.
Kathleen Kesson is professor emerita of teaching, learning and leadership at Long Island University-Brooklyn. She is the former director of teacher education at Goddard College in Vermont and was the founding director of the John Dewey Project on Progressive Education at the University of Vermont, a research and policy organization. She currently lives in Barre.