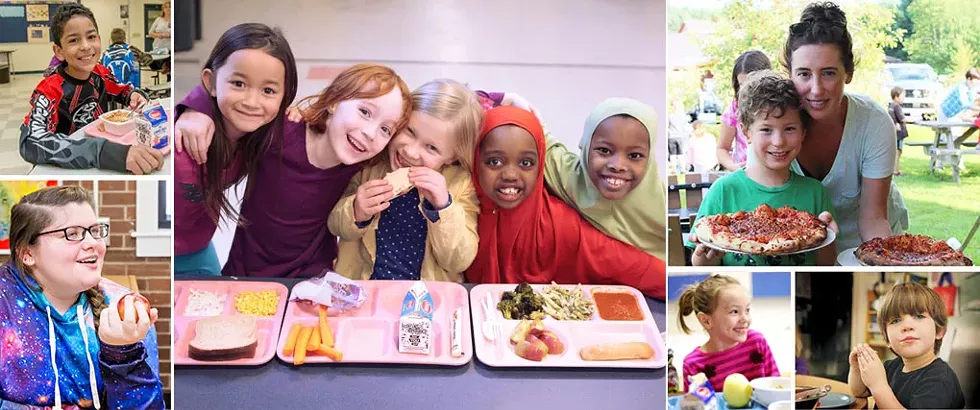 O
n the surface, school cafeterias haven't changed all that much over the years. Essex High School ninth grader Emma Renaud reports that there's still a table where the popular seniors sit and another table for the kids who play hockey.
But look a little more closely, and you'll notice some big shifts that happened during the pandemic. For one thing, there are more kids eating the food that the school provides. At Essex, that includes made-to-order sandwiches, salads and specials of the day, such as grilled cheese and tomato soup, or chicken teriyaki. "There's lots of options," Emma noted.
Also, more of that food is sourced from local farms. And, according to Emma's classmate Grace Symula, it's tasty. "Everything they have here is pretty appealing to me," Grace said. "When it's taco day, you can tell. The line is out the door."
The biggest change is something that's missing: cash registers. Since March of 2020, thanks to temporary federal COVID-19 relief grants, all Vermont K-12 students have been able to get breakfast and lunch from their schools free of charge — a program known as "universal school meals." Because of it, all kids have been able to eat the same breakfasts and lunches. Eliminating the option for more affluent students to buy a slice of pizza instead of getting a healthy and complete meal made school cafeterias truly equitable for the first time ever.
Today, there's no stigma attached to taking school food, no awkward encounters about unpaid account balances at the register. The vibe in the cafeteria is "judgment-free," Emma said.
Without state action in the next several weeks, this vibe could totally change. Federal funding for universal school meals is scheduled to end on June 30. Unless state lawmakers act now to fund the program, Vermont schools and communities will have to decide whether to start charging parents and guardians — and collecting payment — for the food that students eat at school, or absorb it into their already stretched local school budgets. If the adults can't or won't pay, or won't fill out the confusing paperwork to qualify for free meals, their kids won't get to eat.
Here's how you can help:
Visit UniversalSchoolMealsVT.org to learn more about the campaign and sign up for email alerts.
Call or email your legislators to express your support for universal school meals.
Share your story about why you support universal school meals.
When Grace and Emma found out about this recently through their positions in student government, it upset them. It doesn't seem fair to them that some of their classmates won't have access to the food that they've all come to enjoy. After all, everyone can ride the school bus without paying. Everyone has access to the same teachers. Why shouldn't everyone get to eat, too?
The two Essex teens are part of a growing group of advocates who are working to preserve access to food for every student who wants it. That starts with raising awareness that the free school meals they've come to rely on could be taken away. "I don't think a lot of students know about it," Emma said.
Advocates from Hunger Free Vermont want parents, voters and lawmakers to understand what's at stake, too. The food security education and advocacy group is urging legislators to pass S.100 during this legislative session. It would provide universal school meals to all students, regardless of household income, and it would provide payment to schools from the statewide education fund to spread out the cost.
Emma and Grace want students to fight for the legislation. There are lots of adults behind it, too — 96 percent of school nutrition professionals recently surveyed in Vermont support making universal school meals permanent. The legislation has tri-partisan approval, as well. If it passed, Vermont would join Maine and California in making this change; other states, including Wisconsin, Minnesota and Colorado, are also considering similar legislation.
Tristan Brown, food service manager for three elementary schools in the Orange Southwest School District, doesn't have kids of his own in school but described himself as "all in" on universal school meals. The current system feeds hungry kids, he said, and it enables schools to increase the amount of local food they buy. It's also a lot easier to administer. He and his staff don't have to worry about processing payments — they can just focus on the food.
"It just feels so wrong to go back," he said. "I would hate for any kid to go hungry in the cafeteria."
Kids who are fed are focused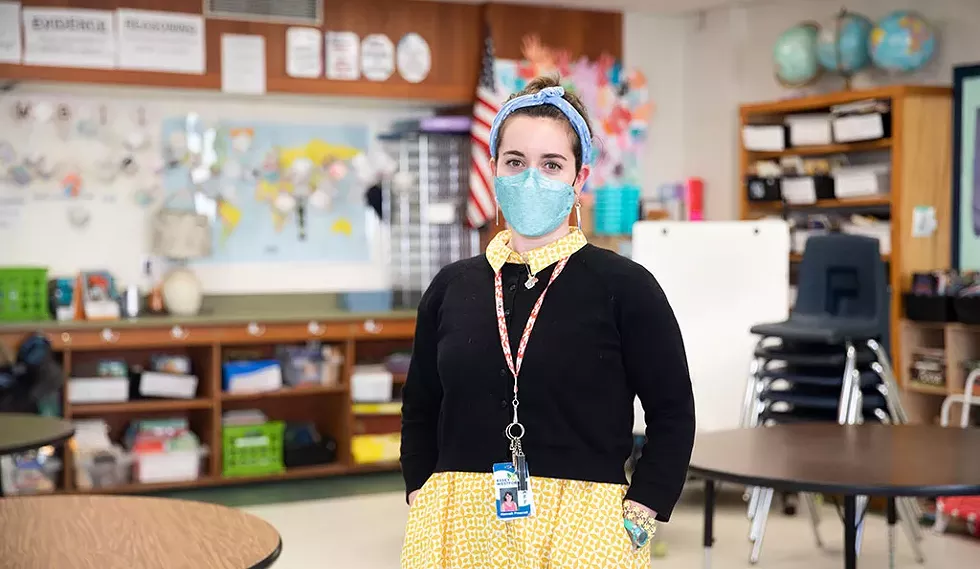 Cat Cutillo
Hannah Prescott, Essex Middle School teacher
Before universal school meals, some students weren't getting enough to eat, Essex Middle School teacher Hannah Prescott said. She knows because she was feeding them.
Pre-pandemic, Prescott always kept a drawer full of snacks at her desk — things she'd buy herself, like Goldfish crackers and "the good granola bars," she recalled. She kept them in her classroom for late mornings or early afternoons when kids would ask for something to eat. Her teaching team would also buy apples and make them available for all the students in their advisory group.
Sometimes Prescott would give her students food from her own lunch. It happened more often at Hartford Memorial Middle School, where she taught for seven years before coming to Essex. "It's so demoralizing and embarrassing to have to ask for food. If kids are going to ask for something, I'm going to give it to them," she said.
Prescott has seen what a difference those snacks can make. "Intermediary meals are so important for focus, for paying attention," she said. She recognizes "the slump" — the way her adolescent students look when they haven't eaten or have low blood sugar.
Some parents pack snacks for kids to have at those times. Some don't. Hungry kids used to have to watch their classmates have a snack. "I think that's really hard," she said.
"Kids who are hungry are not focused on being a student," she said. "They're focused on whether their stomach is growling, and whether anyone heard it."
While Prescott's school began serving universal school meals during the pandemic, universal meals have been on offer at some Vermont schools with a high percentage of kids from lower-income households since 2014. Research on the adoption of universal school meals in those schools backs up the correlation between well-fed kids and better learning outcomes.

A February 2020 study of Vermont schools serving universal school meals, published in the Journal of Hunger and Environmental Nutrition, noted that 83 percent of staff at those schools agreed or strongly agreed that "universal meals made students more ready to learn." The data from a study in New York show that providing universal school meals improves student performance in math and English language arts by up to 10 weeks of learning.

'An equal opportunity to learn'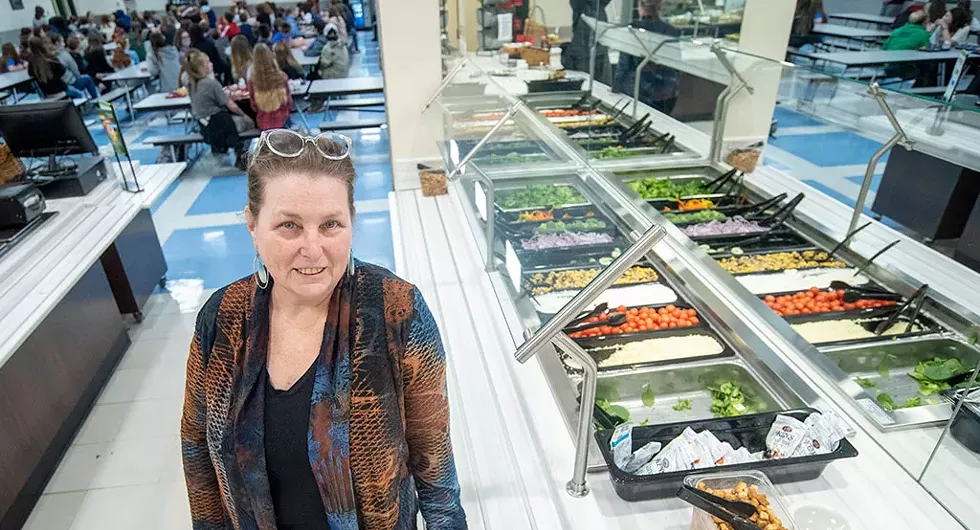 Jeb Wallace-Brodeur
Karyl Kent, director of nutritional services at Lamoille North Union Supervisory District
Karyl Kent, director of nutritional services at Lamoille North Union Supervisory District, shares Prescott's experience with hungry students. Pre-pandemic, she sensed that some kids were not getting enough to eat. Other students confirmed it. In the fall of 2019, she said, three Lamoille high schoolers came to her, separately, with a similar request: ​​"They said, 'There are so many kids who can't get lunch, and we see you have all this food left over.'"
Those encounters prompted Kent to initiate the After School Supper Program to feed students. "Kids were saying, 'Thank you for doing this for my friends,'" she recalled.
In her 14 years working as a school nutrition professional in Chittenden and Lamoille county schools, Kent has seen that students often know which of their peers aren't getting enough to eat. And kids will do whatever they can to help their friends, from letting a hungry student tag along with them in the lunch line to sneaking snacks without paying for them. The old system "really builds a lot of shame and dishonest behaviors," she said.
When the pandemic hit, Kent was finally able to get nutritious food to all the kids who needed it. Right now, she said, "all kids have an equal opportunity to learn."
Thinking about going back to the old system makes her feel sick. "I just keep it in my head that it's not going to happen, because it can't happen," she said.
If school districts are once again required to charge parents and guardians for school meals, it will fall to people like Kent to collect the money. "It's a huge part of the job, and it's the worst part of the job," she said.
Schools that are already dealing with staffing shortages will have to assume responsibility for chasing down parents, with principals and superintendents acting as "the muscle" to force them to pay up. "It's just really ugly," Kent said.
Vermont farms can feed Vermont kids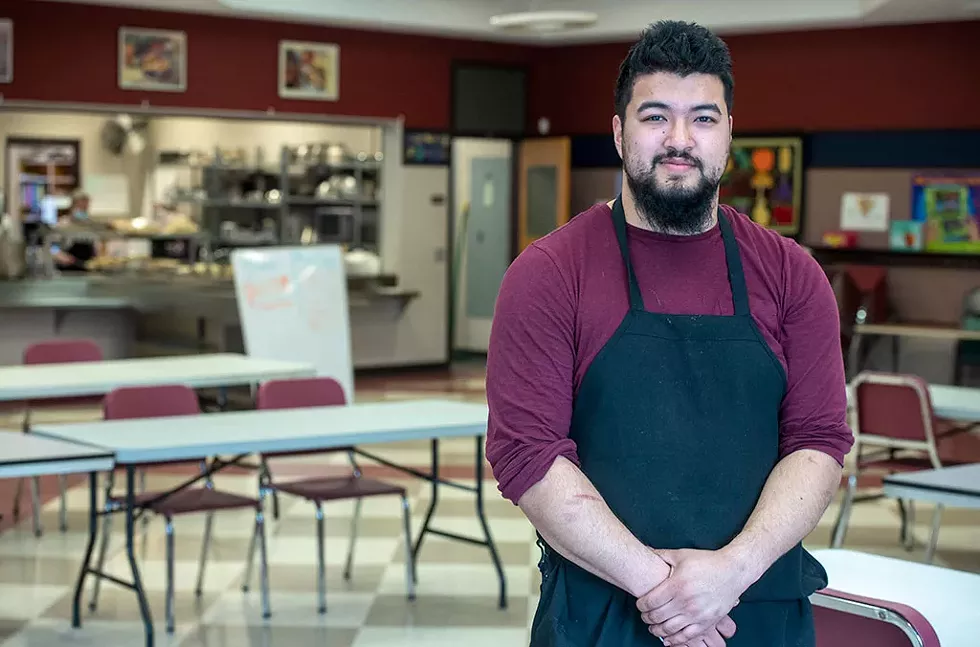 Jeb Wallace-Brodeur
Tristan Brown, Orange Southwest School District
Because food service staff are not keeping track of student food account balances, they can focus on things like finding affordable ways to incorporate food from local farms. Of those schools that had universal meals before the pandemic, 64 percent reported increasing their local food purchases as a result.
Kent points out that the elementary school in Hyde Park gets its milk from Kingdom Creamery. A farm in Hardwick is providing area schools with local beef. Apples come from a local orchard.
Orange Southwest food service manager Brown noted that with universal meals, more kids are eating lunch at school every day, which in turn creates a more reliable market for local farms. He's proud that all of Randolph Elementary's beef comes from a farm just down the road. "It's, like, a guy in his truck. He shows up and feeds us," Brown said. "I love to see that."
Brown, who was homeschooled from second through 11th grade, grew up eating his mom's cooking. The former teen wrestling champ worked as a line cook in local restaurants pre-pandemic, before taking his current job, which he finds very fulfilling. "I could never be a teacher," he said, "but I like working with kids."
Brown loves feeding them. "Food is a really beautiful art," he said. "It's kind of the great unifier in the world. Everybody needs to eat."
So why, he asked, would we divide kids by making it obvious who can afford to eat and who can't? "These are first graders," he said of the students he serves. "They don't know why Mom and Dad can't afford to buy lunch this week. They just see, Either I'm getting food, or I'm not."
After two full years of universal meals, changing course would be a shock to some students. "There are kids entering second grade next year who have never paid for a school lunch in their life," he said.
"All the kids have laptops now," he added. "But when it comes to something their body needs, there's a paywall in front of that? It doesn't make sense to me."
Here's how you can help:
Visit UniversalSchoolMealsVT.org to learn more about the campaign and sign up for email alerts.
Call or email your legislators to express your support for universal school meals.
Share your story about why you support universal school meals.
This spring, Vermont legislators are taking testimony and discussing S.100, a bill that would make universal school meals permanent at public schools throughout Vermont. It would require schools to secure as many federal dollars as possible to pay for school meals. It would then fund the remaining balance for universal school meals from the state's education fund, instead of leaving it up to parents, guardians and individual school districts. That approach would acknowledge that feeding kids is essential to providing all of them with equal opportunities for academic success.
Teddy Waszazak, Hunger Free Vermont's universal school meals campaign manager, said the effort has broad support from legislators representing all three of Vermont's major political parties. "Everyone agrees it's a good idea," he said. But whether it advances will likely be a question of priorities.
"We can't wait for Washington to fix this," Waszazak said. "Schools need to plan for the fall now. Vermont needs to do this now."
Yes, there's a price tag — an estimated $15 million to $25 million a year.
But it's an investment in educating all of our kids. As Brown pointed out: "You can't really put a dollar value on what a well-nourished kid can do."

This article was commissioned and paid for by Hunger Free Vermont in an effort to end the injustice of hunger and malnutrition for all Vermonters.