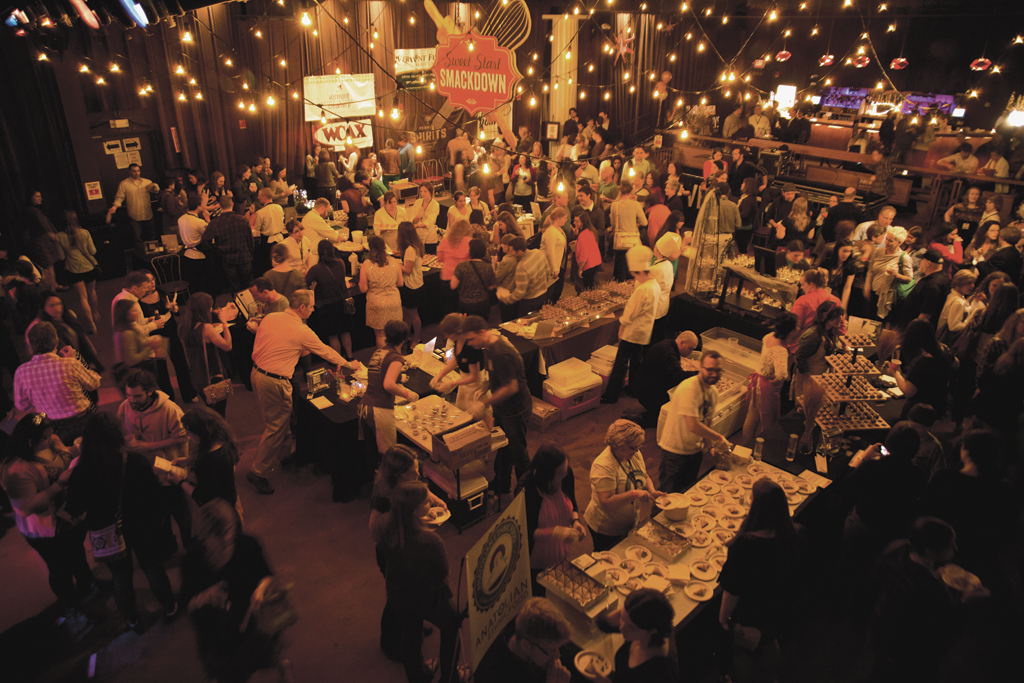 Matthew Thorsen
2013 Sweet Start Smackdown at Higher Ground in South Burlington
In late April, Vermont emerges from its long winter into a riot of daffodils, tulips, sunshine and — food?
Yes. Vermont Restaurant Week, presented by Seven Days and Vermont Federal Credit Union, is the state's largest culinary event and makes every spring über-delicious. Starting April 25, chefs at more than 100 restaurants will roll out three-course, prix-fixe menus (at $15, $25 or $35 price points) that draw on ramps, rhubarb and other seasonal goodies to celebrate the beginning of this short but glorious growing season.
The 10-day foodie fest spans the state from the Champlain Islands to the Upper Valley, and includes participants as diverse as bakeries, bars and some of the most sought-after restaurants in the state (including Hen of the Wood, where the reservation book fills up fast).
So what's cookin' in 2014? A smorgasbord of dishes. Here's a taste:
Juniper When Hotel Vermont opened last year, Burlington not only gained its first boutique hotel but also a pair of first-class restaurants. Juniper is the spacious, Scandinavian-style lounge and restaurant in the hotel's lobby, and chef Douglas Paine is serious about local bounty. Expect him to be wooing his Restaurant Week guests with anything from buttermilk fried chicken with preserved-lemon-honey mustard to roasted quail with caramelized apples, turnips, kale and hazelnut gastrique. 41 Cherry St., Burlington, 651-0080
Sherpa Kitchen A few blocks away, Burlington's Sherpa Kitchen offers a cozier, more exotic experience. This mecca to Himalayan cuisine is beloved by locals for its momos — Tibetan dumplings stuffed with beef, chicken or veggies — and fragrant curries. Owners Lakpa Lama and Doma Sherpa will likely offer both during Restaurant Week, as well as plates of gulab jamun, or milk donuts with guar syrup. We'll wash them down with mango lassis. 119 College St., Burlington, 881-0550
Kitchen Table Bistro This elegant locavore restaurant in a historic brick home sits a stone's throw from the interstate and next to a windswept field near Richmond, and foodie fans drive from all over to dine here. Chef-owner Steve Atkins has earned several James Beard Award nominations, and has tight connections with local farmers. In 2013, he wowed us with local steak tartare and ricotta gnocchi with ramp pesto; we can't wait to see what he'll conjure in the kitchen this spring. 1840 W. Main St., Richmond, 434-8686
Michael's on the Hill This romantic, fine-dining restaurant near Stowe is blessed with great views and Alpine roots. Chef-owner Michael Kloeti is all about Swiss classics composed with local ingredients, from the beef he air dries for bündnerfleisch (which he served with melty fondue fritters in 2013), the rabbit leg he confits and slow-cooks in whole-grain mustard sauce, and the wild spring onions he blends into ramp vichyssoise. How last year's Restaurant Week diners ever left room for Kloeti's silky Swiss chocolate mousse, we're not sure. 4182 Route 100, Waterbury Center, 244-7476
Hungry yet? We sure are — and we can't wait to check out this year's crop of menus, which will be posted on the Vermont Restaurant Week website in mid-April — vermontrestaurantweek.com.
If you just happen to be in the state between April 25 and May 4, you're a lucky duck. But with all those special meals to choose from, it's worth planning a special trip.
Event-Hopping
The mainstay of Restaurant Week may be unbridled gluttony, but a diverse lineup of special events offers entertainment and intellectual nourishment, too. From one-upping contestants at the Culinary Pub Quiz (a popular event that sells out early), to spirited food-and-drink competitions, to a "foodie salon" featuring conversations with chefs and farmers — there's more to Restaurant Week than what's on your plate.
Here's a rundown of this year's Vermont Restaurant Week events that were scheduled as of press time.
Thursday, April 24: Sweet Start Smackdown at Higher Ground in Burlington
Dessert comes first at this Restaurant Week-eve kick-off battle of pastry chefs from around the state, who compete while foodies eat. Scores from celebrity judges are combined with audience votes to name a winner. Expect to consume lots of mousse, ganache and cake.
Sunday, April 27: Foodie Flick at Waitsfield's Big Picture Theater and Café
Lovers of both food and film flock to this annual matinee screening of a classic foodie flick; previous selections have included Jiro Dreams of Sushi and Big Night.
Tuesday, April 29: Culinary Pub Quiz at Nectar's in Burlington
Trivia geeks compete for prizes during seven raucous rounds of fun food facts, with the winner crowned by Seven Days food writer Alice Levitt.
Saturday, May 2: Bartender Brawl at Red Square in Burlington
The annual closing party at Burlington's Red Square is festive and sometimes heated, and usually involves a face-off among reader-submitted drinks or dishes (such as those for sangria or salsa in previous years). This year, local bartenders will be mixing up competing cocktails to take home the crown.
La semaine des restaurants du Vermont fait oublier la boue
Pour vous donner l'eau à la bouche en 2014, voici un aperçu du buffet varié qui vous est proposé :
À la fin d'avril, le Vermont s'éveille d'un long sommeil hivernal et tout semble reprendre vie : les jonquilles, les tulipes, le soleil et... l'appétit!
La semaine des restaurants du Vermont, présentée par Seven Days et la Vermont Federal Credit Union, est le plus grand événement culinaire de l'État. Le printemps, saison de tous les délices? On le dirait bien! À compter du 25 avril, plus d'une centaine de restaurants vous offrent des menus trois services à prix fixe (15 $, 25 $ ou 35 $); leurs chefs vous concoctent des plats à base d'ail des bois, de rhubarbe et d'autres aliments saisonniers pour célébrer cette brève saison où la végétation se réveille.
Pendant dix jours, ce festival fait la joie des gourmets, des îles du lac Champlain à l'Upper Valley; les participants comprennent des boulangeries-pâtisseries, des bars et certains des restaurants les plus courus du Vermont, y compris Hen of the Wood, dont le carnet de réservations se remplit vite.
Juniper Lorsque l'Hotel Vermont a ouvert ses portes l'an dernier, Burlington s'est non seulement dotée d'un premier hôtel-boutique, mais également de deux restaurants gastronomiques. Juniper est un restaurant-lounge spacieux de style scandinave, situé dans le lobby de l'hôtel; son chef, Douglas Paine, se fait un devoir d'utiliser les produits du terroir. Il saura épater ses convives, durant la semaine des restaurants, avec son poulet frit au babeurre accompagné d'une moutarde citron-miel maison ou ses cailles grillées avec pommes caramélisées, navet, chou vert frisé et sauce gastrique à la noisette. 41 Cherry St., Burlington, 651-0080
Sherpa Kitchen À quelques coins de rue de là, Sherpa Kitchen offre une expérience plus intime et plus exotique. Ce paradis de la cuisine himalayenne est très apprécié dans la région pour ses currys parfumés et ses momos, des dumplings tibétains farcis au bœuf, au poulet ou aux légumes. Les propriétaires, Lakpa Lama et Doma Sherpa, vous proposeront vraisemblablement ces mets pendant la semaine des restaurants, de même que des Gulab Jamuns, des beignets au lait avec sirop à la gomme de guar – le tout arrosé de lassis de mangue. 119 College St., Burlington, 881-0550
Kitchen Table Bistro Établi dans une demeure historique en brique, cet élégant restaurant locavore est situé à deux pas de l'autoroute, à côté d'un champ balayé par les vents, près de Richmond. Les amateurs de gastronomie viennent de partout pour manger ici. Steve Atkins, chef et propriétaire, a récolté plusieurs nominations aux prix James Beard et entretient des liens étroits avec les agriculteurs locaux. En 2013, il nous a épatés avec son steak tartare local et ses gnocchis de ricotta au pesto à l'ail des bois; nous sommes impatients de voir ce qu'il nous concoctera ce printemps. 1840 W. Main St., Richmond, 434-8686
Michael's on the Hill Situé non loin de Stowe, cet excellent restaurant – tout indiqué pour les amoureux – offre une vue spectaculaire et des plats aux saveurs alpines. Michael Kloeti, chef-propriétaire, ne jure que par les grands classiques suisses, composés à partir de produits locaux. Au menu : viande séchée des Grisons (servie avec beignets de fromage fondu en 2013), cuisses de lapin confites à la mijoteuse dans une sauce à la moutarde à l'ancienne et oignons printaniers intégrés à sa vichyssoise à l'ail des bois. Comment les participants à la semaine des restaurants de l'an dernier ont-ils eu de la place pour la mousse au chocolat suisse au dessert, nous ne le savons pas trop. 4182 Route 100, Waterbury Center, 244-7476
Ça y est, vous avez faim? Comme nous, vous devez être impatients de voir la « récolte » de cette année; les menus des restaurants qui participeront à l'événement seront affichés à la mi-avril sur le site vermontrestaurantweek.com.
S'il était déjà prévu que vous vous trouviez au Vermont entre le 25 avril et le 4 mai, estimez-vous chanceux. Sinon, n'êtes-vous pas d'avis qu'à lui seul, un tel événement gastronomique vaut le détour?
D'un événement à l'autre
La semaine des restaurants mise essentiellement sur votre gourmandise, mais culture et nourriture intellectuelle sont également au menu, grâce à une programmation d'événements spéciaux variés. Voyez des concurrents s'affronter à l'occasion du Culinary Pub Quiz (un événement populaire dont les billets trouvent vite preneurs), assistez à de passionnants concours de recettes de plats et de boissons, ou rendez-vous au « salon des gourmets » pour entendre ce que les chefs et les agriculteurs ont à raconter. La semaine des restaurants offre bien davantage que des plats exquis!
Voici un sommaire des événements prévus pour cette année au moment d'aller sous presse.
Jeudi 24 avril : Sweet Start Smackdown au Higher Ground de Burlington
La veille du début de la semaine des restaurants, les desserts sont à l'honneur à l'occasion d'un « combat » de chefs pâtissiers provenant de partout au Vermont – qui travaillent pendant que le public se régale. Les scores accordés par des juges bien connus sont combinés aux résultats d'un vote populaire pour choisir le gagnant. Attendez-vous à beaucoup de mousse, de ganache et de gâteau.
Dimanche 27 avril : Foodie Flick au Big Picture Theater and Café de Waitsfield
Les adeptes de l'art de la table et du septième art affluent à la représentation annuelle d'un classique du « cinéma gastronomique »; ces dernières années, ils ont eu droit notamment à Jiro Dreams of Sushi et à Big Night.
Mardi 29 avril : Culinary Pub Quiz au Nectar's de Burlington
Les participants se disputent des prix durant sept rondes bruyantes, au cours desquelles on apprend divers faits amusants sur l'alimentation; le gagnant est couronné par Alice Levitt, chroniqueuse culinaire au site Seven Days.
Samedi 3 mai : Concours de recettes au Red Square de Burlington
C'est au Red Square de Burlington que se tient chaque année l'événement de clôture, où les esprits s'échauffent parfois, et qui comporte habituellement un concours de recettes de boissons ou de mets soumises par les lecteurs (ces dernières années, des recettes de sangria et de salsa ont été proposées). Cette année, les barmans de la région prépareront des cocktails – voyons voir qui remportera les honneurs.