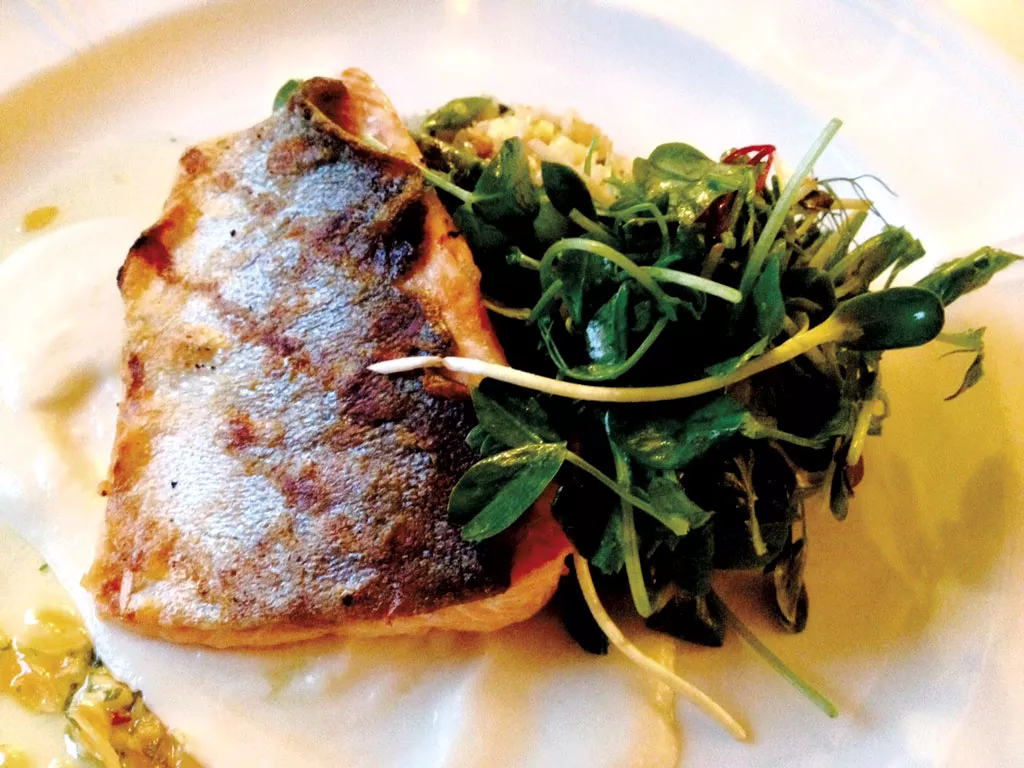 Pamela Polston
Grilled arctic char
Can you believe this is the sixth year of Vermont Restaurant Week? For more than half a decade, Vermonters have been supping (and lunching) on prix-fixe meals around the state. If all of our waists are a little thicker than they were back in 2010, that's the price we pay for the culinary excellence surrounding us.
This year, a record 115 participating restaurants have made it harder than ever to choose where to feast. Would it be the James Beard-nominated restaurant offering its entire menu? The Brookfield restaurant introducing a new Mexican concept? Who could resist the draw of a Burlington classic serving up three courses of foie gras? Seven Days staffers fanned out to try a sampling last weekend, ate heartily and lived to write about it.
My Many-Colored Dinner: The Daily Planet
15 Center Street, Burlington, 862-9647.
Alice Levitt
Hop on Pop
It's fun to have fun, but you have to know how. Daily Planet chef Justin Bigelow appears to be an expert. His $30 "Seuss-taurant Week" menu features three courses, each with three options sporting titles and themes that do Theodor Geisel proud.
Half a dozen drink specials also toe the line between food and fantasy. One Fish, Two Fish is a vodka and soda with a subtle violet-orange flavor and corresponding ombré shades. Two Swedish Fish float near the surface. Yertle Turtle Tea is a puckery Long Island iced tea flavored with Earl Grey and dressed with a puff of cotton candy.
The Thing One course kicked off my meal with a literal bang. Hop on Pop is a presentation of three watermelon cubes crowned with tangy whipped chèvre. Beneath, a few strands of watercress wallow in puddles of hops-infused balsamic. Pop rocks among them ensured that each bite had the crashing din of a thunderstorm.
The medianoche sliders called Luke Luck Likes Duck were far from a tongue twister on the plate. The sweet cemita buns filled with house-cured duck ham and mojo-roasted duck leg were comfort personified.
Most chefs invoke Green Eggs and Ham by adding some pesto to an egg dish and calling it a day. Bigelow gets more creative with his Thank You, Sam-I-Am!, covering crisp-topped cubes of braised pork belly with wasabiko. The tiny flying-fish roe, dyed green with wasabi, certainly qualify as "green eggs." The pork comes between lip-smackingly greasy fried oysters, all presented in a pool of pineapple-nori aioli, with a side of sesame-flavored soba salad.
I've been obsessed with eating "roast beast" ever since I first heard Boris Karloff utter the words in How the Grinch Stole Christmas! Now I got to try that dish — actually pink-centered, coffee-braised short rib — covered in mint-pistachio pesto. The "beast" fell apart into silken pink strands atop a tricolored potato hash dressed up with fennel fronds. Smoked blueberry sauce was the plate's greatest innovation, fruity and smoldering as promised.
The party ended with a pair of whimsically plated sweets. Fruits of the Truffula Tree looks like homemade chocolate Munchkins plated in a wave of passion fruit cream and mango coulis. I Call This Game "Fun-in-a-Box" is a surprise, but not in a box. I won't say more. That would ruin the fun.
Alice Levitt
French Connection: Tourterelle
3629 Ethan Allan Highway (Route 7), New Haven, 453-6309.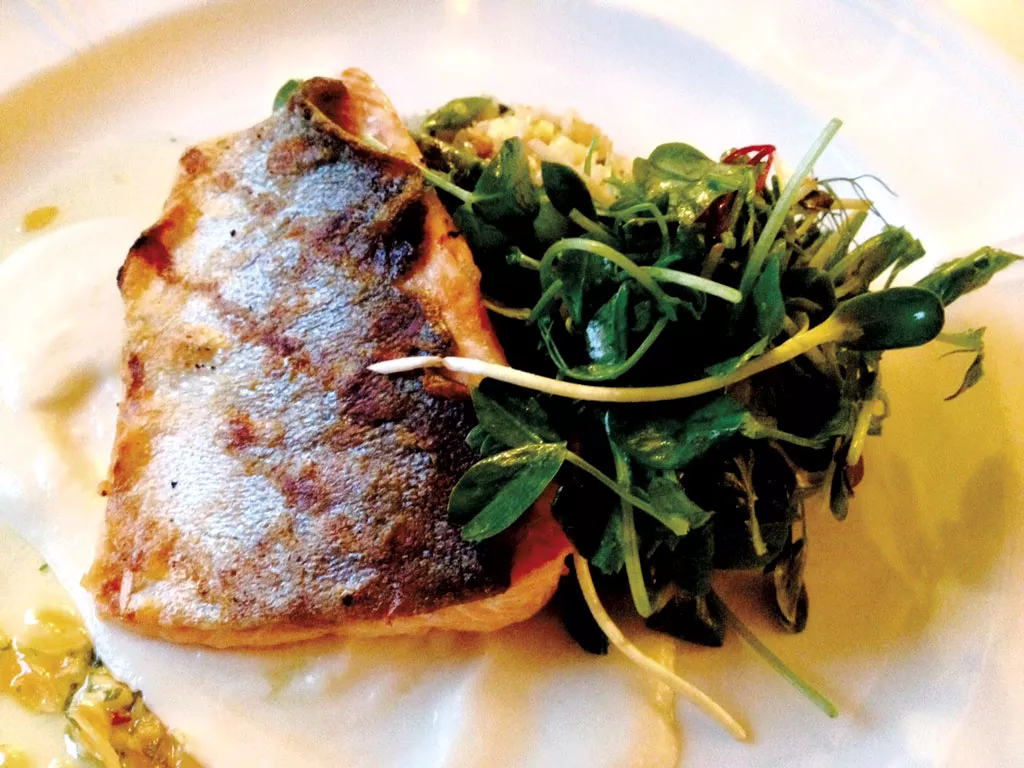 Pamela Polston
Grilled arctic char
For the first night of Vermont Restaurant Week, I like to get out of town (Burlington). So I invited three friends to accompany me on the 45-minute drive to Tourterelle, which gave us time to recall previous meals and anticipate the next one.
Tourterelle's gorgeous 1796 building is also a three-room inn. In the entry, a smiling hostess — usually co-owner Christine Snell, wife of chef Bill Snell — greets guests and whisks away coats. We were happy to rid ourselves of winter layers and settle in at a window table. The rolling Addison County countryside was pretty and peaceful, if still a little brown. Inside, we oohed over the gracious architectural details of our sage-green dining room.
Our server was warm and efficient, a Euro approach that matched Tourterelle's "fusion of classic French dishes made with local Vermont products," according to its website copy. We ordered a Côtes de Provence rosé and mused over our food options. Three of us decided to get one $40 VTRW entrée each, while the fourth went rogue and ordered a house specialty, the bouillabaisse.
No sooner had the basket of rolls been greedily attacked than our appetizers arrived. The Tourterelle salad is a familiar one on Vermont menus: arugula, artichokes, cranberries and roasted pecans with Vermont Creamery Bonne Bouche goat cheese and balsamic vinaigrette. We found that the vinaigrette's acid somewhat overpowered the sweeter ingredients, yet the salad quickly disappeared.
My Crèpe Saisonnière was a dainty folded pancake rolled with andouille sausage, roasted peppers and smoked mozzarella. This app has two surprises: a jiggly poached egg on top and a tiny nest of dressed arugula on the side. The collective taste and mouthfeel of the dish made me happy: exquisitely salty and smoky, creamy and chewy, with a crunch of spring green.
The Sashimi de Coquille St. Jacques was a hit for different reasons: Served in a clamshell-shaped dish, tiny chunks of scallop nestled in what tasted like homemade mayonnaise. The menu also mentions jalapeño, vanilla oil and fresh lime, but I didn't detect any heat. This was a refreshing, elegant cousin of ceviche.
Of our three entrées — a classic bistro hanger steak with potatoes and carrots, a rich mushroom risotto, and a grilled arctic char — the fish was the most perfectly crafted. Served on a bed of roasted hazelnut quinoa with lemon-mint vinaigrette, the char was meltingly tender inside with a grill-crisp jacket.
Dessert proffered small portions of rhubarb crisp, a lemony panna cotta and biscotti. I devoured the light, tart custard. My friends raved about the chunky crisp, but I was too full to finish.
One of these days, I'm going to dine at Tourterelle and then head straight upstairs to bed.
Pamela Polston
Comida Bella: Ariel's Restaurant
29 Stone Road, Brookfield, 276-3939.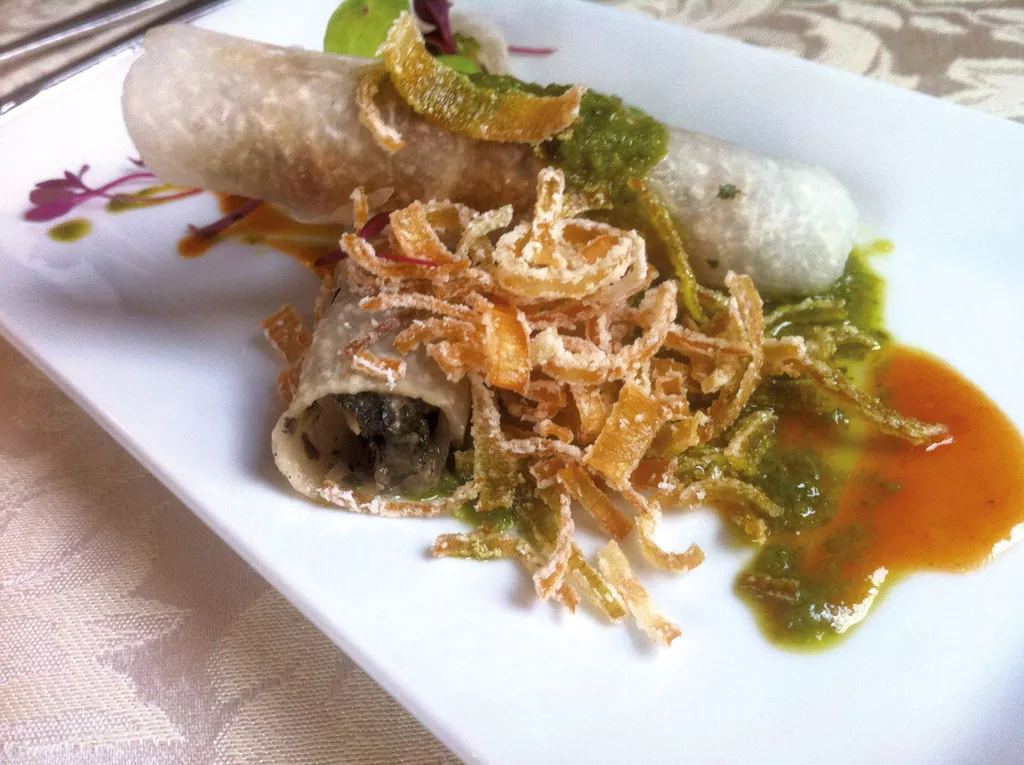 Hannah Palmer Egan
Jicama taquito
As one approaches the town of Brookfield — which is more hamlet than town — Route 65 turns from pavement to dirt. The road follows a graceful bend into the village, marked by a historic floating bridge that's long been under construction. It spans Sunset Lake, still white with ice when we visited during Vermont Restaurant Week.
Just ahead, Ariel's Restaurant stands amid a cluster of stately old houses. Aside from a sleepy B&B, it appears to be the only commerce in town. Inside the dining room — all buttercup walls, slate-blue trim and tables set with embroidered white linens and blushing tulips — meals proceed at an able but relaxed pace.
At 7 p.m. on a Saturday, the room buzzed with a convivial hum. A single server held down the front of the house along with Richard, the resident host and barman, who has a tendency to choose your drinks for you if you'll allow him. Chef and owner Lee Duberman tended to the cooking, flanked by two helpers in her tiny kitchen.
At $30 for three fascinating courses, the VTRW menu is a bargain. An extra $10 summons buttered toast topped with a slice of quivering foie gras, gently seared and scattered with spring greens and puréed tamarind, guajillo chile and guava.
Sounds vaguely Mexican, right? Si, porque Duberman and her husband winter in San Miguel de Allende, Mexico. This spring they brought a bit of the native cuisine back to Vermont, where Ariel's current menu is an experiment in fusing Mexican flavors and styles with high technique and local ingredients.
The first course brings toasted chard, corn tortilla and leeks rolled into thin-shaved jicama for a playful take on the classic taquito. Other options include posole — a green soup riddled with choclo (whole-kernel corn) and chicken — and a sublime set of silky duck-confit ravioli swimming in smoky ancho chile broth.
The next course offers delicate, cornmeal-crusted skate ringed with droplets of cilantro-lime salsa verde and artichoke-almond hummus. Another option brings the softest braised pork shoulder,47 paired with a pan-seared masa cake, both sitting in a pool of dark mole richened with cocoa.
Dessert meant coconut tres leches cake with crispy sugared tortilla strips, lime sorbet, cream and a bit of mango purée, which seemed to channel the very essence of the fruit.
After licking our plates clean, we sallied out into the cold darkness and bumped over dirt roads toward home.
Hannah Palmer Egan
Foie Galore: Leunig's Bistro & Café
115 Church Street, Burlington, 863-3759.
Mark Davis
Petit Bistro Burger
Sitting in the middle of perhaps the busiest restaurant on the busiest street in the busiest city in Vermont, eating a meal can sometimes feel more like an event than a respite.
Most area foodies are likely familiar with the classic Leunig's Bistro & Café experience — professional waitstaff, reliably satisfying food, a dining room always filled with locals and out-of-towners. But for this year's Vermont Restaurant Week, the bistro's owners decided to mix it up.
Namely, they rolled out all-foie gras menus for both lunch ($20) and dinner ($40). To sample the adventurous choices, Seven Days thought it would be fun to dispatch this culinary neophyte, who may or may not have consulted Wikipedia to figure out exactly what the hell foie gras is and why a controversy surrounds it.
For the similarly uninitiated: French for "fat liver," foie gras is the liver of a duck or goose that has been artificially fattened by force-feeding it for days on end. The feeding technique — known as gavage — involves sticking a tube down the bird's throat. It's been protested by animal rights groups and banned in much of Europe and California (where a court has since overturned the ban). It also inspired the Gawker headline "Foie Gras Is for Assholes," which later called the meal "the Abu Ghraib of poultry dishes." (So, you're saying it's bad?)
On Saturday afternoon at the bustling bistro, I went with the Foie Gras Fig Newton — a pâté sucre smothered in strawberry rhubarb — for the appetizer, and the Petit Bistro Burger with truffle fries for the main course. Both came with small dollops of the headline food.
Foie gras tasted like a buttery, nutty chicken fat, with the consistency of flan. I was surprised to find the portion on the burger charred to what, to my untrained eye, appeared to be perfection. I had imagined it would come in larger quantities, but its presence was subtle enough that my companion asked, "Is that the foie gras?" when the meals were delivered.
The burger was petite, but once it got mushed up a bit, the foie gras made for a fun new topping. By the time I got to dessert, though, I'd had my foie gras fill and went with the old-fashioned maple crème brûlée. Leunig's has that one down pat.
As a human being with taste buds, I feel comfortable reporting that the foie gras experience was satisfying, in an "I would do it again but wouldn't go out of my way" manner.
But as a news reporter, I feel obligated to note that the poor creature that was force-fattened so we could add one more flavor to our bountiful plates could not be reached for comment.
Mark Davis
A View to Dine For: Waterworks Food + Drink
20 Winooski Falls Way, Winooski, 497-3525.
Carolyn Fox
Steak frites
When Waterworks Food + Drink won the Sweet Start Smackdown, the dessert culinary competition that kicked off Vermont Restaurant Week last Thursday, I knew at least one of my three courses there would be stellar. So it was with high hopes that my boyfriend and I headed into the restaurant at the edge of the Winooski River.
The overcast day threatened rainfall, and I was a little worried the much-hyped view of the falls would be underwhelming. But the mighty Winooski was steely-gray, roiling and impressive as ever as we took our seats along a wall of floor-to-ceiling windows. The bar area of the restaurant was lively, with people scattered on comfy couches and benches, but it would have been a shame to sit there and miss this sight.
Refreshing, well-mixed cocktails — a sloe gin fizz for me and a tequila-based Weaver for Dave — gave the evening a strong start. My fondue appetizer was a beautifully plated assortment of charred bread and roasted carrots and cauliflower to dip in a bowl of molten smoked cheddar. Though the veggies were unevenly roasted and salted, the dish was downright playful. Fondue should be fun to eat, and the chefs delivered.
That sense of whimsy carried over to my entrée, a generous portion of steak frites. (At $24 on the regular menu, it made the $30 Restaurant Week deal an amazing value.) The tender meat, unremarkable on its own, perked up when dipped in a punchy chimichurri sauce. The skinny fries had the color and seasoning of Arby's curly fries — another mischievous wink from the kitchen. Dave's roasted chicken, with carrots and broccoli rabe, was decidedly more traditional — and less exciting.
As expected, we were in great hands for dessert. The cinnamon-sugar-smothered churros with spicy chocolate sauce were expertly executed. But the banana trifle, served in a mason jar with dulce de leche and hazelnut shortbread, stole the show. For drinks, dessert and that view, we'll definitely be back.
Carolyn Fox
Spring Fling: Starry Night Café
5371 Route 7, Ferrisburgh, 877-6316.
Andrea Suozzo
Grilled chicken roulade
It's been years since I first made a mental note to eat at Starry Night Café in Ferrisburgh. You can't miss the small building that sits alongside Route 7 with the name printed in a whimsical font. (I'm a sucker for whimsical fonts.) So, when I began to comb through Vermont Restaurant Week menus earlier this month, I decided this was the year I'd try Starry Night ($40).
The biggest surprise of the evening was how much larger the restaurant is than it appears from the outside. Two more dining rooms stretch behind the one visible from the road. We sat in a cathedral-ceilinged, octagonal room full of evening light. "It's like a gazebo, but inside," my boyfriend, Kevin, remarked.
Taking my cue from the pastel tulips on the table, I ordered the Spring's Howl ($13), a rosemary-grapefruit cocktail with Smugglers' Notch Distillery hopped gin. It turned out to be an ideal complement for my appetizer salad, which featured grilled, slightly crunchy asparagus, saffron couscous and feta. After a bleak and chilly week, the fragrant strips of basil scattered on top were spring incarnate.
I usually order entrées for their sides, so when I noticed that the chicken roulade came with an asparagus-cheddar bread pudding, I was sold. The savory bread pudding did not disappoint, and the tender stuffed chicken also came topped with braised kale, a shiitake mushroom tapenade and a small, perfectly formed carrot. For the third time, I got lost in a daydream of the spring that is still, allegedly, on its way.
Carrot cake — the only dessert on the VTRW menu — arrived with a whiff of curry and goat-cheese frosting, topped with a candied-walnut praline. Though Kevin noted before the meal that he wasn't a fan of carrot cake, he emptied his plate in minutes and sat back with a satisfied grin. I was full, but the dessert was so good, I couldn't help but empty my plate, too.
Andrea Suozzo
No Reservations: Hen of the Wood
55 Cherry Street, Burlington, 540-0534.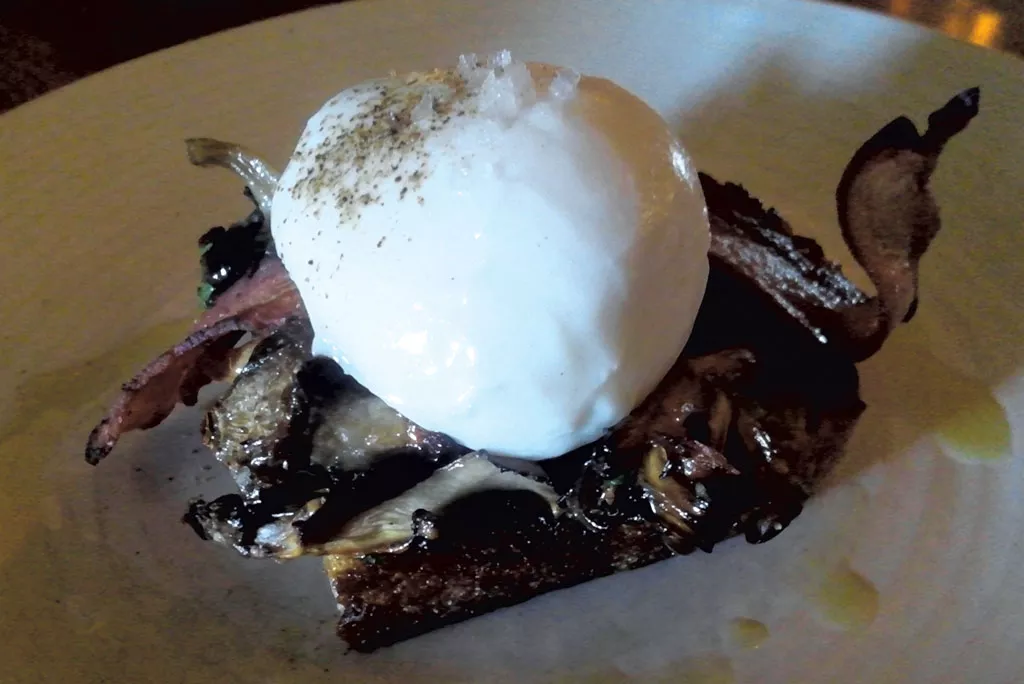 Ethan De Seife
Hen of the Woods mushroom toast
Unlike other Vermont Restaurant Week participants, Burlington's Hen of the Wood didn't publish a menu in advance, but that didn't deter the hungry or the curious. By 5:30 p.m. on Saturday, the place was elbow-to-elbow with foodies prepared to pay $40 per person for whatever the chef had concocted.
We tried to make a reservation, but no dice, so we were urged to come in early and try our luck getting seats at the bar. We did, and our wait was brief. Others employing the same tactics hovered around the bar like satellites.
This week, diners can mix and match from Hen of the Wood's seasonal menu at a reduced price: one small plate, one large plate, one cheese plate. "Just for fun," as our server put it, the staff had come up with a few decade-themed specialty cocktails: Revisit the '60s with a Mai Tai; unleash your inner Dude with a '90s-style White Russian. I time-machined to the 1980s with a Tequilacosmo, a pinkish, fruity concoction of reposado tequila, cassis and lime. After a few sips, the greatest hits of Huey Lewis and the News cycled though my brain.
The drink's sweetness, however, was outmatched by that of the crispy skate cheeks that started my meal. Bathed in brown butter and surrounded by peas, the skate (apparently a cheeked fish — who knew?) was the picture of springtime. My wife opted for the autumnal savor of the restaurant's titular mushrooms, served atop toast with bacon and a quivering poached egg.
Her main course was hearty and autumnal, too: a thick pork loin accompanied by rye spaetzle and celery root, with rhubarb jus as a welcome reminder that spring has arrived. My hanger steak — served with fresh basil, roasted red onion and Bayley Hazen Blue cheese sauce — was the Platonic ideal of "medium rare," and it was delicious.
In deference to the reservationless, we left shortly after the cheese course, the standout of which was a pungent slab of Consider Bardwell Farm's Dorset, which played nicely with apple butter. But we could have lingered longer to enjoy the place's lively buzz and friendly staff. We paused to ask about the curious red metal contraption perched prominently on the bar. It's a ham slicer — obviously. And now I realize how incomplete my home bar is.
Ethan de Seife