Melissa Pasanen
Chicken-and-pork croquettes at Allium
You could make a veritable scavenger hunt out of Vermont Restaurant Week's 118 special menus. The 10-day feasting event — organized by Seven Days at eateries from Burlington to Brattleboro — began last Friday, April 20, and runs through this Sunday, April 29. The event answers a lot of questions that you may not know you had.
To wit: Where can you find respectable surf and turf? Where can you take a turn on a mechanical bull before dinner? How about a meal in which each course is sweetened with local honey? Does your heart desire an extensive beer list? What about a flightless trip to old Venice, or a perfect bowl of handmade pasta Bolognese?
During visits to seven restaurants spanning the state's length last weekend, Seven Days writers found these and other delights.
The weather is finally turning toward spring, and this year's participating chefs are offering foodie bliss at a reduced price. Many of the menus feature local ingredients and creative preparations — and the gluten-sensitive and vegetarians among us have not been forgotten.
Which leaves one final question: What are you waiting for?
Allium
3 South Main St., Waterbury, 244-8973, alliumvt.com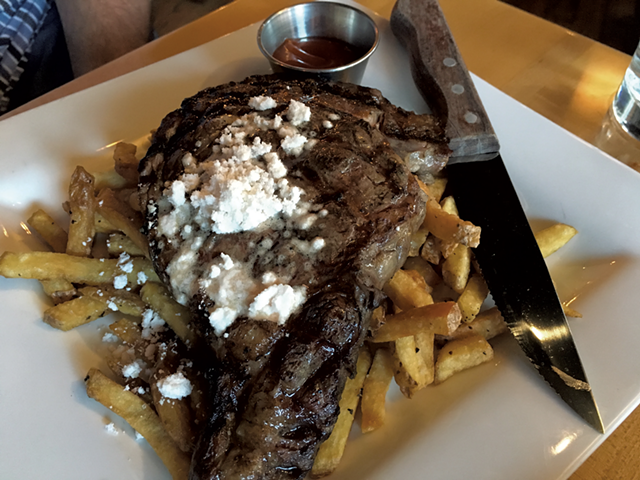 Melissa Pasanen
Steak frites with bacon powder at Allium
Waterbury was busy Saturday night with families and spring skiers looking to grab a bite and a brew. That mix was represented at Allium, which opened in the former Arvads last fall with a new look and menu, along with the serious draft list that's now mandatory in "Waterbeery."
Allium's three-course, $30 Vermont Restaurant Week menu offered enough choice that we stalled by ordering drinks: a well-made dirty martini and Green Empire Brewing's Side Business, a quality American IPA from yet another recently hatched Vermont brewery.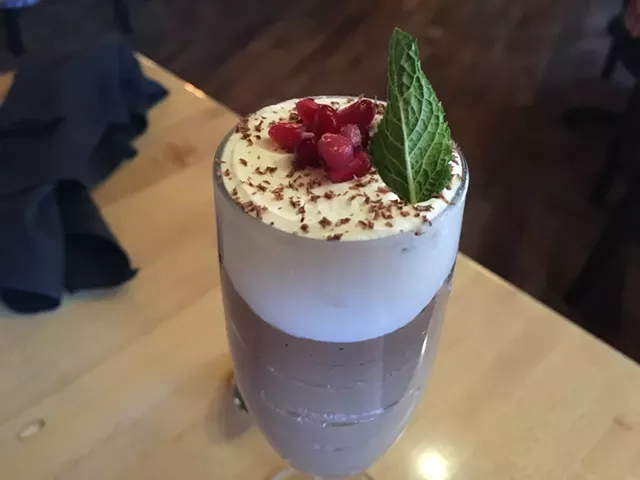 Melissa Pasanen
Chocolate mousse at Allium
Of our eventual selections, my favorite was plump, crisp-shelled croquettes, which cracked open to reveal creamy, ham-studded centers. Alongside them came charred peppers and a blue cheese dip so cheesy that my husband forked out a few chunks. And there was dip to spare for his nicely cooked steak and hand-cut fries. The meat was sprinkled with a mysterious powder, which our server explained was bacon-infused maltodextrin. It was interesting, but we preferred the blue cheese dip.
I started with a crock of deeply flavored onion soup featuring several members of the allium family, for which the restaurant is named, followed by risotto crowned with four bronzed scallops. After all that, we shared just one Champagne flute of silken chocolate mousse (though the menu would have given us two). But my husband managed to make room for another beer: Frost Beer Works' Halcyon Daze.
Sitting next to us, Cheri and Emily Morgan of Colchester were celebrating an anniversary and restaurant week. They've planned at least three meals, hoping to discover new favorite dishes and destinations. Said Emily: "What else is restaurant week for?"
— M.P.
The Windjammer Restaurant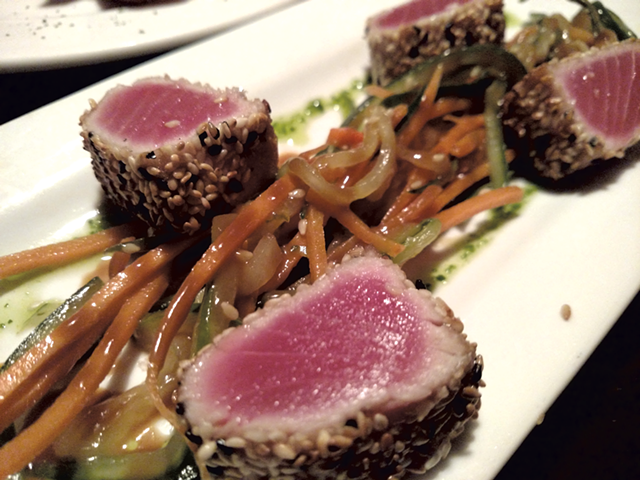 Hannah Palmer Egan
Sesame-crusted tuna at the Windjammer Restaurant
For a preshow meal, my husband, Dan, requested steak. I suggested the Guild Tavern. "We do swanky restaurants all the time," he said, vetoing the idea.
So we agreed on the Windjammer Restaurant, a generally packed steak-and-seafood joint. Inside, cushioned booths welcome diners with shipwreck-scene tabletops: Sand and bits of twinkling "treasure" are sealed beneath thick polyurethane.
It was tempting to fill up on salad and bread from the salad "boat," which resembles a ship's bow. The veggies were crisp and fresh, the dill ranch dressing exemplary. And what is a steakhouse salad without bacon?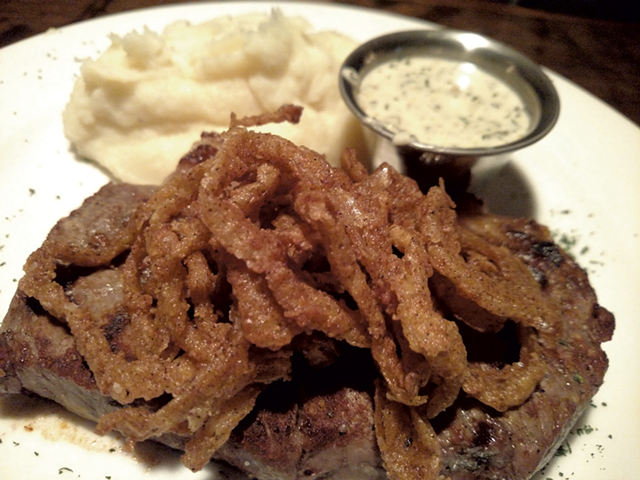 Hannah Palmer Egan
New York strip steak at the Windjammer Restaurant
This was the first of four courses on the $40 restaurant week menu. As we bread-mopped the dressing from our plates, my petite tuna medallions arrived, seared ultra-rare and crusted with black and white sesame seeds. Dan's surf and turf presented medium-rare filet tips, wrapped in bacon for crunch. The scallops, browned to a gentle crisp, were supple and creamy inside.
For the entrée, I went with the lobster mac and cheese. The petite gemelli twists and sweet, pink hunks of shellfish were baked into creamy béchamel. Dan ordered what the restaurant arguably does best: fire-grilled slabs of well-chosen meat. Predictably, his 10-ounce New York strip was fantastic.
As first-timers here, we discovered what regulars have known for years: The Windjammer is a workhorse of a restaurant that cares more about doing its thing correctly than showing off.
Our dessert was a slice of crustless cheesecake, smooth and rich and a bit tart, and classed up with torched sugar. Two Andes mints, offered with the bill, sweetened the meal's finish. We left full and happy and ready for dancing.
— H.P.E.
Rough Cut
51 Main St., Middlebury, 458-8972, roughcutbbq.com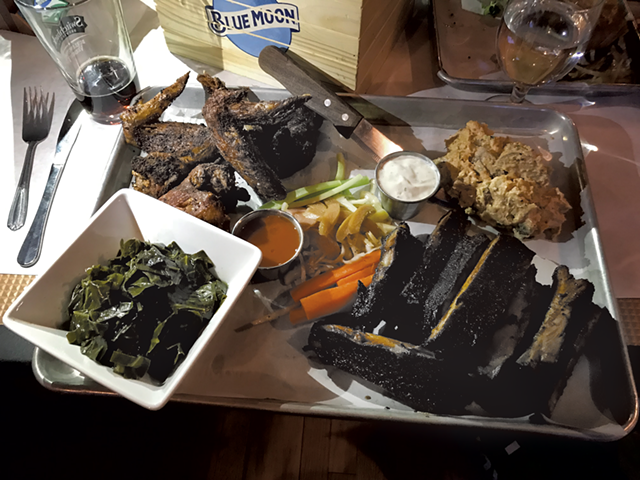 Sally Pollak
When Pigs Fly platter at Rough Cut
The meal I ordered Friday night at the Rough Cut, called When Pigs Fly, was touted to serve "about two" people. My crowd couldn't finish it.
I ate that night with my cousin, who attends Middlebury College, and eight of her friends. Some were vegetarian, and all ordered food of their own — sandwiches or bowls of ramen. I invited the meat eaters to share my feast, and all were welcome to my sides. They returned to campus with leftover ribs and wings — not because the smoked meat wasn't terrific but because there was a ton of it.
Sally Pollak
Reaney McKinley, 9, and Della Connor, 7, play in Rough Cuts mechanical bull ring
The $30 platter of food, a Vermont Restaurant Week special, was anchored by a pile of dry-rubbed ribs dressed in molasses barbecue sauce, and a pound of smoked, deep-fried chicken wings. Each wing was so big that chef Nathan Davis said he wants to call them pterodactyl wings. The tray also held coleslaw, pickled vegetables, and generous sides of potato salad and collard greens.
The Rough Cut opened last fall in the former quarters of 51 Main at the Bridge. Davis is a Middlebury native who lived in China for six years; he cooked for two of them at Bubba Mac's Smokehouse in Shenzhen. He said he's pleased to be smoking meats and making barbecue in his hometown.
The dining room, with a high, stenciled ceiling and brick walls, features a mechanical bull in a padded pit. If you decide to ride, I recommend hopping on before eating Davis' first-rate ribs.
— S.P.
3 Squares Café
Carolyn SHapiro
Grilled octopus at 3 Squares Café
Chef-owner Matt Birong typically picks a theme for restaurant week. "Generally, it relates to where he went on vacation over the winter," explained our server.
This year, Birong's trip through Italy ended at a hotel in Venice, where a sculpture of two giant hands reaches out of the Grand Canal. They seem both to hold up the building and sybolize the consequences of climate change for the floating city. The sculpture's image appears on 3 Squares Café's $41 menu, which he dubbed "Venice Is Sinking."
I dove into the aquatic selections, starting with delicate grilled octopus served over a mellow white-bean hummus. Droplets of balsamic vinegar, green-hued olive oil, yellow pepper and pomegranate seeds enlivened the plate.
Octopus resurfaced in my seafood stew entrée, along with plump clams, shrimp and branzino — a flaky sea bass with seasoned, crispy skin. The saffron-and-tomato broth provided a zesty base.
Though the entire meal was impressive, the standout for me was the primo course of strozzapreti in Gorgonzola sauce with toasted hazelnuts. The thick fingers of pasta held up admirably under a rich sauce; cream and the sweet crushed nuts tempered the tangy cheese. The pasta tasted housemade, but our server disclosed its source as Vermont Fresh Pasta, in Proctorsville.
3 Squares is a casual eatery, best known for decadent French toast and scrumptious sandwiches; its décor is rustic Vermont, not romantic Venice. But, as sure as rising sea levels are threatening that city, you can grab a taste of northern Italy in Vergennes.
— C.S.
Pizzeria Verità
156 St. Paul St., Burlington, 489-5644, pizzeriaverita.com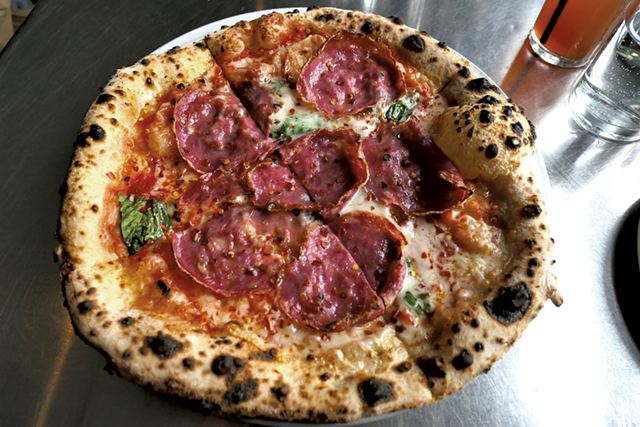 Carolyn Fox
Diavolo pie at Pizzeria Verità
One of my coworkers is doing a long-term elimination diet with his girlfriend, supporting her as she identifies food intolerances. I, on the other hand, could write a long list of the dishes I've eaten in front of my husband that he can't have. What can I say? I am a coldhearted wife who will not be denied fried foods, dairy and gluten.
But dining out is a downer if there's nothing on the menu for him. So we headed to Pizzeria Verità — which, yes, is a hotbed of delicious dairy (housemade fior di latte) and gluten (blistery wood-fired crusts). But it also bakes a variety of gluten-free pies in a separate convection oven, including a cheese-less marinara that had Dave's name all over it.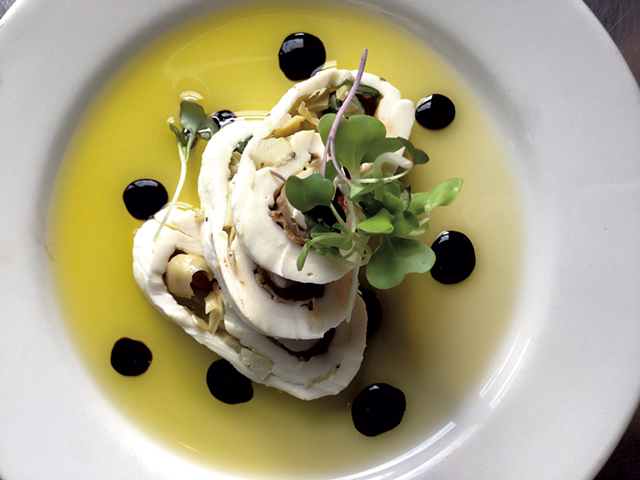 Carolyn Fox
Rotolo Napoletano at Pizzeria Verità
My Rotolo Napoletano — marinated veggies wrapped in fresh mozzarella and served with vinegar and olive oil — was light and fresh, and sent me straight to the Amalfi Coast. The Insalate Colorata married jewel-toned beets with creamy avocado in a bright citrus dressing. The Diavolo pie, with spicy Italian soppressata and lovely pockets of basil, was as good as any pizza I've eaten in Naples.
Interrupting my Boot Country reverie, dessert — a dark chocolate mousse topped with wine-soaked cherries — took me back to childhood. Thick and creamy, it was a dead ringer for the frosting on my grandma's signature chocolate cake.
At home later, I spotted Dave enjoying his leftover pizza straight from the fridge. Guess his meal wasn't too shabby, either.
— C.F.
Michael's on the Hill
4182 Route 100, Waterbury Center, 244-7476, michaelsonthehill.com
Pamela Polston
Croquette at Michael's on the Hill
The parking lot was nearly full on Friday night as we arrived at Michael's on the Hill. But inside, the restaurant's multiple rooms divide up the diners and are cozier than one might expect. My party of six was seated at a window-side table in the back (and largest) room, where we eagerly anticipated chef Michael Kloeti's $32 prix-fixe menu. His theme this year: "Save the Bees."
Each course featured local honey, with $1 from each dinner to be donated to the Bee Friendly Food Alliance. Who doesn't want to save the bees?
After bringing our chosen Portuguese wine, and whole-wheat baguettes with unsalted butter, our server promptly delivered the first course: a perfect croquette — crisp on the outside, pillow-soft within — of potato and Jasper Hill Farm's Bayley Hazen Blue cheese. Both decorative and delicious were the drizzle of rosemary honey and tiny slivers of pickled carrots.
Next came a lovely salad on a thin granite slab; the mixture of yellow beets, cress, spiced walnuts and preserved lemon — with honey vinaigrette — illustrated the chef's brilliance with texture and flavors.
Our main course, a generous slice of smoked pork shoulder, rested on a surprisingly crunchy layer of braised greens and a pool of creamy cheddar polenta. The honey appeared in a subtle gastrique. Delicately fried onion rings topped this sculptural assemblage.
Finally, somehow, we managed to stuff in dessert: a honey ice cream profiterole with chocolate ganache sauce and honey-rhubarb compote.
We're ready to do it again.
— P.P.
Blue Moose Italian Bistro
39 Main Street, Brattleboro, 254-6245, bluemoosebistro.com
Sadie Williams
Salad with goat cheese, beets and clementines at Blue Moose Italian Bistro
Within a half hour of taking a seat with my guest in the cozy environs of Blue Moose Italian Bistro, the place had filled up. Chef-owner Ken Flutie came to pour our waters, which seemed to be the norm at this tucked-away Italian eatery. Aside from his warm greeting, Flutie impressed with his approach to restaurant week: The entire menu, including specials, was fair game for mixing and matching.
Sadie Williams
Handmade pasta in a Bolognese sauce and rigatoni special at Blue Moose Italian Bistro
Since the place was nearly sweltering — pre-air conditioning season? — we started with Prosecco, a salad with bright clementines and goat cheese, and mussels in a rich broth. The flavors seemed to complement the paintings of sunflowers on the walls, and the bubbles temporarily dispelled the heat.
For the second course, I ordered the Bolognese with handmade pasta. My friend opted for the rigatoni special with prosciutto and beef in a full-bodied tomato sauce, topped with a dollop of fresh ricotta. To wash it down, we ordered a bottle of Montepulciano.
I could eat this Bolognese every day for the rest of my life. The pasta was perfectly al dente, the sauce both light and rich. My fork barely ceased twirling from the moment the plate was set in front of me.
We finished with a Greek yogurt panna cotta tinged with Madagascar vanilla and drizzled with orange blossom honey.
We left the Blue Moose full and happy — exactly what you'd want from the best week of the year.
— S.W.