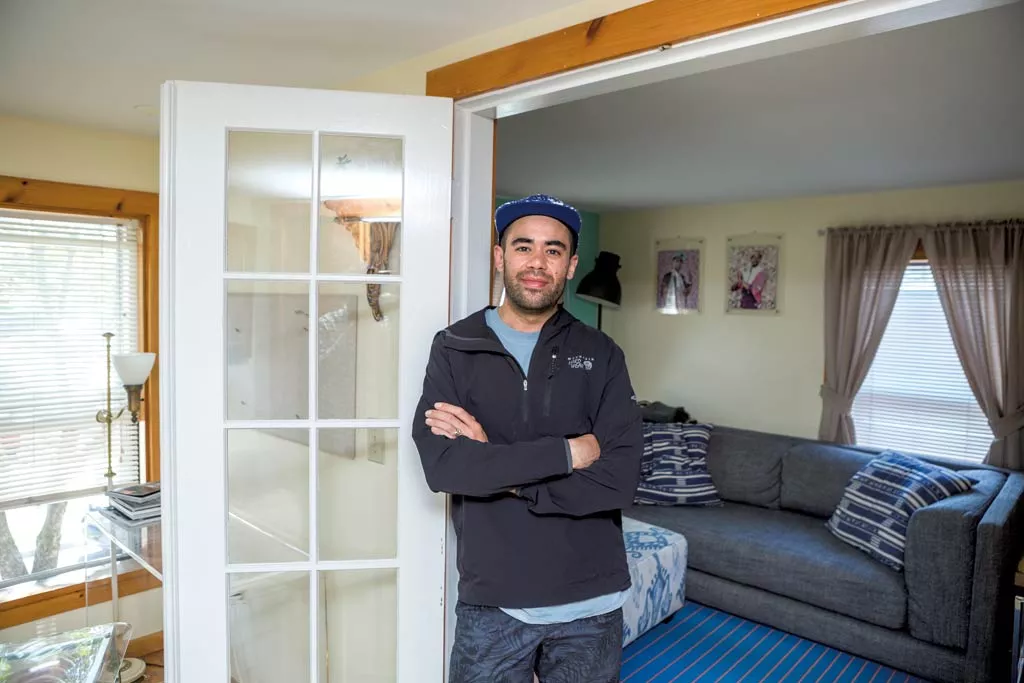 Oliver Paraini
Chaz Requina in his apartment
When 31-year-old Chaz Requina moved back to his native Vermont in 2012, it was after years of traveling. In various trips throughout Europe, the hip freelance designer found lodging on Airbnb.com, the website that lets users rent out their homes or spare bedrooms by the night.
Back in Vermont, the adventurer turned host: Requina, who'd returned to the state to help care for his dying father, listed his one-bedroom George Street rental on the site for $129 a night. A year later, Requina's profile on Airbnb was flush with recommendations from visitors who stayed at the apartment he advertised as "modern, sunny and quiet."
"I love Burlington, and I want to share that with people," he said last week.
Many others have been sharing, too. Airbnb's popularity in Vermont has skyrocketed in recent years. Plugging "Burlington" into the site's search engine last week turned up 279 rentals; altogether, Vermonters have created more than 1,000 listings that range from simple spare bedrooms to expansive lakefront cabins. Vermont's most popular listing — a treehouse in Lincoln — has a five-star rating from guests and 174 glowing reviews.
But Airbnb's growing popularity has some experienced innkeepers exasperated — and nervous.
"Airbnb, based on their name, they're looking to try to capitalize on that more-homey feel, which is what B&Bs have been doing for ages," said Jordan Davis, an innkeeper at the Willard Street Inn. "Do I think there's enough business to go around? It would depend on the time of year."
The rooms on Airbnb are often cheaper than traditional inns or hotels, and innkeepers point out that homeowners-turned-hosts aren't necessarily playing by the same rules as their industry counterparts. Hotels and B&Bs in Vermont are required to undergo annual Department of Health inspections. In some communities, above-board innkeepers are also collecting and remitting a 9 percent meals and rooms tax in addition to local taxes.
Meanwhile, cities like Burlington are trying to educate homeowner hosts that it's not okay to ignore zoning permits required for temporary rentals.
Airbnb, along with other technologies facilitating the so-called "sharing economy," is under more serious scrutiny elsewhere — notably San Francisco and New York City. The problem? The traditional way of regulating lodging hasn't kept up with a technology that can easily turn a layperson into an innkeeper.
"I have to go through all these hoops, and these people just get to open up their room?" said Linda Wolf, the owner of Made INN Vermont, a bed and breakfast on Willard Street in Burlington. "It's fabulous."
For them, that is — and more fabulous, say, than negotiating with the City of Burlington for a permit to add parking or increase guest capacity. Last year, Wolf spent months embroiled in a complicated and frustrating permitting process with the city trying to do both.
Competition from Airbnb has hurt her business, she said. So last week Wolf began listing her rooms on the upstart site. "To me it's like, 'OK, if you can't beat them, you join them.'"
Megan Smith, Vermont's commissioner of tourism, has the same advice for innkeepers. No rule keeps established inns or B&Bs from using Airbnb to reach potential guests.
Linda Provost, who runs the Little Place Guest House in Burlington, jumped onto Airbnb when she went into business three years ago — back when Burlington only had 11 listings. In the last year, the site has driven 75 percent of her guesthouse business. The year before, the Chamber of Commerce website delivered the majority of her customers.
But innkeepers point out that joining Airbnb doesn't solve an underlying problem: B&Bs that play by the rules typically have higher costs.
"We look at it from the standpoint that competition is a healthy thing, but we want it to be on a level playing field, and right now it's not," said Davis, at the Willard Street Inn.
Davis ticked through the extra costs that his family's business incurs: meals and room taxes; inspection and permit fees; 20 percent higher property taxes in Burlington because the inn is considered a commercial property, not a residence.
"It adds up," he said.
Burlington code enforcement director Bill Ward said the city has sent some warning letters to residents suspected of operating B&Bs without permits, but added that officials are more interested in clearing up confusion about when permits are required. The simple answer: Homeowners should check in with Planning and Zoning before renting out rooms. If they don't need a permit, the office will confirm that in writing — and if they do need a permit, the zoning process allows neighbors to weigh in.
Planning and zoning clerk Nic Anderson said the city has heard from residents concerned about visitors driving up and down residential roads and knocking on doors in search of their rentals.
Vermont's Department of Taxes is also paying close attention to the site and to similar services. It published a fact sheet last year to educate hosts, and officials are reaching out to Vermonters they suspect aren't paying the required 9 percent meals and rooms tax. The department has so far collected $345,000 in back taxes and penalties this fiscal year.
Commissioner Mary Peterson chuckled when asked how the department tracks down those who owe the tax — "We can never give away our secrets," she said — but noted that when a person is listing a room or apartment, it's as visible to a tax collector as it is to a welcome guest.
In some circumstances, a host might not have to pay the meals and rooms tax. Hosts are exempt if they rent for fewer than 15 total nights in a calendar year. If they rent to one tenant for at least 30 consecutive days, they're considered a landlord, and no longer on the hook for the meals and rooms tax.
The department warns that if a host is subject to tax and hasn't been collecting and remitting it, that person could be responsible for up to seven years of tax, interest and penalties. Stepping forward voluntarily could reduce it to three years.
Airbnb hosts aren't oblivious to the conundrum the new technology is causing for regulators and city officials. One Burlington Airbnb host who spoke with Seven Days gave only his first name — Eric — because he said he wanted to keep a low profile.
"In New York City, they're cracking down," said Eric. New York's attorney general is pushing for Airbnb records, on the belief that some New Yorkers are violating a city law that makes it illegal to rent out an apartment for fewer than 30 days. Last week a judge turned down that request, ruling it was too broad.
"I just think that Burlington is a little more distracted with other things," said Eric. "I'm hoping it will remain that way for a little while."
A newcomer to the site, Eric is hoping to make enough money renting out the additional bedrooms in his four-bedroom home that he doesn't have to get roommates. Bedrooms go for $65 a night, and he'll rent the entire house out for $150. There's been a learning curve to hosting.
"As a 32-year-old bachelor, my idea of clean is not the same as other peoples', and I realized that on my second booking," said Eric.
In addition to keeping his house tidier, he's stocked up on hospitality essentials: extra towels and sheets, a coffeemaker, and a blow dryer.
"Customer service isn't a complicated thing to understand," said Eric. "I don't want someone to come up here and have a bad experience."
Eric said he doesn't intend to get any health department inspections or city permits. "To a degree, it's kind of unfair, that a B&B that's pretty much the same as what I'm doing ... has to meet all these criteria, where I can just scurry under the radar," he admitted. But that wasn't stopping him. Even if Burlington or Vermont were to "crack down" on Airbnb, he predicted, users would just migrate to another site or platform.
Requina, who was candid about renting his George Street apartment in Burlington, spoke glowingly last week about his Airbnb experience. When he had guests, he decamped to his mother's home in Winooski. He pointed out some of the Vermont-specific details he added to the apartment: an antique map of the city, a map of Lake Champlain, a glass emblazoned with Woody Jackson's iconic Holsteins.
A self-described "neat freak," Requina said it hadn't been hard to keep his place visitor-ready, but he did go to some extra trouble for his guests. His refrigerator sported a list of his favorite spots in Burlington, and there was an empty closet in his bedroom; Requina kept half of his wardrobe at his office, the other half at his mother's.
Requina reported his Airbnb earnings as part of his income tax filings. But he didn't have any city permits, and he expressed some confusion about other taxes or regulations that might be involved. He believed that the service he offered was fundamentally different from a traditional hotel, and spoke of it more as a pastime than a job.
But the money was important, he said. The extra income let him scale back his freelance work last year, and he spent more time caring for his late father, who was in hospice care. "Working a full-time job and being able to do that was just not an option," he said. After long days at the hospital, he'd sometimes return to his apartment to find glowing notes from his visitors — a bright spot during a difficult year.
Requina said he wouldn't be an Airbnb host for much longer. On Tuesday, his George Street listing was no longer on the site.
He said he planned to pull up stakes soon and travel internationally for an extended period of time. Chances are, he'll turn back to Airbnb — as a guest.
"I don't want to be in a hotel room," he said. "That's the complete opposite of what I look for when I'm traveling."