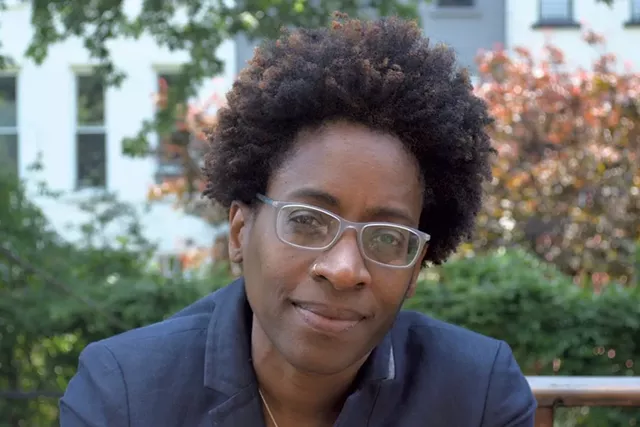 Courtesy of Jacqueline Woodson
Jacqueline Woodson
Jacqueline Woodson's Brown Girl Dreaming is the 2017 pick for Vermont Reads, a program of the Vermont Humanities Council now in its 15th year. The lyrical memoir-in-verse of a young girl becoming a writer has received numerous awards, including a National Book Award and a Newbery Honor Award.
Woodson's personal story unfolds within the wider cultural context of an extended family in the turbulent 1960s and '70s and their migratory journey from South Carolina to New York. From her home in Brooklyn, N.Y., Woodson talked about writing and growing up.
SEVEN DAYS: Congratulations on Brown Girl Dreaming being chosen as the 2017 Vermont Reads pick. Can you talk about what this means to you?
JACQUELINE WOODSON: When I was writing Brown Girl Dreaming, I had no idea what the book's outcome would be and that it would be so well liked — especially in a state like Vermont, which is pretty white. Vermont is doing its work and showing windows into the wider world.
SD: You've said that, as a child, you didn't read books about yourself, your neighborhood or your family, because your library lacked a diversity of literature. What was it like to grow up reading books that didn't reflect your life?
JW: Literature tells your story and gives you a sense of your own legitimacy. Not finding myself in literature, I wondered if my story wasn't relevant. I was getting mad, because I wondered Where am I? Did my brown body not belong in the narrative? When I finally read [Mildred Taylor's] Roll of Thunder, Hear My Cry, I knew that was what I was looking for.
One of the many reasons I began to write was to fill that absent space. As a child, literature that did reflect my life was mostly written for older people — like [works by] Langston Hughes or James Baldwin. Every African American in a book in my third-grade classroom lived in the 19th or early 20th century, and enslavement was always part of the narrative. And it was always nonfiction.
SD: The importance of the past and family are profound threads in Brown Girl Dreaming. Could you talk about that?
JW: Family is part of home, and home is so important. As a child, I straddled Ohio and South Carolina. In the South, safety was in the family, and home was where we had everything we needed — food, shelter, safety, stories, religion. The family stories were very important, because we learned where we had come from. I didn't see this as a child, of course, but as an adult I realized my family had come through the Jim Crow South, so they had a sense [of] We survived that, so we can survive anything.
SD: You write about children facing difficult circumstances — such as meth addiction — that make some adults very uncomfortable.
JW: I write for young people, and I know adults have their own fears and challenges in understanding others, whether it's sexuality or abuse or religion, and what they're struggling with in their own mind they often put on their children. Transparency is the biggest gift adults can give kids.
I know some parents try to protect their children, but that ends up negating that children live in the real world. A gift adults can give to themselves is to read these books or, better yet, read with children. I believe my books will end up in the hands of people who need to read them. Other people's fears can't be about the work I'm doing.
SD: Brown Girl Dreaming is about a young girl discovering her own unique "brilliance" through writing. What advice would you give to young people who are searching to develop their own particular gifts?
JW: I visit kindergarten and first-grade classes, and when I ask kids what they want to be, all the hands go up. But as kids get older, fewer hands go up. Their aspirations to be dancers or ice skaters or fairy princesses are stamped out of them. They're told their aspirations are not realistic. I didn't try to make a whole bunch of money. I didn't get caught up in that game. I had really bad jobs, but all the time I was writing. We're so often sold an illusion of what we should be doing. Instead, we should move through the fear of What if I fail? What if I don't make enough money? Remember what you love and what makes you feel passionate, and hold on to that.
This interview is excerpted from a story originally published in Kids VT.