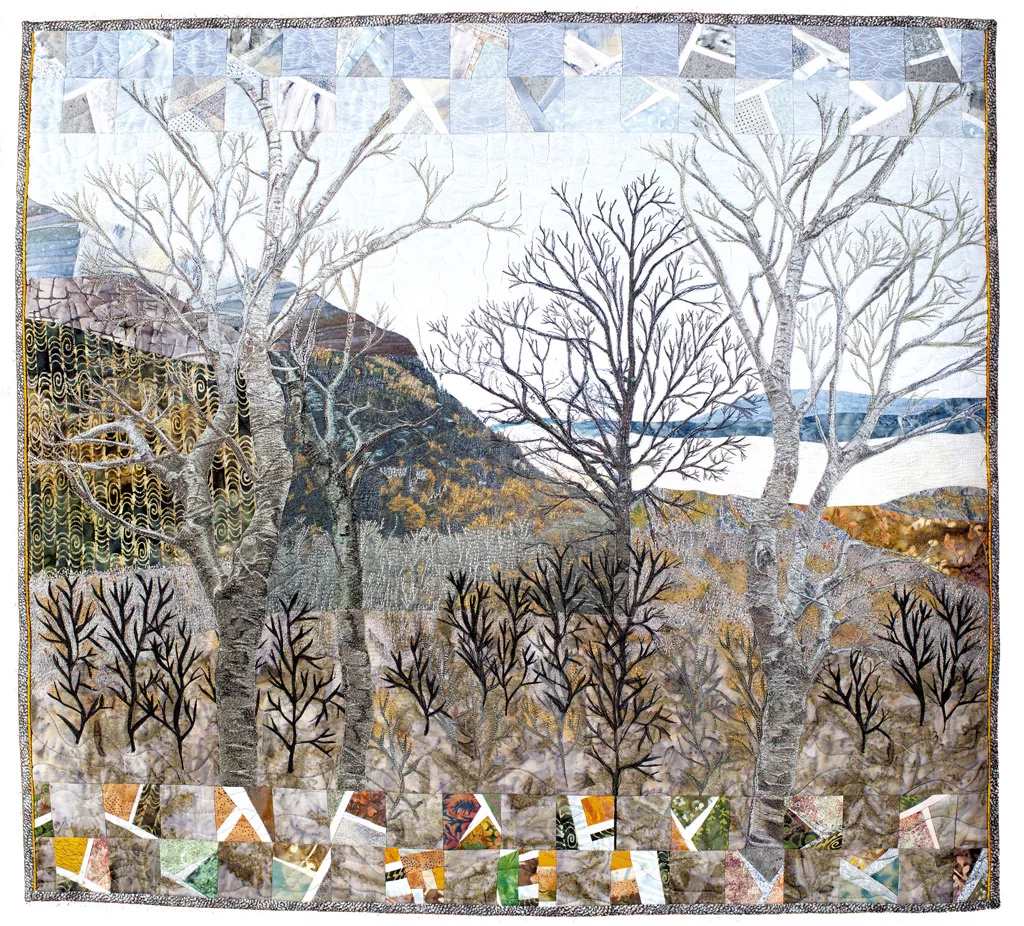 Matthew Thorsen
"Smugglers' Notch" by Anne Standish
If the word "quilt" makes you think of Grandma's patchwork or Civil War-era patterns in red, white and blue, think again. Quilting is back in a big way, in Vermont and elsewhere — and these days, it's blurring the line between "craft" and "art."
One look at the explosion of fabric-arts exhibits around the state — and the influx of nontraditional quilts — reveals that local quilters are invigorating the centuries-old craft with contemporary flair. Creative twists on quilting include adding decorative embellishments, such as embroidery or beading; and "painting" the top layer using thread, pieced fabric or both. With sewing machines and fabric printers, today's quilters also have a technological edge over their predecessors.
In the words of Champlain Valley Quilt Guild member Janet Jaffe, quilting has "diversified and evolved into something that has crossed the boundaries between skilled craftsmanship and art."
At this year's annual Guild show, more than 40 percent of the works were considered nontraditional art quilts, estimates Burlington artist Claire Graham-Smith. (Art quilts tend to be smaller than bed quilts, and can be framed or used as wall hangings.) "In the past four or five years, we've seen that trend really escalate," she says.
Caleb Kenna
"Olde Fashioned Charm" by Karen Abrahamovich
Graham-Smith's own work was recently included in "Finding a Common Thread: A Contemporary Fiber Arts Exhibit," which closed last week at the Chandler Center for the Arts in Randolph. A graduate of the Toronto School of Art and a longtime oil and pastel artist, Graham-Smith learned to quilt 12 years ago. Now, she's transferred her love of landscapes into making art quilts.
Such works may seem like a major departure from the American folk tradition of quilting, which dates back to, well, before America was officially born. In colonial times, English and Dutch settlers made cloth "sandwiches" for warmth by stitching together a lining, padding and top layer.
Those early quilts were utilitarian, pieced together from homespun and repurposed materials. Quilting for leisure caught on in the 18th century, when fabrics became more readily available. Elaborate patterns and designs emerged that took months or even years to complete by hand. The resulting objects were prized as heirlooms and decorative art — much like today's art quilts.
As for traditional quilting, it never went out of vogue. Judy Thomas, owner of Yankee Pride Quilts in Essex Junction, stocks reproduction fabric — reprints of historical patterns on new cloth — and says her customers still show a strong interest in classic styles.
But Yankee Pride also stocks a range of contemporary fabrics to satisfy a new kind of quilter. "Somebody can make traditional quilts and have made them their whole life, and all of a sudden they just start doing more contemporary things," Thomas observes.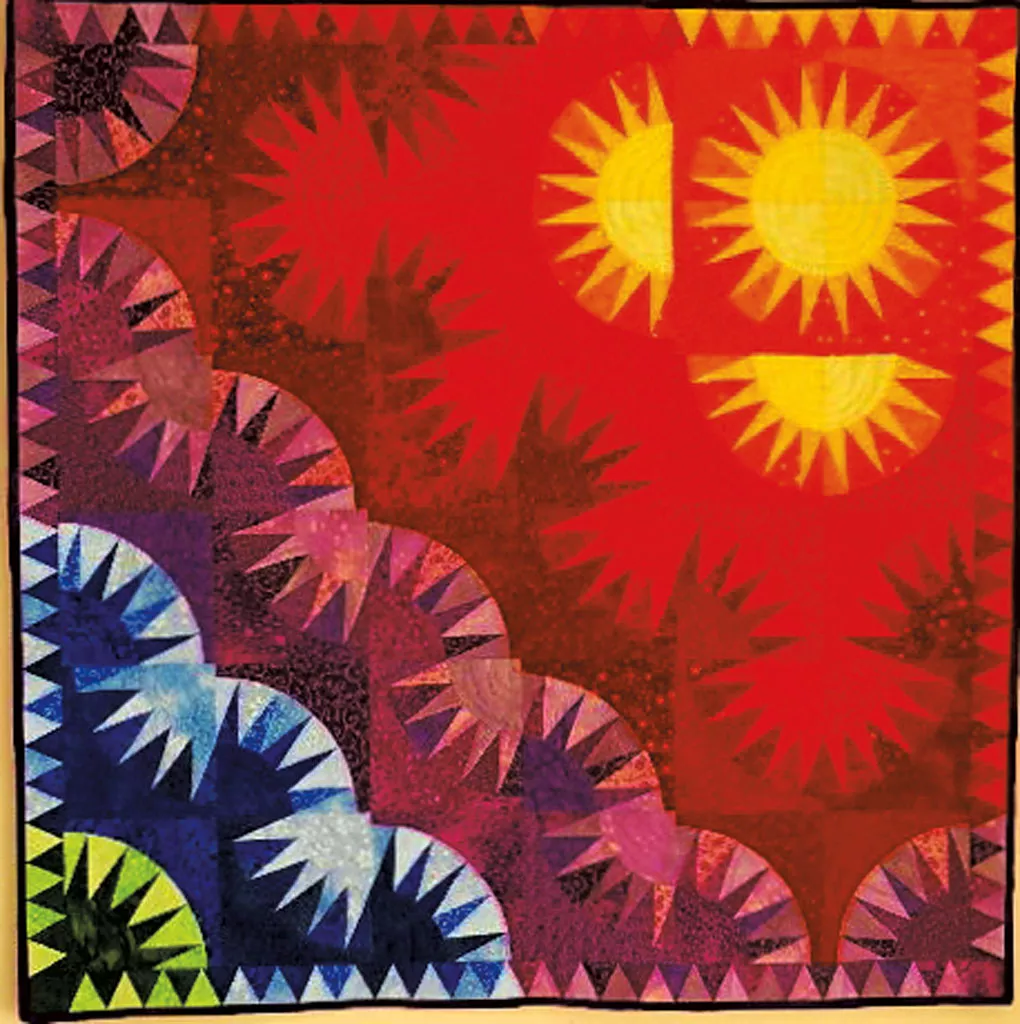 "Reaching" by Carla White
"We've been in business over 30 years," she adds, "and the fabrics now are just unbelievable. They are just so beautiful."
Another new approach is to update functional quilts with modern designs. That might mean "the use of bold colors and prints, high contrast and graphic areas of solid color, improvisational piecing, minimalism, expansive negative space, and alternate grid work," according to the website of the Modern Quilt Guild, an international nonprofit founded in Los Angeles.
That guild's Vermont chapter is in the works. Members of a modern quilt club based at nido fabric + yarn in Burlington are completing the paperwork to join. Store owner Phiona Milano says new approaches to quilting that are trending nationwide are taking hold in Vermont.
"Having access to a bigger range of fabric choices has opened the doors to a whole other market of quilters," she suggests. "Quilting was oftentimes thought of as something an older generation was doing. But given what's available now, a much younger generation is into it." And, she says, older quilters are "getting reinspired."
For more insight into the cresting trend, Seven Days invited some longtime quilters — all members of the Champlain Valley Quilt Guild — to talk about their craft and what keeps them in stitches.
Anne Standish
Family nurse practitioner, Cambridge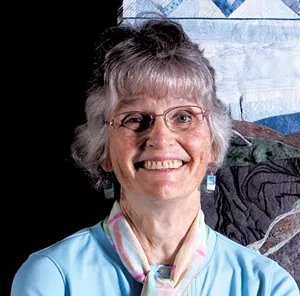 Matthew Thorsen
Anne Standish
How did you learn to quilt?
Since I was a teenager, I've known how to sew. When I became pregnant with my first child, I decided I wanted to make a quilt for him. At the time, I was living in Pennsylvania, in Mennonite country. They have a strong quilting tradition, similar to the Amish, and since I didn't come from a family of quilters, I reached out to them. I found an older woman on her farm who was able to teach me how to hand quilt. She had no power in her house; she worked by kerosene light.
After that, I got the bug. I took classes, learned basic techniques and got the skill set you need to make a quilt early on. That allowed me to expand my horizons when I got a machine.
What's your current quilting style?
I've started making art quilts. I really enjoy being outdoors doing sports, hiking, kayaking, cycling. I always carry my camera with me and take shots of images I think would be a good quilt. I try to duplicate it in a very realistic way, so people can say, "Oh, that's Mount Mansfield!"
How do you transfer images onto quilts?
With newer techniques, I can make the designs much more complex and can use fabrics that wouldn't do well under a machine. I'm also using the computer much more in terms of printing images onto fabric, and using the computer as a design tool. A lot of the texture comes from the quilting itself or the threadwork on top of it. The techniques I use the most are what most quilters call "thread sketching" — using thread on the fabric to enhance it.
Tell us about "Smugglers' Notch."
There's an actual photograph embedded in the center; the tree to the left and the middle tree are the lateral edges of that photograph. It was taken by my brother, and, since 2001, I'd kept it on the wall until I had the skills to do something with it. I went back multiple times and took many photographs of the ridgeline and the trees. I drew out a ridgeline from the photograph, then printed out enlargements of photographs of the trees. The little pieced blocks on the bottom were made traditionally.
Karen Abrahamovich
Recruiter at Keurig Green Mountain, South Burlington
Matthew Thorsen
Karen Abrahamovich
How did you learn to quilt?
I've sewn since I was in middle school, but it wasn't until I went to college that I made my first quilt. I put it together with no knowledge or idea of the right way to do it. In 1991, I took my first quilting class to really learn the right techniques. I'd just finished a master's degree in engineering, and I wanted to do something fun.
Why were you drawn to it as opposed to other hobbies?
Just to see all the beautiful designs, and all the new fabric lines coming out — and with that engineering and mathematic background, the whole process gets to be — well, it's a lot of geometry.
What's your style?
I am definitely more of a traditional quilter. That means I don't tend to do the artistic landscapes, or quilts that have a lot of embellishments and beading, or thread painting. I mostly enjoy making pieced quilts that are functional. I use a combination of [fabrics]. I really love the reproduction fabrics that look like your grandmother's quilts.
Tell us about "Olde Fashioned Charm."
This one was selected to be in a juried show at the [American Textile History Museum] in Lowell, Mass. It utilizes reproduction fabric ... from the mills that were once down [there]. Now, unfortunately, most of the fabric is produced overseas. For this reproduction line, they've got samples, or they've traced back some of the original patterns that were produced in the early 1900s or even 1800s. This quilt has an appliqué center medallion. It ... is actually hand-quilted. It was before I got into machine quilting, and it's just more of a traditional [approach].
Andre Emmell
Retired, Ferrisburgh (formerly an analyst at IBM, and a Vietnam vet)
Caleb Kenna
Andre Emmell
What are you working on now?
I have a 12-foot frame, which is what I do most of my quilting on. I started this quilt last Monday. It's a queen-size quilt, 102 by 102 inches. I had to do 49 blocks. I did about 12 blocks a day. All I've gotta do now is trim it and put the binding on it and it's done. My sister-in-law's birthday is the 12th of December, and my wife said, "I want a quilt for my sister."
When was the first time you made a quilt?
I made my first quilt about 21 and a half years ago; I made my first two quilts for my granddaughters. Then, in 1998, we moved to Virginia because my wife was taking care of an old friend ... I needed something to do because I had left all my woodworking equipment with my son up here. A sewing machine was handy, and I got the bug then. All of a sudden I'd joined a [quilting] guild, and before I knew it I was involved.
Did you already know how to sew?
I learned how to sew when I was real young. My mother said I used to sew my sister's doll clothes. I don't remember. It wasn't a guy thing. Now it's different. Well, life's a lot different today than it was back then.
Why did quilting appeal to you?
It was a lot like woodworking — precise measurements. The art quilts are a little different, and I keep trying to push myself to do art quilts, but I can't quite get myself there.
You make Quilts of Valor to donate to service members and veterans?
A lot of times I have people come over and work on Quilts of Valor. It's like a mini sewing group. I'll set up five sewing machines, and we'll sit here and sew all afternoon. I'll make about 40 Quilts of Valor a year on my machine, and about five [of the top-layer designs] on my own.
Carla White
Radiological health inspector, South Burlington
When did you first begin quilting?
I made my first quilt in 1983. But I only sporadically did quilting; I do a lot of crochet and embroidery. It was eight years ago when I really started, when I joined the guild and everything.
What inspires you to start a project?
I usually choose a picture and use that as a template. I have one of some poppies ... so I just enlarged them on the computer and then traced around all the different colors. I make them as gifts and just for fun. The only one I've sold [was] through a silent auction.
What are you currently working on?
I like to do all sorts of different things. Right now I'm doing some regular piecing. They're modern style, one for my nephew and one for my neighbor. My nephew's is chemistry and science inspired, and the one for my neighbor is very pale, tonal colors, browns and beiges.
You have a pretty interesting day job.
Yeah, I work for the State of Vermont in radiological health, and I inspect X-ray machines [of] dentists, veterinarians, physicians, chiropractors. I'm the only one in the whole state who does this.
Between that and quilting, your days must fill up pretty quickly.
Yeah! Well, I like to read, I like to garden, and I also have five cockatiels. They are crazy. They like to help me quilt sometimes. There'll be one on my head, one on my shoulder, and one running up and down my arm.
The original print version of this article was headlined "Quilting Renaissance"