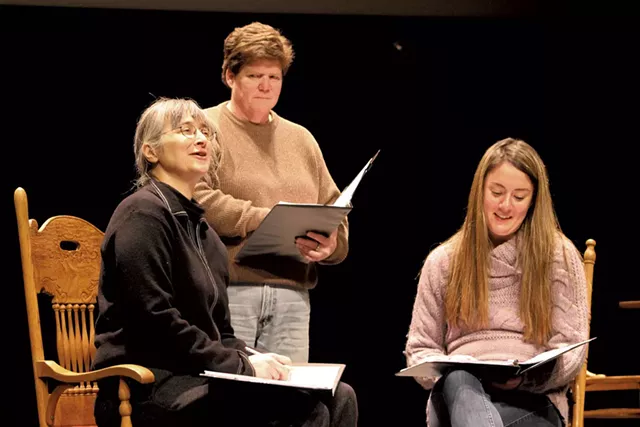 Courtesy of Ramsey Papp
From left: Hillary Mullins, Susan Loynd and Samantha Loesch reading The Laramie Project
In October 1998, a young gay man named Matthew Shepard was brutally beaten and left for dead in Laramie, Wyo. The event and its aftermath captured the national spotlight, as jurors and the public grappled with whether the crime was motivated by bigotry. The case spurred subsequent hate-crime legislation including the Matthew Shepard Act, passed by Congress and signed by President Barack Obama in 2009.
During the years that followed Shepard's death, Moisés Kaufman and New York City-based company Tectonic Theater Project devised a play about the murder called The Laramie Project, which premiered in the year 2000. It has since been performed hundreds of times around the world. This weekend, a local production adds to that tally: Vermont Pride Theater is performing a staged reading at the Chandler Center for the Arts in Randolph as a benefit for the Matthew Shepard Foundation.
Though Shepard's killers were not charged with a hate crime — it wasn't possible under Wyoming state law at the time — he became a martyr of the LGBTQ community. Consequently, The Laramie Project has made a powerful impression. Cher Laston, director of the VPT production, said her audition notice received an overwhelming response.
"Every single person who emailed me had a very, very personal connection to the script," said Laston. "They had performed in it previously or had seen it, and they felt compelled to reach out and get involved."
The Laramie Project continues to make waves, including among other haters. Fred Phelps Sr. and members of the Westboro Baptist Church of Topeka, Kan., infamously picketed Shepard's funeral, holding signs reading "God Hates Fags" and "Matt in Hell." Though Phelps died in 2015, church members continue their anti-gay protests, including at Laramie Project events. Though they're not expected at the Vermont production, the group's relentless abhorrence of the play is perhaps a testament to its provocative script.
"I think there's something about that whole event," said Laston of Shepard's murder. "It was really a moment of reckoning for the whole country, and that hasn't gone away."
The Laramie Project consists of verbatim interviews conducted by Tectonic Theater Project with citizens of Laramie. These were synthesized into small scenes and monologues. When woven together, they tell the story not just of Shepard but of the community that both loved and killed him.
The 10 actors in the show collectively play more than 60 characters, ranging from Shepard's best friend to the killers' friends to a local DJ. "The actors have to be really agile," Laston observed. "They need to switch between characters that are different from each other and different from the actors themselves."
The cast ranges in age from twenties to sixties. Laston described them as "very diverse" — particularly in their representation of gender identity and sexual orientation. She said they include "actors who are transgender, lesbian, bisexual, cisgender married to bi with a gay stepchild..." Onstage they present an era when simply being gay could get one killed; yet it's worth noting that those who challenge binary gender "norms" today continue to face misunderstanding, harassment and sometimes violence.
The Laramie Project is also notable for its form. While devised work — that is, work created organically by a group — is not new, Tectonic Theater Project developed a technique they dubbed "moment work." The methodology creates not only text but an accompanying mood and aesthetic. Laston, who both directs and choreographs the VPT production, is particularly well suited to do so because she has trained with the New York company.
"I had the opportunity to study with Tectonic when they were in the process of codifying the book about moment work," Laston recalled. "We had 10-hour sessions for seven days. It was the most amazing experience I've ever had theatrically."
VPT's production comes on the heels of the 20th anniversary of Shepard's death, as well as his interment at the Washington National Cathedral last October. For its annual benefit, the Vermont company originally planned to perform m or f?, a play adapted by St. Albans playwright Gene Heinrich from the book cowritten by Hinesburg author Chris Tebbetts and Lisa Papademetriou. When coordinating the schedules of eight child actors became too difficult, VPT elected to produce The Laramie Project at the last minute.
But Laston thinks this turn of events was a blessing in disguise: "I'm a firm believer in the universe aligning," she said, "and in this case I think the universe told us that this is the play for right now."
Correction: January 24, 2019: An earlier version of this story misidentified the hometown of playwright Gene Heinrich.