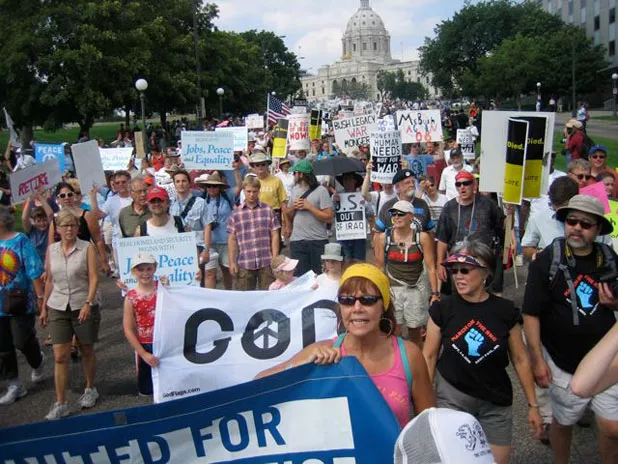 Since graduating from the University of Vermont in May, Sam Maron has run afoul of the law on two continents for his political activism.
On August 15, during the Olympic Games, Maron, 22, was deported from Beijing after he dropped a "Free Tibet" banner outside the headquarters of China Central Television. Then, last Monday, he was among hundreds of political activists arrested and jailed in St. Paul, Minnesota, during the Republican National Convention.
Around midday on September 1, the opening day of the convention, Maron was one of five activists with Vermont ties who helped protestors from Pittsburgh lock themselves to a car to prevent delegate buses from passing through an intersection. According to Maron, after ordering the protestors to disperse, about 80 officers, some wielding pepper spray, "cornered" the group. Over the next hour, some activists were "dragged" from the scene and arrested, Maron said. He and others were detained, searched and ordered to identify themselves.
After refusing to cooperate with police, Maron and a friend, a Vassar College student, were arrested along with other protesters in the area.
"It was totally arbitrary," Maron recalled. "We were literally walking on the sidewalk following a dispersal order when they arrested us . . . It was very obvious that they rounded us up first, and then looked for a reason to do so."
After being transferred to a local jail, Maron was separated from his friend and placed in a cell, where he was held for 48 hours. He was charged with disorderly conduct, obstructing traffic, obstructing the legal process and unlawful assembly.
Released on $1000 bail, Maron was met outside the jail by a crowd of 50 or 60 people, who offered him bread, water and cigarettes. "We came here to protest the RNC because we want a better world," he said. "Part of that world is solidarity - supporting each other and building new, sustainable communities - so coming out and seeing that support was a clear sign of the way we want things to be."
Maron, who drove to the four-day convention from Burlington in a rented Dodge, said Twin City activists had organized significant "anarchist/authoritarian resistance" for the convention. He and his fellow activists had been in touch with one group, the RNC Welcoming Committee, which helped out-of-town activists locate housing.
"We went not against McCain," he said, "but against the entire two-party system."
According to the independent media outlet Democracy Now!, whose host, Amy Goodman, was arrested September 1, more than 800 protesters and 19 media workers were arrested during the four-day convention. In an interview with Goodman, Minnesota's Ramsey County Sheriff Bob Fletcher said the arrests were made in response to "brazen criminal acts," such as blocking streets. Fletcher later admitted on the show that his department had hired infiltrators to spy on local activists in the months leading up to the convention - a tactic the Minneapolis-based alternative weekly City Pages reported on in May. (City Pages writers also reported they were maced and assaulted while attempting to cover the protests.)
Maron, who is an intern at Students for a Free Tibet in New York City, plans to contest the charges against him.
"The case against us is slim to nil," he said. "I'm pretty confident that all of the charges will be dropped."