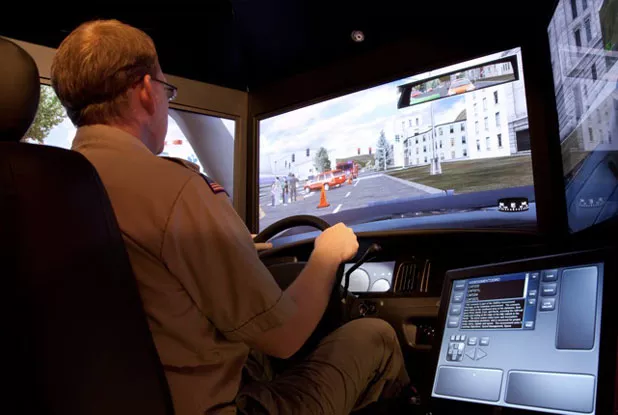 An officer behind the wheel of an L3-MPRI driving simulator.
On July 23, 36-year-old Paul West of Hinesburg sped off after a Williston police officer tried to pull him over for driving erratically on Williston Road. According to published reports, West raced away in a 1996 Chevy Blazer, struck a power pole a short distance away, and was killed almost instantly.
In Vermont, high-speed chases rarely occur, but when they do they can be deadly. Between 1982 and 2007, there were 39 deaths involving police pursuits, and seven of the casualties were occupants of vehicles uninvolved in the chase, according to statistics from the National Highway Traffic Safety Administration. Thirty-one were passengers in or drivers of the vehicles being pursued. Even the nonlethal chases can still pose costly liability issues.
How can police officers prepare for rare situations that will test their split-second reflexes? For that they turn to John Gonyea, who knows how to stress out cops. In fact, he's the police academy's resident expert at it.
One moment, Gonyea can make officers race down Interstate 89 at 90 miles per hour on a rainy night in pursuit of a fleeing felon. The next, he can drop them into a busy intersection on Shelburne Road at midday to see how they stop a drunk driver weaving across three lanes of traffic. Gonyea can also make a pedestrian step off the curb in front of the police cruiser, or order a dump truck to run a red light, just to make things interesting.
"You can get into crashes, roll cars and all kinds of other craziness, and nobody gets hurt but the person's ego," says Gonyea. "And we learn from it."
Gonyea is the official driving instructor at the Vermont Criminal Justice Training Council in Pittsford. He creates all this white-knuckle mayhem using a new training tool: a $200,000 driving simulator that helps new cadets and sworn officers become safer, smarter and more effective behind the wheel. The simulator, which can be transported around the state on a trailer and is also used for training firefighters and snowplow operators, was purchased last year through a federal grant obtained by Sen. Bernie Sanders and a donation from the Vermont League of Cities and Towns (VLCT).
The simulator is part of a new, comprehensive driving class the police academy launched in 2009. The intensive, 32-hour course covers a wide range of skills, including defensive driving, vehicle maintenance, skid control, dynamics, turns, performance driving and high-speed pursuits. Officers already on the job can take a modified version of the course.
Why is the state investing so much time and money in teaching police officers to drive better? Simply put, because high-speed driving, especially chases, is the most dangerous thing they do. Each year, more officers die in motor-vehicle accidents than in shootings — at a nationwide rate of about one officer every six weeks.
They're not the only ones getting killed in chase situations. A 2004 study by the University of Washington's Harborview Injury Prevention and Research Center found that, of the approximately 300 Americans killed each year in police pursuits, nearly one third are innocent bystanders. That's an average of three victims every week.
Such collateral damage might be defensible if most fleeing suspects posed a serious threat to public safety. However, few do. Statistically, nearly nine of every 10 high-speed chases are initiated for nonviolent and relatively minor offenses, such as drunk driving, suspended license and drug possession. The image of a gun-wielding kidnapper leading police on a high-speed tear through rush-hour traffic is more of a reality for Hollywood directors than for the highway patrol.
Police aren't to blame when drivers such as West fail to stop when ordered to do so. But Gonyea tells his students their decisions can dramatically affect the outcome of a pursuit, especially whether innocent people will be injured or killed.
His class includes an extended discussion of the "fight-or-flight" response that kicks in during a police chase and how it can alter an officer's ability to function, make decisions and operate a vehicle. The "adrenaline dump" that occurs during a chase causes the body to go into protective mode, which can diminish fine motor skills, cause tunnel vision, alter hearing and warp the officer's perception of time by speeding it up or slowing it down. Police call it "blue-light fever."
Captain Ray Keefe commands the Vermont State Police Troop D based in Rockingham. He also chairs the four-member committee that reviews the roughly 35 to 50 chases in which troopers engage each year, regardless of their speed or duration.
Keefe says his agency takes pursuits "extremely seriously" — and with good reason. On June 15, 2003, Trooper Michael Johnson, 39, was killed on I-91 in Norwich right after he had deployed tire spikes to stop a fleeing suspect. When the driver, Eric Daley, swerved to avoid the spikes, he lost control of the car and struck and killed the trooper, who was standing on the median.
Following Johnson's death, the VSP undertook an extensive review of its pursuit policy and rewrote it entirely. "I'll be frank with you. Since this whole thing kicked off in 2003, the change has been pretty vast," says Keefe, who was Johnson's commander at the time of his death.
Notably, Keefe says the state police, like many other police departments around Vermont, now has someone who's not behind the wheel, such as a commander or shift supervisor, calling the shots and making the final decision whether and when to discontinue a chase. (An officer can also discontinue an unsafe pursuit at his or her discretion.) That decision is based on various factors, including the time, location, speed and direction of the chase, weather and road conditions, and the driver's alleged offense.
For example, is the driver a suspected ax murderer? A drunk who just plowed through a crowded schoolyard? Or, did he run a stop sign? Sometimes, Keefe says, it's safer and easier to discontinue the pursuit and have a cruiser waiting in the suspect's driveway.
Police chases aren't just dangerous; they're also costly. According to Deputy Chief Walt Decker of the Burlington Police Department, high-speed pursuits are one of the "big three" liability issues departments wrestle with — along with racial profiling and use-of-force lawsuits over firearms, Tasers and pepper spray. A department's pursuit policy can help or harm the agency's bottom line.
In Vermont, each municipality currently writes its own motor-vehicle chase protocol, but that may change soon. The VLCT, which provides property, casualty and workers' compensation insurance to most municipalities in Vermont, recently hired an Indianapolis-based consulting firm to put together model policies for, among other things, vehicle pursuits. A draft of that policy is expected to come back in the next few weeks.
Joe Damiata, VLCT's manager for safety and health promotion, says one goal is to standardize the policies statewide, given that chases can quickly move from one jurisdiction to another.
"It's nice to know that Burlington, South Burlington, Colchester and Essex are all on the same page and know when to back off or when to pursue," Damiata says. "We feel that this will give them all a model that they can all work with."