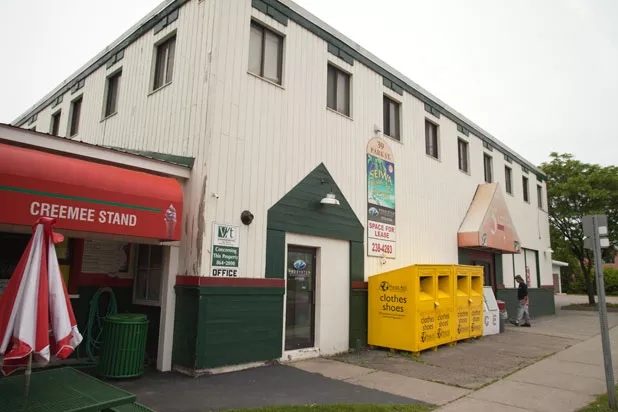 Matthew Thorsen
Seiwa Spa
One week after Seven Days published firsthand accounts of prostitution and possible evidence of human trafficking in three Chittenden County massage parlors, Vermont police have yet to visit any of the establishments and expressed uncertainty about how to respond to the crimes reported in the article.
One of the establishments — Harmony Health Spa in Williston — was still open for business and accepting customers as of press time. The other two — River Spa in Burlington and Seiwa Spa in Essex — appear to have closed, albeit voluntarily.
But in Bennington on Monday, police cited the owner of Cozy Spa massage parlor for prostitution following a raid by the FBI and local police last month. Owner Young Shin has a history of prostitution in four states and will be arraigned in a Bennington courtroom on July 22.
The hands-off police response in Chittenden County highlights a challenge that human trafficking experts say is endemic in such cases: Local law enforcement often lacks the resources, manpower and expertise to take on the networks behind the problem, which may be national or even global.
At least one local authority appears to be taking some action. Chittenden County State's Attorney T.J. Donovan said he has scheduled a meeting on the matter for June 12 involving his office, state police, the FBI, victims' advocates and municipal attorneys from Burlington and Essex.
Donovan also said that he will hold landlords criminally liable if it's shown that they knowingly allowed prostitution, human trafficking, or other "lewd and lascivious acts" to occur on their properties. Donovan said he plans to send certified letters to the owners of all three properties, along with copies of the Seven Days story, warning of their potential criminal culpability.
"Your article puts every landlord on notice," Donovan said, referring to the June 5 cover story, "Unhappy Endings: Getting a Grip on Vermont's Asian Sex Market." "Therefore, they may be in violation of Vermont criminal law."
Two of the spas outed in last week's article apparently didn't wait around for an official response. Fewer than 24 hours after the story was published, the neon "open" light at Burlington's River Spa had disappeared from the window. No one answered the phone or door on Thursday, June 6, and a contractor working in the building said he hadn't seen anyone enter or leave the premises all day. As of press time, the spa was still shuttered.
Employees of Seiwa Spa were seen loading a U-Haul over the weekend and the business appeared closed on Tuesday. However, Harmony Spa was still open for business on Tuesday, June 11.
The Asian women who answered the door at two of the establishments late last week were the same women described in the June 5 article — "Candy" and "Chi-Chi" at Harmony Health Spa; "Rose" at Seiwa. All three women seemed unaware of the Seven Days report.
One employee of Harmony Health Spa repeated that she lives on the premises, which, if true, would be a zoning violation, according to Williston assistant clerk/treasurer Sarah Mason. Candy also reiterated that she works seven days a week, from early in the morning until late at night — a work schedule that would violate labor law — but denied she provides sex for money.
When asked if she is working there of her own free will, Candy said, "I don't know," though, due to a language barrier, it's unclear whether she fully understood the question.
Candy spoke willingly to this reporter until she was chided, in Korean, by Chi-Chi, an older Korean woman who asked me to leave the premises. Jisu Kim, a professional Korean interpreter who has worked on human trafficking cases, listened to an audio recording of the conversation and translated Chi-Chi's comment to Candy as, "This guy's asking us if we live onsite. Why are you still talking to him? You should have told him to leave already!"
Rose, who answered the door at Seiwa Spa on June 6, was also one of the women in last week's cover story. When I revisited the spa and identified myself as a reporter, she, too, denied offering clients sex for money but said, "Hand job no sex."
Rose said she didn't know her boss's name. How did she get to Vermont? "I don't remember. I forget everything," she said. Asked if she wants to be working there, she said, "I don't know. Why?" As with Candy, the extent to which Rose understood the questions, offered in English, could not be determined.
Police in Williston and Essex confirmed that they had not visited either establishment as of late Friday.
Like all of the law enforcement agencies contacted by Seven Days, they characterized published reports of prostitution — both in this newspaper and on adult websites such as Rubmaps.com — as "serious" and "disturbing." And while most cops expressed appreciation to Seven Days for exposing them, they seemed at a loss to identify an appropriate response to those businesses.
The conditions in all three establishments were consistent with what experts say are typical of Asian massage parlors engaged in human trafficking: all-male clientele; an abundant use of surveillance cameras; locked doors and buzzers to screen customers; seemingly undocumented cash transactions; and windows covered with bars, boards or curtains. The workers were all Asian women who claimed they work seven days a week and are on the premises 24 hours a day.
"These are very complex investigations, and they take a lot of time," said State Police Lt. J.P. Sinclair, who serves on the Vermont Human Trafficking Task Force, a joint task force established by the Vermont legislature that is made up of law enforcement, victim advocates and social-service providers.
Sinclair says the task force doesn't have the personnel or resources to investigate human trafficking allegations. Instead, the 28-member task force devotes its energy to training local police, first responders, hospital staff and social workers to spot signs of human trafficking and develop protocols for helping victims.
Burlington Deputy Police Chief Andi Higbee was noncommittal about what action, if any, his department would take in response to reports of prostitution at River Spa.
"When this type of information comes to us, we evaluate it and forward it to the proper entities, if need be," Higbee said, though he declined to name those entities.
Williston Police Chief Todd Shepard all but threw up his hands in the face of the criminal activity that he's suspected for some time was taking place at Harmony Spa.
"Unfortunately, we know it's happening. I'd love that business to be shut down," Shepard said. But, he added, "It's not like we're getting complaints about the business, or complaints from any clients that issues are happening there."
Shepard noted that because the town of Williston doesn't license businesses, the chief wasn't sure what his department could do other than pressuring the building's owner, Tom Booska, to clean up his act.
"We've had federal agencies in on the bigger issues [of trafficking] there, and nothing has happened," the chief added, referring to the July 2004 raid on Harmony Spa and two other massage parlors in Chittenden County. Williston and Essex police, with FBI and U.S. immigration agents, netted eight undocumented workers in the raid — including three women who admitted to performing sex for money — but no suspected ringleaders.
No one was prosecuted in that case, however, and police later acknowledged they botched the investigation by mistaking likely trafficking victims for willing prostitutes and allowing them to disappear. That case, as well as others involving undocumented foreign laborers on Vermont's dairy farms, spurred the creation of the Vermont Human Trafficking Task Force in May 2011.
Before Seiwa Spa had closed, Essex Police Detective George Murtie said his department planned to take action against the business but wouldn't offer specifics.
"This is criminal information being relayed to us in a highly detailed and what I would consider credible manner," Murtie said, referring to the Seven Days story. "So we will definitely respond to the information you provided us with."
One action police are reluctant to take, however, is to conduct a sting operation like the one Seven Days did. Murtie explained that his department is averse to sending undercover officers into such establishments for fear of putting them in a "compromising position," as well as possibly "revictimizing women who may have been forced into virtual sexual slavery."
The Bennington Police Department took a similar approach in its two-year investigation of two spas in that town — the Green and the Cozy — where it was believed prostitution and human trafficking were also taking place.
Murtie, of the Essex Police, suggested that the human trafficking angle is "better handled on the federal level, because of the ease [with] which these women can disappear and move beyond state or even national borders."
U.S. Attorney Tristram Coffin would not comment on the existence of "past, current or future federal investigations," but did call human trafficking "a high priority in the Justice Department and in our office.
"If we develop leads of human trafficking, we will aggressively pursue those," Coffin added. "At the same time, it's not appropriate for the federal government and federal investigators to become the prostitution police."
Why hasn't the Vermont Human Trafficking Task Force taken a more proactive role in ferreting out criminal activities at businesses that openly advertise sex for money on the web? Task-force chairwoman Barbara Whitchurch, of the Vermont Center for Crime Victim Services, reiterated that the body has so far focused on training, not investigations, and noted that the task force has no money for investigators.
"We have an unfunded mandate to address everything that needs to be done, so that's a real challenge," said Whitchurch. "We're doing it on a shoestring." She added that evidence of prostitution here was "not a surprise" to her.
This lack of funding dedicated to and expertise in human trafficking are typical at law-enforcement agencies around the country, according to Bradley Myles, executive director of the Polaris Project, a Washington, D.C.-based anti-trafficking group he founded with another Brown University grad in 2002 after police found Asian sex slaves living in a Providence, R.I., massage parlor.
Myles said it's believed that most, if not all, of these Asian brothels are loosely affiliated through a nationwide network that operates using a "hub-and-spoke" model. The nearest "hub" to Vermont, according to Myles, is Flushing, N.Y. That's where police and the FBI believe the owners of the Bennington spas have ties.
Myles said local police are often averse to aggressively pursuing these businesses because many of the female workers don't speak English and are in the country illegally, making them distrustful or fearful of authorities. Most jurisdictions don't have reliable and culturally sensitive services for sex-trafficking victims, Myles added, and because of language barriers and the isolation in which they're kept, the women don't have connections to the community that would help them stay in place after a massage parlor is raided, "so they scatter to the wind."
When told that a Burlington spa named in the story had since closed its doors, Myles cautioned against assuming it's gone for good. It's common for such businesses to lie dormant for weeks or even months before reopening under a different name and "new" — at least on paper — ownership, with the profits flowing back to the same network. This game of "Whac-A-Mole," he said, is one more reason why police often get frustrated with such cases.
As he put it, "The day you see that place reopen as a Cold Stone Creamery, that's the day you know it's completely gone."
Disclosure: Ken Picard's wife, Stacy Graczyk, is a deputy state's attorney in Chittenden County. She had no professional involvement with this story.