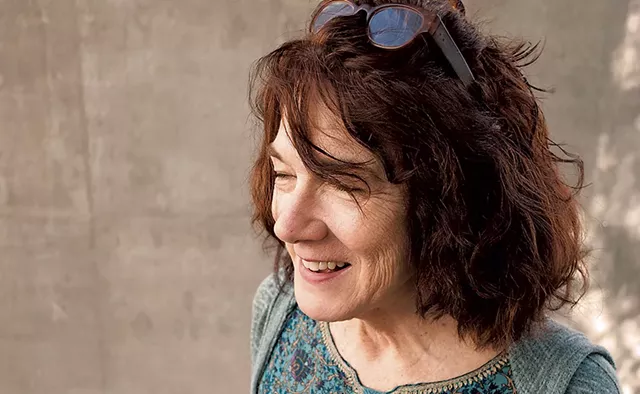 Courtesy Of Hannah Ensor
Mary Ruefle
Mary Ruefle, who became Vermont's ninth poet laureate in October, does not own a computer. The contact page of her website features a graphic of a birdbath-like vessel labeled "The Unknown," along with this tantalizing bit of text: "The only way to contact me is by contacting my press, Wave Books, or by running into someone I know personally on the street."
This wry, sphinxlike posture is very Ruefle, who, in addition to being a poet, is an erasure artist — someone who removes words from found texts, leaving koan-like fragments on the page. Ruefle, 67, has lived in Bennington since she graduated from Bennington College in 1974, but her literary output has achieved national and international acclaim. Her numerous awards include a Guggenheim Fellowship, a National Endowment for the Arts Fellowship and a Whiting Award; for 23 years, she taught in the MFA program at Vermont College of Fine Arts.
Dunce by Mary Ruefle, Wave Books, 104 pages. $25.
Ruefle is the author of 17 volumes of poetry and prose, plus a comic book, Go Home and Go to Bed, and A Little White Shadow, a collection of her erasures. Her most recent book of poems, Dunce, published in September, was long-listed for the 2019 National Book Awards. In the New York Times review of Dunce, Elisa Gabbert describes Ruefle's ability to capture a universe of experience on a diorama scale: "The ostensible occasions of Ruefle's poems are minor: not the funeral, but the bath. They record small moments with sweeping scope, moments in which the speed of thought seems to outpace real time."
Seven Days recently caught up with Ruefle by phone to discuss her love of letter correspondence, the parallels between writing and peeing, and the endangered American attention span.
SEVEN DAYS: Many of your poems revolve around a specific, even minute, image. In "How We Met," from Dunce, you describe a buffet spread featuring a little man carved out of a radish, sitting on a swing made from radishes. What was it about that radish guy that spoke to you?
MARY RUEFLE: I love miniature things. If you put me at a buffet, I'm going to pay attention to the little man made out of a radish. Would you, or does that strike you as something only a weirdo would do?
SD: No! That's precisely the kind of thing that brings me joy. In a 2016 interview with the Paris Review, you said that you "don't have any ideas when you write a poem." Could you explain what you meant by that?
MR: The germ is a line, a bit of language or an image. That doesn't mean my poems don't have ideas or intentions when they're finished, but I'm clueless about what they are when they begin. The line of language puts pressure in my head; it's like having to pee. But where that line of language comes from is a mystery to me. I don't know how it got lodged there. In many ways, I'm just a conduit to a certain kind of energy.
SD: Does the peeing analogy apply to your writing process?
MR: Sometimes, a first draft will come all at once; others come in pieces. I consciously tinker in the act of revision, but the origins of the poem are unconscious. It's possible to write while you're walking, driving, even sleeping — sometimes you wake up, and the line has been given to you in a dream. But when I'm ready to commit to paper, I need absolute quiet and solitude. I write by hand on paper, and then I type the poem on a typewriter, and then I pay someone to put it into their computer. If you asked me to email you a poem, I couldn't, because I'm not hooked up.
SD: Do you have boxes of handwritten drafts stacked somewhere in your house?
MR: No. I throw them out, and that horrifies people. So many writers save every little piece of paper, but I'm a neatnik. My husband is also a poet, and he saves everything. We only have enough room for one pack rat and one getter-ridder-ofer.
SD: I'm reluctant to throw things out, because some irrational part of me fears that I won't ever have an idea again.
MR: [Gasps.] Chelsea, Chelsea, Chelsea! You will have an idea again! You have to trust yourself.
SD: I do trust myself, but it's this scarcity mentality — like someone who keeps a ton of soup in the pantry, just in case.
MR: I have that mentality about food, because my parents grew up during the Depression. And paper and mail supplies. I haven't run out of stamps in my whole life.
SD: What's the biggest difference to you between email writing and letter writing?
MR: For me, emails are not writing. There's a different quality of time. You think faster; you take shortcuts. And then you read it on a screen; how boring is that? Here's what I want to do as poet laureate: I want to make Xerox copies of poems that I love and put them in envelopes and randomly mail them to a thousand Vermonters. A lot of people think that's a dumb idea, because some people won't be interested. But that's OK, because other people will, and it would make their day.
SD: I think that's a fantastic idea. As poet laureate, do you have any official duties?
MR: Not really. Some people like to run around the state, but that's not my style. I don't like to leave home. I've been living in Bennington since I came to attend Bennington College in March 1971. I grew up in a military family that moved every few years, and by the time I got to Bennington, I was so tired of moving.
SD: What's your ideal ratio of solitude to human interaction?
MR: I'm an extrovert who doesn't like leaving her house. I like small towns. I have five friends whom I see once or twice a month, and that feels like enough. I've lived in Vermont so long that I'm no longer interested in cities. They're stimulating, but as soon as I arrive, I go through a kind of culture shock. I'm walking around with big eyes, and I can see how haywire American consumerism is when I'm in a city in ways that would be hard to see if you lived there.
SD: Some people feel like they need human interaction to fuel their work, or they end up rattling around in their own head and not getting any new ideas.
MR: That's true. I suppose my work is based on rattling around in my own head — take it or leave it, it doesn't bother me. Maybe I'm not interested in your trip around the world. I'm not lonely when I'm alone. Many people are, and they suffer terribly.
SD: What about when you were growing up and moving around constantly? There must have been some lonely moments.
MR: Oh, yes, I've been lonely, and it's terribly painful. But when I was lonely as a child, I would read a book and think, Somebody else is lonely, too. I was encountering human minds that felt and thought the way mine did.
SD: Do you feel like technology has compromised our ability to focus deeply enough to absorb, say, a Russian novel?
MR: The attention span of the average American should be on the extinction list. I was recently on a four-hour flight, and the entire time, the young man sitting next to me was browsing to see what he wanted to watch. He'd watch five minutes of a movie, then switch to another. I kept waiting to see what he would choose, but for four hours, he never chose anything.
SD: Does that inattentiveness make you fear for the future of poetry?
MR: No, no, no. There's a whole tribe of young people out there who read, who pay attention. It's a secret society, and it's never going to die out.
This interview has been edited and condensed for clarity and length.