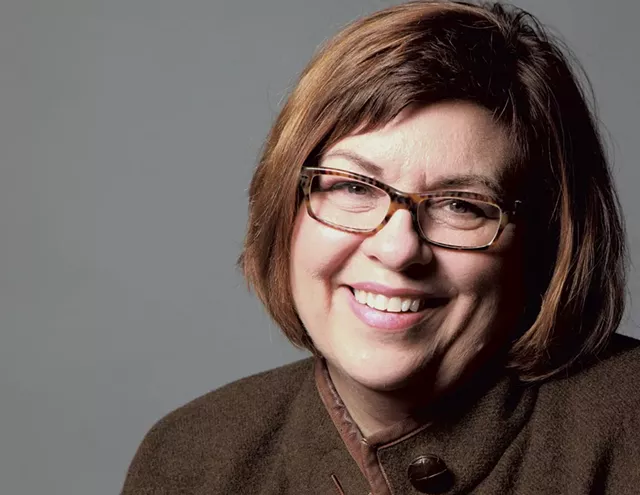 Vermont's local public broadcasting affiliate is getting a lot more local. "Made Here," which launched earlier this month, is a Vermont PBS initiative spotlighting the work of local filmmakers. It's being positioned as a "cornerstone brand," according to president and CEO Holly Groschner. She notes that the new programming is a shift in focus for a network that has traditionally produced its own local content in-house.
"We're putting more Vermont in Vermont PBS," says Groschner, who assumed the network's top post in February 2015. "That's because we want to be very relevant for our viewers, but it's also because we live in a wonderful region of creatives, and those people who are visually creative need to be honored in our visual medium."
As an affiliate of the national broadcasting service, Vermont PBS has limits on the amount of local content it can show on its flagship network. Still, it nearly doubled its local programming in September compared with the previous month, according to data provided to Seven Days by Julia Andrews, senior manager of member experience at the network. It also has full control over Vermont PBS Plus, a second HD channel that launched in July 2014, shortly after the network changed its name from Vermont Public Television.
"Our goal in the next several years is to turn Plus into an entirely local channel," says Eric Ford, senior manager of local content.
Initial entries in the "Made Here" series have highlighted Vermont filmmaking, past and present. "A Vermont Romance," a 35-minute silent film from 1916 recently restored by the Vermont Archive Movie Project, was shown on September 15 — just one day after the 100th anniversary of its Burlington premiere. That same week, the network aired selections from the Castleton Videofest, a high school filmmaking contest that offers $500 Castleton University scholarships to winners.
Welcome to Vermont: Four Stories of Resettled Identity, a documentary about the assimilation of refugees from Iraq, Somalia, Bosnia and Rwanda into the Vermont community, had its broadcast premiere on September 22. Its director, Essex resident Mira Niagolova, says she's pleased that Vermont PBS has committed to airing the work of local filmmakers.
"I think what they're starting to do is great," she says, "because we, the Vermont filmmakers, have been wanting to have exposure on our local TV station for years."
As part of a push to use local film content to engage directly with communities, Vermont PBS will host a screening of Welcome to Vermont on November 16 at the Paramount Theatre in Rutland. Groschner says she hopes the film's subject will be a "great conversation starter for the Rutland community." The city made headlines in recent months after many Rutlanders objected to Mayor Chris Louras' plan to bring 100 Syrian refugees to the city.
Ford notes that 2017 will mark the 50th anniversary of the network, which began life as an educational arm of the University of Vermont and still carries the corporate name Vermont ETV Inc. He says a staple of programming over the next year will be material from the past half century unearthed from the network archives. Along those lines, an unreleased episode of the interview series "Profile" will air on November 10, featuring a 2010 conversation between host Fran Stoddard and actor William H. Macy.
In the spirit of election season, Vermont PBS will bring back the mockumentary Man With a Plan, directed by Tunbridge native John O'Brien. The 1996 cult classic, about a dairy farmer who launches an absurdist campaign for the U.S. House of Representatives, is notable for the real-life election mayhem it inspired. Fred Tuttle, the now-deceased farmer who played himself in the movie, later won the 1998 Republican U.S. Senate primary — before endorsing incumbent Democrat Patrick Leahy in the general election.
"I think everybody needs a little bit of Fred right now," Ford says. "We're going to spread Fred."
Even as Vermont PBS looks back at the state's history, it's trying to stay forward-thinking in the age of cord cutting. VTPBS Passport, an on-demand video-streaming service that launched in September, allows supporters who donate a minimum of $5 a month to access the Vermont PBS library on the web or via devices such as Apple TV and Roku.
While Groschner acknowledges the challenges facing traditional broadcast media, she sees the proliferation of streaming media options as a chance to reach more potential viewers.
"The good news is, if you've got really great content, there's just more ways for people to find it. And I think that actually we're in the era of opportunity," Groschner adds. "TV is a mode of describing a kind of video content, and I think we can stop referring to it as a box in the living room."