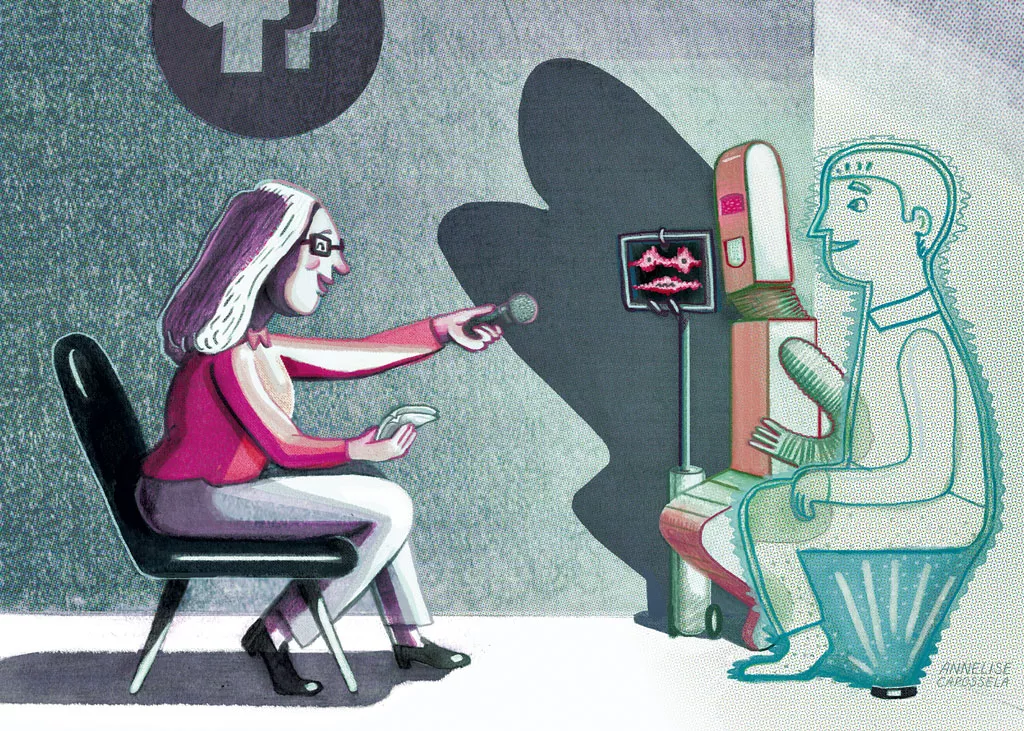 Victoria Taylor has handled a lot of heavy hitters. In her former job at online-community titan reddit, she supervised thousands of "community interviews." Called "Ask Me Anything," those digital discussions enabled as many as eight million people to interact with celebrities such as tech philanthropist Bill Gates and pop diva Madonna.
When Taylor left reddit three months ago, her name showed up in national headlines, and she became a cause célèbre for the site's volunteer moderators. In that light, her next hosting gig may sound a bit improbable: She's the face of the new tech-centric Vermont PBS series "InnoVaTe."
That choice isn't actually so unlikely, though, as a conversation with Taylor reveals. Asked to identify her favorite "Ask Me Anything" episodes, she mentioned not the Material Girl, but Ben Cohen, Jerry Greenfield and "Reading Rainbow" host LeVar Burton. Nothing says "Vermont" quite like Ben & Jerry's, just as nothing says "public television" quite like Burton's long-running educational series.
Taylor's enthusiasm for public TV was palpable as she recalled hosting Burton on "AMA" in 2014, when he was publicizing his Kickstarter campaign for a relaunch of "Reading Rainbow." "It was so incredibly moving to see how thrilled he was with the Kickstarter response," Taylor said in a phone interview from her home in New York City. "I don't think he realized how much it means to kids all around the world."
Taylor was one of those kids. The child of two professors, she grew up in a "very PBS-heavy household" and admitted to "geeking out" when she met the stars of "Masterpiece Theatre" and "This Old House" on a visit to WGBH in Boston. She credits "Monty Python's Flying Circus" and "Red Dwarf" with defining her sense of humor. Taylor said she admires public television shows for their capacity to "really explore an idea ... PBS is all about driving curiosity."
That love of public television, along with Taylor's tech savvy and conversational skills, would seem to make her an ideal choice to host "InnoVaTe," the first several episodes of which she'll tape when she visits Vermont this week. At 30, she also represents the young, technologically hip demographic that media companies value so highly — a group that tends to be less likely to tune in to public TV.
Taylor earned her bona fides as reddit's director of talent and communications, working there for two years and coordinating the wildly popular "AMA" feature. Neither she nor the company has explained exactly why she was abruptly fired in July. But the action didn't sit well with reddit's volunteer moderators, with whom Taylor was especially popular. They also objected to the clumsy way in which reddit communicated the news to them.
In protest, they revolted and briefly shut down many of the sprawling site's subsections. It wasn't just a symbolic gesture: If reddit's millions of users couldn't access the site, owner Condé Nast couldn't generate traffic — or advertising dollars.
"Ms. Taylor's sudden termination is just the most recent example of management's making changes without thinking through what those changes might mean for the people who use the site on a daily basis," wrote moderators Brian Lynch and Courtnie Swearingen in a July 8 op-ed in the New York Times. "Ms. Taylor did a great deal to make the A.M.A.s so successful: She worked directly with charities and agents to coordinate high-profile forums. She would walk participants through the basics of using reddit, create verified accounts for them to use and help them introduce themselves to the community ... We are disheartened by the dismissal of Victoria Taylor, who was one of the most high-profile women at the company — and in the technology field."
The protest eventually ended, and the reddit subsections returned. But hundreds of thousands of users called on the company's CEO, Ellen Pao, to resign — and she did.
Taylor hasn't said much about the episode. Asked what she learned from it, she directed a reporter to her keynote address at a New York City blogger conference on August 1. In that speech, she described herself as "incredibly humbled" by the experience, saying, "What was really touching for me was having these people come out of the woodwork."
Now Taylor will reach a whole new audience through her show, which Vermont PBS CEO Holly Groschner said is expected to be ready to go live online by the end of the year.
Taylor and Groschner connected through a friend of a friend of a friend, the former said. But Taylor has no current plans to relocate to the Green Mountains, or to leave her new job as the director of digital community at the New York City headquarters of WeWork, the brightest light in the growing industry of shared workspaces. In that role, she develops the online and real-world tools that foster a professional and social community among people who happen to work in the same building.
During her four-and-a-half day visit this week, Taylor will crisscross Vermont, interviewing the innovators and entrepreneurs to be featured in the show's first several episodes. Those include the tech pioneers behind Burlington's Generator maker space; THINKmd, a University of Vermont College of Medicine professor's startup that tackles global health issues; and Middlebury's Seedsheet (previously known as Cloudfarm), maker of design-forward approaches to growing sustainable organic produce.
Taylor will also find time to moderate the Tech Tank event at this weekend's Vermont Tech Jam.
"I'm all about putting people at ease and sharing what they're passionate about," she said.
Vermont PBS has its own production facilities, but the station has teamed up with Milton's Velocity Media for "InnoVaTe"'s production and post-production. Filmmaker Jeff Wager will play a key role in developing the look and tone. Citing Anthony Bourdain's Travel Channel series "No Reservations" as an inspiration, he said, "A lot of this is going to be driven by Victoria's personality."
"One of the big goals," Wager continued, "is to be able to marry this idea of the old, idyllic Vermont — the 'country store' feel — with this other side of Vermont: these wonderful, inspired innovators who are coming up with solutions to problems ... We'd like to show the region that we have more going on here than cows and ice cream."
As Groschner sees it, Vermont provides a "naturally creative environment" that encourages innovation: "It's a happy combination of smart people, inspiring landscape, invigorating activities and the supporting infrastructure that gives innovators the time and space to create."
Not only will the digital shorts showcase innovation, they'll also embody it. Episodes will be eight to 10 minutes long, in what Groschner describes as a "snackable" format. That easily digestible length is designed with modern viewing habits and attention spans in mind. The shorter and "punchier" the show, the more likely people are to view it on the smartphones and tablets that are, increasingly, their chosen platforms for moving images.
Though Groschner won't come right out and say it, the show fits into an effort to improve the public perception of the embattled station, and of public television in general. Long perceived as stodgy and unwilling to take chances, the national PBS network has seen its viewership numbers decline sharply in the current era of plentiful, ever-available, highly specialized programming.
Vermont PBS in particular has been criticized for failing to produce enough original local programming. Groschner calls the show "a little glimpse of things to come. We're starting to put the Vermont back in Vermont PBS."
Taylor shares some qualities with the young, outsider host of another Vermont PBS series: "Makin' Friends With Ryan Miller." Launched in 2014, it showcases the lead singer of the band Guster as he interviews artists, craftspeople and "high-functioning weirdos" he'd like to befriend.
"Makin' Friends With Ryan Miller," Groschner says, has been "extremely successful ... We gained experience there that will be brought to bear on ['InnoVaTe']. We want to engage with more and more Vermonters in interesting ways."
If Taylor can bring half as much attention to Vermont tech companies as she did to reddit, Vermont PBS may have a hit on its hands.
Correction 11/6/15: We've updated this story to clarify the business name of Cloudfarm, which also goes by the name Seedsheet.