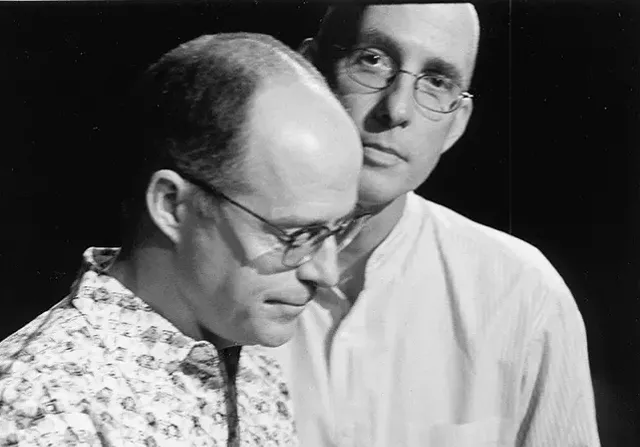 Courtesy of John Killacky
John Killacky, left, and Lawrence Connolly in the film "Holding On"
Vermont PBS audiences are in for a double feature of sorts this summer. In broadcasting the documentaries "Holding On" and "Janis Ian Live From Grand Center," the station is presenting two exceptional samples of its renewed commitment to local programming. The films also reveal two sides of John Killacky, executive director of the Flynn Center for the Performing Arts.
"I'm excited that the first two programs I signed agreements for were from John," says Eric Ford, senior manager of local content at Vermont PBS. He joined the station in April after nearly a decade with Burlington City Arts. "I've known John for several years, and he's a positive force in the Vermont creative community," Ford adds. "These films are pure John. One from his personal life, one from his professional."
Killacky did double duty in "Holding On" — as filmmaker and participant. The extremely candid 28-minute film, made in 2006, features three conversations with three couples, including Killacky and his husband, Larry Connolly, who are depicted coping with the effects of disability on their relationship.
Shot with a handheld camera in the homes of its subjects, "Holding On" is a deeply personal and intimate film. In fact, the broadcast begins with a viewer-discretion advisory: "This program contains some frank discussion of a sexual nature."
"It's very brave of PBS to show this," says Killacky, who was partially paralyzed 20 years ago after unexpected complications from surgery. The consequences, so openly and tenderly shared on screen, took a toll on every aspect of his life with Connolly.
Killacky hopes the film is useful to other couples navigating a disability, although "Holding On" will undoubtedly resonate with anyone who is committed to a relationship for better or worse. When Killacky screened the film at Shelburne retirement community Wake Robin, he says, a rich discussion about caregiving ensued.
And that's exactly why Vermont PBS is providing a platform for local filmmakers to tell their stories. "We want to create understanding — [of] each other, the world, our community and our differences — through convening conversations, and one of the best ways to do that is with public media," says Ford.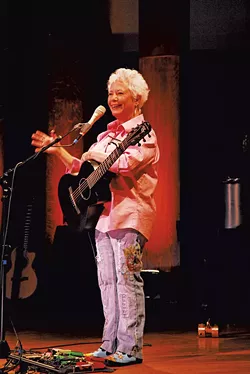 CourtesyofJohnKillacky
Fromthedocumentary"JanisIanLiveFromGrandCenter"
Killacky's second offering, "Janis Ian Live From Grand Center," is an intimate portrait of the Grammy Award-winning singer-songwriter in concert at the St. Louis performing arts center. Killacky produced the 58-minute film for Missouri PBS in 2008 and served as its codirector. From backstage, he called the shots on four separate cameras during the live concert. The result is a stunning document of 15 songs from Ian's 40-year career.
But what makes the film exceptional is the archival footage that Killacky went to great lengths to include. "Janis Ian Live" opens with a clip of Leonard Bernstein introducing 15-year-old Ian before she sang her controversial hit "Society's Child" on his 1967 TV special "Inside Pop: The Rock Revolution." The program sought to herald select pop stars as the serious lyricists they were.
Killacky had to pursue the Bernstein estate, CBS and the BBC, and spend a large portion of his budget to acquire rights to the short clip, he recalls. His film is all the better for it.
The filmmaker saved the best for last, juxtaposing the mature singer's rendition of "At Seventeen" with an old clip of the young Ian singing the same heartwrenching lament. Even on the small screen, audiences are left with a big picture of Ian, who says onstage that it's an honor "to work in service to [her] songs."
"I wanted to begin and end the show that way," Killacky says. "To watch her grow up. That's the fun of doing documentaries, finding materials to animate."
Killacky, roughly the same age as Ian, has long been a fan of the performer's life on and off the stage.
"I so admired her social justice work," he says. "She had the first same-sex wedding announcement in the New York Times. Before gay marriage. She's a hero, a colleague and a friend."
Killacky is also an activist artist, as well as an administrator; he started making films in the 1990s addressing the AIDS crisis. Much of his interest then and now focuses on what he calls "queer aesthetic."
"I used to try to keep my artist and administrator identities separate, but, while working at the Walker Art Center in Minneapolis, the Harvard Film Archive screened some of my work," Killacky says. "One audience member asked if I ever got confused with the guy with the same name that worked at the Walker. From that time on, I just did both on parallel tracks."
His dual interests will be on view on Vermont PBS over the next few weeks. "Holding On" and "Janis Ian Live From Grand Center" reveal the talent behind the scenes as well as onscreen.