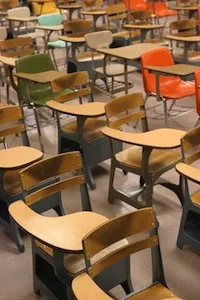 The
shooting at Sandy Hook Elementary School
in Newtown, Conn., is every parent's worst nightmare. The pain and shock the Newtown community is experiencing has struck a nerve across the country. As the news spread, local parents took to Twitter, Facebook and their own blogs to process these emotions.
Some asked questions: Should they talk to their young children about the tragedy? How to even begin that conversation?
Some sought support as they prepared to send their kids back to school on Monday morning.
And some sprung to action, voicing their opinions about mental health and gun violence.
Here are a handful of links to community reactions and local news in the wake of the shooting:
Second Chances, Burlington VT Moms Blog
"...I am aching for the parents who sent their little ones off to school this morning, having no idea what would occur after they waved goodbye. For some, that would be their very last goodbye. I am aching for the parents whose children are, thankfully, still alive, but in emotional states that I cannot even begin to fathom. I am aching for the teachers who have a long, hard road ahead of them. My heart aches for them. At the same time, I can't help but think about my own children and my own goodbye this morning..."
Safety: With Guns? Or From Guns?, Tenor Dad
"...The bad guys will always have bigger and better guns than you. That will never change. Your little gun will not protect you. But if guns were not so readily available, we would see a lot fewer of these horrible mass shootings..."
Sad and Angry, Merlot Mommy
"...I'm sad and I'm angry. I'm angry that people died for no reason. I'm angry that this 20-year-old, practically a child himself, was so sick that he felt the need to go on a rampage and murder 28 innocent people, 20 of whom were elementary school children... This isn't just a gun control issue. Recognition and support for treatment of those with mental illness would go a long way in preventing these types of tragedies..."
Burlington Schools Brace for Safety Questions in Wake of Conn. Shooting, Burlington Free Press
"In the wake of the tragic school shooting Friday in Newtown, Conn., Burlington educators are prepared to discuss the event with students and parents today — and to review safety protocols, Superintendent Jeanné Collins announced. 'The safety of our students is always the top priority in our District,' Collins wrote in a widely distributed statement. 'We take seriously our responsibility to ensure the safety of your child every day...'"
Advice on Moving Forward, WCAX
"...The incident is a stark reminder in this region of August 2006, when an armed Christopher Williams entered the Essex Elementary School, looking for his ex-girlfriend. Police say he had already killed her mother. Two teachers were shot at the school, one fatally..."
Then this afternoon, access to two South Burlington schools was restricted after authorities discovered a threat to an employee. Turns out the cops found no evidence of any danger. But better safe than sorry.