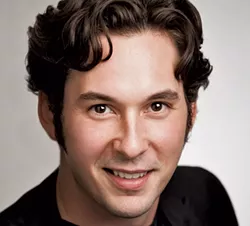 Courtesy of Opera Company of Middlebury
Bray Wilkins
Vermont's opera scene is moving steadily onward and upward, to borrow a New Yorker phrase. Diva Renée Fleming will appear just over the border at Dartmouth's Hopkins Center for the Arts on October 27 in a solo performance that's long been sold out. In Burlington, two non-opera groups — Theatre Kavanah and In Tandem Arts — will produce the 1938 Czech opera Brundibár in March.
And, on the heels of the Waitsfield-based Green Mountain Opera Festival's demise, the Vermont Opera Project is taking shape in Rutland. Aiming to produce a 2001 version of Orpheus and Eurydice and other contemporary and rarely performed operas, the fledgling company will host a fundraising concert of American songs on October 11 at the College of St. Joseph.
Meanwhile, the Opera Company of Middlebury's reputation for solid singing and creative productions has been validated in New York City. Yonghoon Lee, the tenor who got his start singing in the company's very first production, in 2004, is currently starring on the Metropolitan Opera stage as Manrico in Il Trovatore — opposite opera-world favorites Anna Netrebko and Dmitri Hvorostovsky. Scouts regularly attend OCM performances, according to OCM director Doug Anderson.
Now 11, the Middlebury company continues to produce one fully staged opera in early summer and one fall concert opera each year to sold-out houses at Town Hall Theater. This weekend is its third concert opera, and its first foray into early music: Henry Purcell's 1688 masterpiece Dido and Aeneas. The spare, 70-minute tragic opera in English is a favorite among directors because of its minimal needs — an eight-piece orchestra, in this case — and among audiences for its final, moving aria, "Dido's Lament."
The story, based on Virgil's Aeneid, "clips along like a good movie," according to Anderson. When the opera opens, Dido, queen of Carthage, is secretly pining for the visiting Aeneas of Troy — the handsome son of Venus who is destined to found Rome.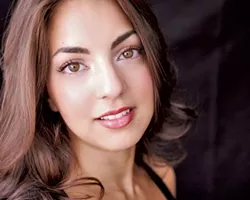 Courtesy of Opera Company of Middlebury
Sara Petrocelli
After Aeneas falls in love with Dido, too, he'd happily stay put. But a sorceress and her witches plot to separate them by tricking the warrior into leaving abruptly for Italy. Devastated, Dido appears to die; the libretto is unclear. Statues through the centuries have depicted her thrusting a dagger into her heart, but Anderson hints he may have other plans.
His main puzzle lay with the witches, however. In the libretto, their only motivation is that they want to injure the queen because they "hate" her, "as we do all [people] in prosp'rous state."
Anderson decided against the women's usual portrayal as "stock Halloween witches" wagging bent fingers at the audience. Instead, influenced by Alfred Hitchcock's film Rebecca, he imagined them as maids in Dido's palace who pretend to mean well while plotting their employer's downfall.
"It will be genuinely creepy," promises Anderson, who's particularly interested in how staging can convey psychological depth.
The music, meanwhile, will be handled by Middlebury College Baroque specialist Jeffrey Buettner, who founded the Middlebury Bach Festival. In a rare collaboration between the college and this professional company, OCM is also drawing its chorus from the college choir. The leads have all sung in former OCM productions, including mezzo-soprano Sara Petrocelli, who will sing Dido. Petrocelli sang small roles in two Metropolitan Opera productions in the past two seasons.
That should please aficionados of Dido's score, including Bill Metcalfe, the director of Oriana Singers in Burlington, who has conducted the opera six times in the past 50 years. "It's just such a stunning piece," says Metcalfe of the music, "and it has a wonderful effect. I've seen grown people burst into tears at the end."
Audiences may have to blow their noses before OCM's new offering: post-performance Q&A sessions with the singers. These will supplement the pre-performance talks, which happen an hour ahead, according to board president David Clark. And there will be three performances of Dido instead of the usual two the company allows its concert operas. That's one more sign that the state's opera scene is growing, on a Vermont scale.