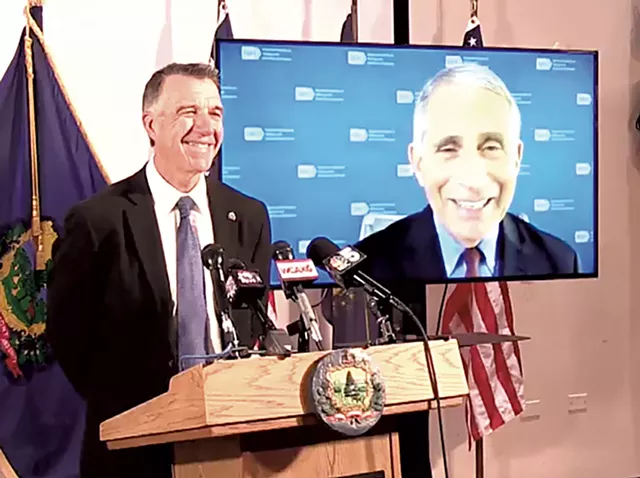 Screenshot
Gov. Phil Scott with Dr. Anthony Fauci on-screen
Dr. Anthony Fauci, the nation's top infectious disease official, appeared at one of Gov. Phil Scott's coronavirus briefings in September to commend Vermonters on their handling of the pandemic.
"I believe strongly that if we do what you have been doing in Vermont in the rest of the country ... we can not only get through the fall and the winter, but can come out on the other end better off than we went in," Fauci said from a video feed.
It was no surprise that Vermont's pandemic response had earned national attention. While the leaders of some states resisted calls to keep people home, Scott acted swiftly, completely tightening his proverbial spigot in late March, just three weeks after the first known case. Residents responded with a shared sense of duty, postponing weddings, canceling graduation parties and moving family gatherings online. By mid-April, the state was reporting only a few new cases a day, a lull that lasted through the summer, raising hopes that Vermont might finish the year without another crippling shutdown.
Yet mixed with Fauci's praise was a warning — one that now feels eerily prescient as Vermont, along with the rest of the country, enters its worst phase of the pandemic to date.
"This virus is a formidable foe," Fauci said, urging people to stay vigilant. "You give it an opportunity to reemerge its ugly head, whether you are in the beautiful rural areas of Vermont or the middle of Manhattan or the Bronx, the virus is going to take advantage of that."
Just two months later, Vermont is now reporting hundreds of new cases a week — a surge that officials blame on a breakdown of the same prevention efforts that led to the state's initial success. As case counts soar, so do the number of infections traced back to private social gatherings, which persist despite officials' pleas.
State leaders openly worry that they are combating not only a deadly virus but also a dangerous sense of complacency.
"Some Vermonters started believing in their own magic," Human Services Secretary Mike Smith told Seven Days last Friday.
With cold weather forcing more people indoors, where the virus spreads more easily, many fear that Vermont may be heading for an uncontrollable outbreak far worse than that of the spring unless something changes — and fast.
"We're at a tipping point," Scott said last Friday.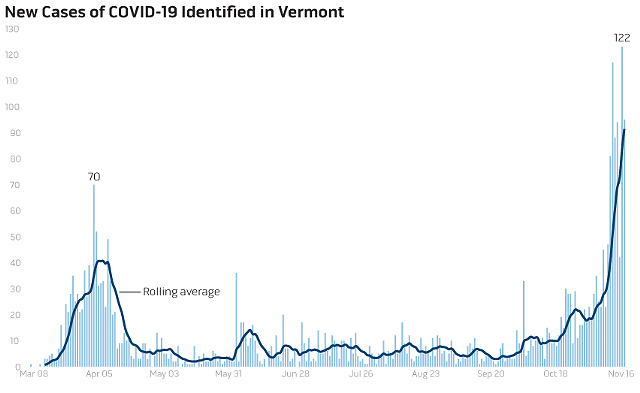 Source: Vermont Department of Health | Chart: Andrea Suozzo
Vermont's total number of known coronavirus cases surpassed 3,000 this week. More than a third of that total came in the last 30 days. On Monday, the Vermont Department of Health reported 122 new cases, eclipsing a previous record of 116 set just four days earlier. The weekly case average is now 91, the highest it has ever been.
The speed at which Vermont has switched from a coronavirus haven to a hot spot has surprised even those whose jobs require them to be aware of such trends. "It's been pretty breathtaking how quickly we've gone from virtually no virus to where we are now," Burlington Mayor Miro Weinberger said last Friday, "battling it on many fronts."
Indeed, all 14 of Vermont's counties have now reported at least a dozen new cases in the last two weeks alone. The spread has also invaded the community at a far higher rate: While early outbreaks occurred at facilities such as nursing homes, many recent case clusters have been traced back to private events — baby showers, barbecues, dinner parties — where people are less likely to wear masks and remain socially distant.
According to the health department, such gatherings have been connected to roughly 70 percent of all cases associated with an outbreak since October 1. Health investigators have also noticed that the number of close contacts associated with each case has increased in recent months — another sign of widening social circles.
"The fact is, people getting together, not being careful and letting their guard down is why we're in this position today," Scott said last Friday.
To be sure, officials say Vermont is far better prepared to respond than it was during the pandemic's first wave. Medical supply chains are in better shape, hospitals can better predict the average usefulness of personal protective equipment, and advancements in treatment have lessened the need for ventilators. Officials are confident the state will have enough to meet the demand.
The state is also administering way more tests — averaging more than 4,000 a day last month — and has begun surveillance testing of teachers and staff at K-12 schools, which will provide a better overview of the virus' prevalence in communities.
Source: Vermont Department of Health | Chart: Andrea Suozzo
One factor that hasn't changed is hospital staffing levels, which were already under strain before the pandemic hit. With health care workers comprising about one out of every eight COVID-19 infections in Vermont, there is concern that a massive surge could overrun the state's hospitals.
"Other states are now running headlong into outstripping their capacity," Public Safety Commissioner Michael Schirling said. "We might have all the N95 masks or the disposable gowns we need to equip people, but we might not have enough people to take care of you."
State officials began urging Vermonters to double down on prevention efforts in earnest several weeks ago after identifying a major outbreak connected to Montpelier hockey and broomball leagues that spread through breakdowns in masking and social distancing.
At an October 20 press conference, Health Commissioner Mark Levine said pandemic fatigue was one of the "most significant challenges" the state would face moving forward.
"For nearly eight straight months, we've had to really dial back our lives to protect ourselves and to protect each other, adjusting our routines [and] forgoing many of the basic social and family activities that we all enjoy," he said. "It is exhausting, both physically and mentally."
On October 30, as it became clear that the state was trending in the wrong direction, Scott, too, cited pandemic fatigue and urged people to observe best health practices. He made a particular point to encourage people to gather only with trusted households or those known to be taking precautions.
Despite the repeated urging, officials say, many people still went to Halloween parties, some of which drew 50 attendees. Twelve days later, the state reported its first-ever day of more than 100 new cases.
After months of loosened restrictions, Scott said last week he had no choice but to curb some aspects of social life. In hopes of keeping out the virus, he reinstated universal quarantine mandates for all out-of-state arrivals. He then shuttered bars, suspended recreational sports leagues and banned inter-household gatherings — measures he said he put in place because it was clear too many people were ignoring pleas to recommit themselves to prevention efforts.
"Although we've been warning against these activities for weeks, they're still happening," Scott said last Friday, referring to private social gatherings.
The governor's decisions drew mixed reactions. Some thought he went too far. Many more questioned the logic of banning people from walking outside with friends while allowing them to eat at restaurants indoors.
"The unevenness is frustrating," said Peter Henne of South Burlington, who said the new rules acutely affect families such as his who count on their children being able to play outside with friends. "It's hard to explain to them why they can't see their friends — to convince them that they do have friends," he said.
Some fear that the order might even be counterproductive. Rebecca Hartman Huenink of Saxtons River said people have heard for months that the risks of transmission are far lower in outdoor settings. To them, banning walks with friends "just doesn't make sense."
"There's a danger that people are just going to say, 'This is impossible, and I'm going to ignore all of it,' and we'll have more things like Halloween parties and Thanksgiving dinners," Huenink said.
She said she feels fortunate that her family can more easily isolate than most: She can work from home, and her husband watches their children. "We can do it, and we will do it," Huenink said of the new guidance. "But I'm worried that most people can't — and won't."
Explaining his thinking, Scott said private gatherings typically lack the same "structured" environments as businesses, where people are required to wear masks and follow other best practices. He said officials have a better understanding of how the virus spreads now compared to in the spring, allowing them to take a "more surgical approach."
"We're targeting the areas that we see are problematic," Scott said.
Because of COVID-19's incubation period, it can take up to two weeks to determine the impacts of restrictions, so it is hard to know whether the moves will be enough to slow the virus' spread. If Vermonters adhere to the order and isolate from other households, officials say, transmission should decrease. But that is a big "if" with Thanksgiving days away and other major holidays looming next month.
If the new restrictions don't curb the spread, future ones are likely; Scott has warned that "nothing is off the table," including a stay-at-home order. Yet even that may not be a silver bullet for complacency, with virtually no way to police in real time whether people are inviting their family for dinner or friends for coffee.
Although the state could always punish scofflaws after the fact — Rhode Island, for example, threatens hosts of gatherings that fuel transmissions with a $500 fine for each person over a 10-person limit — Scott has made clear that he prefers an educational approach, saying last week that he had not "contemplated" any enforcement system for his latest orders "at this point."
Given this, the challenge facing Scott is less about restrictions and more about trying to convince Vermonters to overcome their pandemic fatigue — to recognize that they alone control the state's fate. That even after so much sacrifice, more is needed.
"We can give guidance. We can give support. We can provide more testing. We can provide more contact tracing. We can provide more grants. We can put all the protective measures in place to protect the most vulnerable," Scott said at a press conference on Tuesday. "But we can't really, in some respects, change your behavior — unless you want to help."