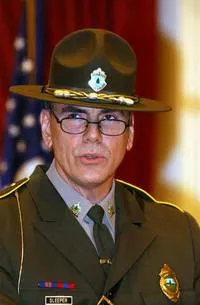 WASHINGTON, D.C. — President George W. Bush created the Department of Homeland Security in 2003 in part to foster better communication between states and the federal government in the wake of 9/11. Four years later, Vermonter Kerry Sleeper, a high-ranking state liaison to the federal government on national security matters, went public in a Washington Post story suggesting DHS doesn't understand what he would later call the "nuances" of state and local agencies. Such ignorance, he suggests, could translate into a potential national security threat. But Sleeper, who oversees state police and emergency management in Vermont, hoards information in a way that echoes his own complaints about federal officials.
In addition to representing the National Governor's Association on a federal intelligence committee, he advises on "threat assessment" at the Washington, D.C.-based National Counterterrorism Center. According to Sleeper, Vermont's chief security official, the feds routinely "miss the boat" on intelligence briefing in spite of all their propaganda about security preparedness. "All this talk about information technology?" he asks rhetorically. "The most timely way I get [information] is to pick up a phone and call a friend."
His critique prompts questions about national-security protocol both in Vermont and around the country. But despite his indignation, Sleeper refuses to share additional information about specific breakdowns in communication. A high-ranking DHS official questions the validity of his claims, and Seven Days' attempts to confirm Sleeper's allegations with local officials proved unsuccessful.
Sleeper claims that in his day-to-day routine, he's forced to get important intelligence information through "go-arounds" — i.e., via existing personal connections, other federal departments such as the FBI, or a mainstream media outlet such as FOX News.
Sleeper, meanwhile, offers his own "go-around" to the press. He refuses, for example, to provide documentation in support of his allegations or to have his picture taken for this story. (The accompanying portrait is a file photo.) While he insists "there are many people in Washington in federal agencies that are just as frustrated with this process," he declines to provide the names of disgruntled colleagues in other states, all the while maintaining he doesn't want to be considered a "whistleblower" or an "alarmist."
This Monday, Sleeper went to Washington to meet with DHS personnel about the alleged intelligence breakdown. Both he and DHS Assistant Secretary of Intelligence and Analysis Charles Allen, who attended the meeting, say their chat was productive. But behind their comments lies a disconnect. For example, Sleeper suggests the meeting was called on his behalf. But an Allen spokesman suggests the meeting was "broader than that." Allen also disagrees with the premise of Sleeper's critique of federal officials in the first place. "I respect Mr. Sleeper," the assistant secretary notes, "but I don't believe he's fully informed of all the issues and all the measures we're taking to expand . . . our information sharing."
Not surprisingly, the two officials offer divergent views on the future of state-federal intelligence sharing. Allen, who admits the feds aren't "doing enough" for municipalities, cites the existence of eight state "fusion centers" as an example of healthy communication, adding that his agency has grown significantly since he took it over almost two years ago. "This is a strong new beginning, and we can't do it overnight," he notes of the recent growth. "I think Mr. Sleeper is impatient, and I appreciate that."
Sleeper, for his part, isn't so hopeful about prospects for federal-state cooperation. He says he's concerned that the expansion of intelligence-sharing will be adversely affected by a change of presidential administrations. "I'm hoping there will be some planning for that transition," the state rep says, but adds that he has "reservations whether that will happen in that environment right now."
How does the supposed breakdown of intelligence-sharing affect Vermont? According to Sleeper, the state's proximity to interstate highways and major cities makes it a potential hotspot of nefarious activity. So a lack of federal intelligence-sharing, he notes, could prompt security risks at a location such as the Burlington International Airport. "We may be a small and rural state, but we're [close] to a city" — Montréal — "with representatives of every major terrorist organization in the world," he observes. "It's essential that we be keenly aware of what we need to keep an eye on the ball."
An inquiry into Vermont's security infrastructure reveals a labyrinth of security protocols, illustrating the communication gaps Sleeper alleges. When questioned about Sleeper's accusations, Burlington Airport Operations Director Rick Varney referred a reporter to the local branch of the Transportation Safety Administration (TSA). A TSA spokesman routed an inquiry to the state police. A state police official deferred back to Vermont's Homeland Security Unit, which Sleeper oversees. Mark Bosma, the unit's public information officer, declined to comment on Sleeper's allegations, sending a reporter back to Mr. Sleeper himself.
Burlington Police Department (BPD) spokesman Mike Schirling has something to say on the topic, but not much. Schirling, who would not discuss the "methodology" of his department's information-gathering strategy, says the state police "filter" Homeland Security info to BPD. He adds, "We're happy with the flow of information that comes from the department of public safety and state police. [Kerry Sleeper's] in a much better position to know whether the scope and depth of the information that's coming from the federal government is what it should be."