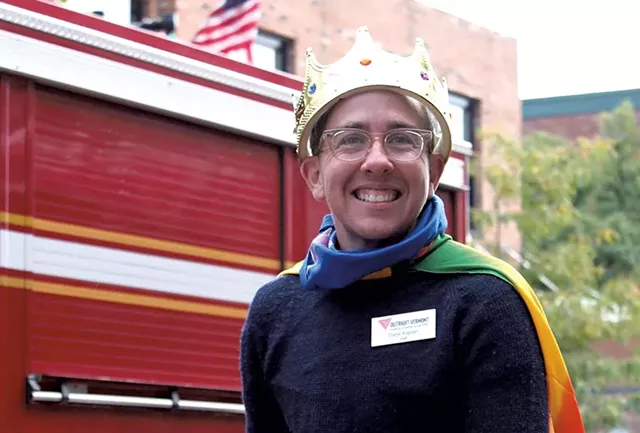 File: James Buck
Dana Kaplan
What's a social service organization to do when everyone has to stay at home? Ask Outright Vermont and Spectrum Youth & Family Services. Both are in the business of supporting at-risk young people: Outright serves the state's LGBTQ youth; Spectrum provides services for teens, young adults and families in need of shelter, life skills, counseling and more. And during the coronavirus pandemic, the Burlington-based nonprofits have been finding creative solutions for continuing to assist local youth.
Founded in 1989, Outright's mission, as stated on its website, is "to build safe, healthy and supportive environments for gay, lesbian, bisexual, transgender, queer and questioning youth ages 13-22."
To that end, the organization offers a wide range of programming, including support groups for youth and adults, a drop-in space, a summer camp, and annual fundraising events such as the Gayla celebration and September's Fire Truck Pull on Church Street. Outright also provides education and does outreach work throughout the state.
March 13 marked Outright's last in-person youth event, but it's staying connected to those it serves. "We've just been trying to focus on this idea that physical distance does not have to mean social disconnection," executive director Dana Kaplan said by phone, "so what can we do to continue to be that source of connection for folks who were already struggling?"
Results from the 2019 Vermont Department of Health-sponsored Vermont Youth Risk Behavior Survey show that LGBTQ youth are more likely to experience bullying, unwanted sexual contact and attempted suicide than their heterosexual peers. Throw a global health crisis and government-ordered lockdown into the mix, and risk factors can be amplified, Kaplan said. "It's not creating isolation for LGBTQ youth, but it's exacerbating the dynamics and the injustice that already is there."
Outright is assessing community needs with an online survey accessible through its website and is responding in part by creating digital spaces for youth and adults to stay in touch and feel supported.
For example, Queer Youth Leadership Day — an annual opportunity for queer and allied youth to visit the Vermont Statehouse for education and advocacy — was scheduled for March 31. It morphed into a week of virtual events.
Panorama Group and Trans Parent Group, ongoing meetings for adult caregivers and family members of LGBTQ youth, are now meeting online. The Youth Drop-In Space and the Friday Night Group, a social support group for self-identified queer and questioning youth, are also going strong on the video communication platform Zoom.
The annual Queer & Allied Youth Summit, cohosted with a Vermont school Genders & Sexualities Alliance Network club, will play out on the web on May 9 with workshops, affinity spaces and maybe even a dance party.
Jasmine Reagle, a 19-year-old University of Vermont student who participates in Outright programs, expressed her gratitude for the organization's uninterrupted presence. Speaking with Seven Days by phone, Reagle said, "Outright kind of provides some sense of normalcy to this whole situation. It's very comforting to know they'll always be there; they'll always be supporting us."
Though, as Reagle expressed, there's no substitute for connecting in person, online-only programming has had its bright spots. One example? "People are not limited by geography," said Reagle, who hopes Friday Night Group can continue online after the pandemic to provide greater access to youth in all parts of the state.
With Vermont's spotty internet service and cell reception, connectivity could pose the greatest challenge in these digital endeavors. While it's certainly an issue for some, Kaplan said a bigger hurdle for youth is to find a private space to make calls or go online.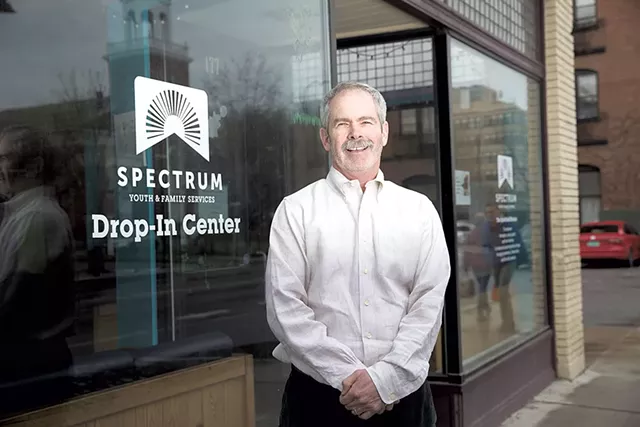 File: James Buck
Mark Redmond
Spectrum's youth are facing a similar challenge, said director of clinical programs Leslie Ferrer. "It's more that they don't have the private spaces to have those conversations," she told Seven Days in a video interview. "For counseling and case management, a lot of our youth are being referred because they're experiencing mental health, or they're having family issues or difficulty communicating with their parents. If your parents are in the same space, it's really hard to talk frankly about that."
Spectrum has been deemed essential and remains open with changes to available services. "All of our programs that can go remote have gone remote," Ferrer said.
Temporarily located at 191 Bank Street in Burlington, Spectrum's Drop-In Center usually provides a space for youth needing to do laundry, take a shower, use a computer or eat a meal. It's now mostly used for to-go meal pickup and handing off necessary items such as coats and socks. Through virtual drop-in hours, youth can receive case management and emotional support.
For the health and safety of current residents, Spectrum is not accepting new intakes into its short-term and transitional housing units. Existing residents are allowed to remain in place and receive case-management services but must wear masks in common areas and adhere to restrictions on leaving and reentering the facilities.
Notably, Spectrum has committed to paying youth staff of Detail Works, the organization's car-detailing enterprise, despite the business' temporary closure. Executive director Mark Redmond said that Spectrum is prepared to pay these workers for months to come; Ferrer noted that, while no work is available in the car-detailing shop, its employees are still participating in Zoom calls every other day to build soft skills related to attitude, appearance, attendance and more.
Thanks to donor and community support, both Kaplan and Redmond are optimistic about the future of their respective organizations. Spectrum held its largest fundraiser of the year, the Spectrum Sleep Out, virtually on March 26 and raised approximately $274,000 — not far from its typical $300,000 goal. A sleep out in St. Albans is scheduled for November. Additionally, Redmond said Spectrum was approved for a Paycheck Protection Program loan — although as of April 22 it hadn't yet received the funds.
As for Outright, Kaplan said the Fire Truck Pull is still a go, and he is ready and willing to adapt to whatever circumstances September may bring. As Kaplan put it in an email, "You're not alone. We're right here by your long-distance side!"