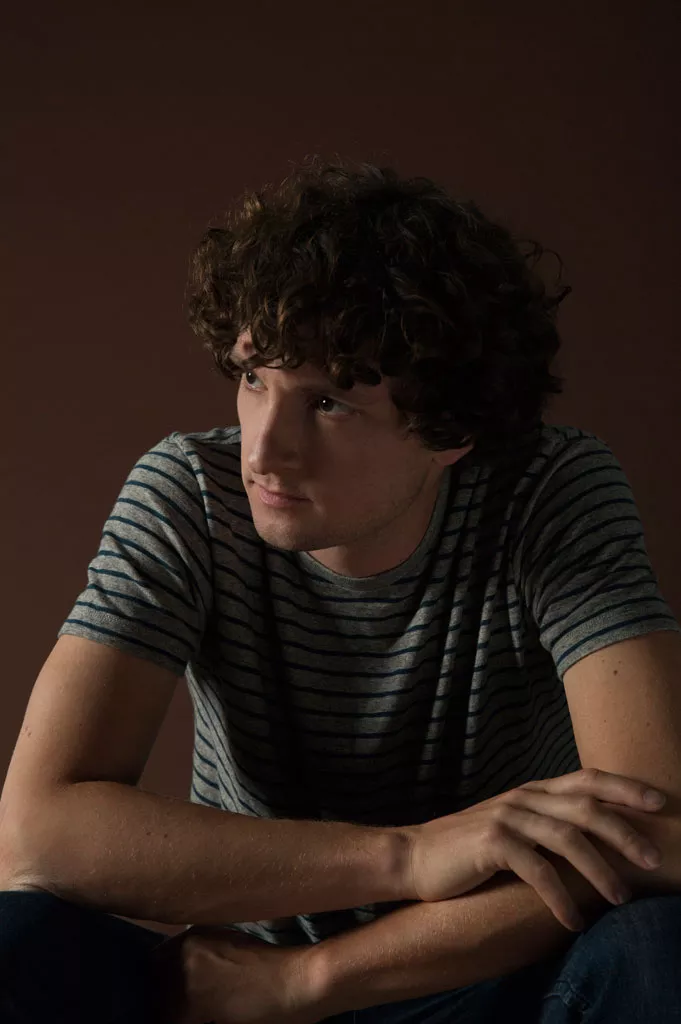 For Sam Amidon, folk music is a malleable art form, despite the genre's outwardly rigid traditions. On his new album, Lily-O, the Brattleboro native deconstructs traditional folk music, stripping songs to their core and reimagining them through a kaleidoscopic prism of free jazz, rock and experimental sounds. The result is haunting and beautiful: thorough remakings that are both inherently familiar and alien.
That record, made with Amidon's longtime collaborators Shahzad Ismaily and Chris Vatalaro, as well as famed jazz guitarist Bill Frisell, is an extension of his earlier efforts in interpreting folk songs, from the archaic and obscure to the contemporary and famous. Most recently, those include Amidon's 2013 album Bright Sunny South. It featured not only versions of traditional tunes such as "Weeping Mary" and "As I Roved Out," but renderings of modern pop songs by the likes of country singer Tim McGraw and, of all people, Mariah Carey — "My Old Friend" and "Shake It Off," respectively.
Seven Days spoke with Amidon by phone in advance of his show at the Higher Ground Showcase Lounge this Thursday, October 23.
SEVEN DAYS: You grew up in Vermont, and your parents were folk artists. How did they nurture your interest in folk music?
SAM AMIDON: They met in Cambridge in the folk revival scene there and ended up coming here to join Bread and Puppet [Theater] as singers. They lived on the farm for a minute, loved Vermont and somehow ended up in Brattleboro in the late 1970s. They found a rich community of folk musicians there. So when I grew up, it wasn't so much interest as immersion. Our whole social world was contra dance, Sacred Harp, shape-note singing. It was my world. But it wasn't just folk music. My dad used to take me to see these insane free-jazz concerts and classical music. There is all kinds of weird stuff in Vermont.
SD: Did you ever rebel against all that folk music?
SA: Not really. It was almost like a weird experiment on a kid — like, let's see what happens if we surround this kid with folk music. I remember when I first started listening to other kinds of music, it didn't make sense to me. I heard kids talking about Nirvana, so I went and bought Nevermind. It just kind of sounded like white noise. It was alien.
But I have to admit, the first band that played another kind of music I could dig was Phish. Because their music was kind of silly and melodic, and it made sense to me. I eventually lost interest in them. But Trey Anastasio put out a record called Surrender to the Air, which is a free-jazz record with all these amazing improvising musicians in New York, like Marc Ribot, John Medeski. It pretty much changed my life, because then I went and bought all of the albums connected to that record. It was completely thrilling to me.
The one thing I did do is I moved to New York when I was 20, and I kind of stopped playing. I had been playing fiddle professionally since I was a teenager and at a certain point stopped playing folk gigs. I knew I didn't want to only do that kind of music, because it sort of locks you in and you can't do anything else. So I took a job as a typist so I could be open to whatever kind of stuff came along.
SD: Most musicians go to New York to become professionals. So you did it backward?
SA: Yeah. And my parents were really upset. They were like, "Why are you working?!" I didn't want to worry about making money with music. I just wanted to be able to go to Brooklyn and play with some weird rock band at two in the morning and get paid $25. But it was crucial. All the connections to my own music came from that period.
SD: Much of the material you work from is ancient and obscure and has been reinterpreted many different ways. What is it about that material that it can withstand being messed around with so much?
SA: I think that's because for most of those songs, there is no original version. Every version of a folk song is a reworking. They go through mutations and change. And in that process they become tough little beasts.
And in some ways, I don't think of these records as folk records, because I'm not engaging in that tradition. Of course they are. But a lot of what's considered "traditional" is really arbitrary, anyway, so they are as traditional as anything else, in some ways.
SD: It's interesting that you can deconstruct this centuries-old folk music, then turn around and do the same thing with a Mariah Carey song.
SA: I don't worry so much about where the music comes from when I make the albums. The fact that they're folk songs is obviously significant to a lot of people. But it's more pragmatic to me. I love to sing; I love to play with different people. I do write a lot of music, but I'm not that interested in songwriting, and I don't know if I have any skill in that department anyway. So, for me, it's a problem-solving game: What I can play with these people?
The folk songs are a great source, because they are so tough, the melodies are so beautiful and the words are so weird. And then there are times when you'll listen to the radio and some of those songs have those qualities. And, to me, that Mariah Carey song does. It's just a beautiful, simple expression.
The original print version of this article was headlined "Folk Forms"