Kymelya Sari
Hawa Adam (right), organizer Luley Amir (second from left) and other iftar attendees
Less than an hour before sunset on July 4, Malyun Kassim arrived at the Colchester mosque with trays loaded with 500 homemade beef samosas. The food wasn't for an Independence Day potluck but for iftar, the evening meal during the Islamic holy month of Ramadan, when Muslims break their day-long fast.
"This is sadaqa" — the Arabic word for charity — the 23-year-old Burlington woman said.
Kymelya Sari
Asminka Karadza and Senadina Camdzic
For the past four years, Kassim's family has been baking the triangular-shaped pastries and bringing them to the mosque for iftar. Her family had been chopping vegetables and beef, as well as rolling dough, since 10 a.m.
Kassim's Somali family is among Vermont's growing Muslim population. Worldwide, Muslims number 1.6 billion. Roughly 5,000 live in Vermont, a board member of the Islamic Society of Vermont estimates. The community has expanded in recent years with the influx of immigrants working at companies such as IBM and refugees from Muslim countries resettled in the area. For the past month, Vermont Muslims have spent the long summer days abstaining from food and drink — as well as smoking and sexual relations with their spouses — waiting patiently for sundown.
Fasting during Ramadan is one of the five pillars of Islam, basic acts that are the foundation of Muslim life. Because the Islamic calendar is based on the lunar cycle, Ramadan begins at a different time each year. In 2015, it started at sundown on June 17 and will end at sundown on Thursday, July 16. During this time, Muslims are also expected to avoid gossiping, backbiting and idle talk, while increasing acts of worship, including performing additional nightly prayers, reading the Koran and giving to charity — hence the samosa delivery.
Fasting during Ramadan allows Muslims to attain piety and remember those who don't have food or drink, said Islam Hassan, imam of the Colchester mosque. It also "dissolves social boundaries," he said, because "everyone starts eating at the same time."
It's common for Muslims to share the evening meal with families or friends at mosques, restaurants or in their homes. Hassan likened the iftar to Thanksgiving dinner. "Fortunately, we have that for 30 days," he said.
If it were up to him, the area's Muslims would gather at the mosque every day for iftar. But Hassan's congregation currently hosts the communal meals only on Saturdays and Sundays. About 200 people typically attend.
As soon as the sun set on July 4, the congregants broke their fast by eating dates or drinking water, following the example of Muhammad. As is common in mosques, the men and women ate in different sections of the site.
Kymelya Sari
Fathima Sameen (second from right) and her family
The Colchester group has its own contemporary tradition: Its various ethnic communities take turns preparing the evening meal. That night, the mosque's Somali contingent, including Kassim's family, had been busy cooking. By the time Ramadan concludes, the congregation will have sampled Indian, Bangladeshi, Bosnian, Somali, Turkish and Arab cuisines.
"There's some friendly competition," said Youness Jamil, treasurer of the Islamic Society of Vermont, which founded the Colchester mosque in 1999. The communities bear the cost of preparing iftar because Muslims believe acts of charity get double the reward during Ramadan.
Some of the dishes the Somalis cooked included samosas, yellow rice, beef stew, black pepper chicken and mandazi — fluffy, triangular fried dough. But they also prepared food more familiar to Western palates such as pasta, pizza, egg salad and banana bread.
The ethnic-themed dinner did not deter Senadina Camdzic and Asminka Karadza from contributing Bosnian desserts such as hurmasice, a cake soaked in syrup, and oblande, a walnut and chocolate wafer cake.
"We want to help; a little goes a long way," said Camdzic, who earlier had taken a photograph of her desserts among the array of food.
After performing the dusk prayer, the women flanked the buffet, and the lines moved quickly. The seats soon filled up, but many did not mind tucking into their food while sitting on the carpeted floor.
For many, iftar is also a time to catch up with friends and relatives. Faiza Abdullahi, whose family decided to bake Arabic and Turkish desserts for the Saturday meal instead of Somali ones, said those who come from Muslim households may take iftar for granted.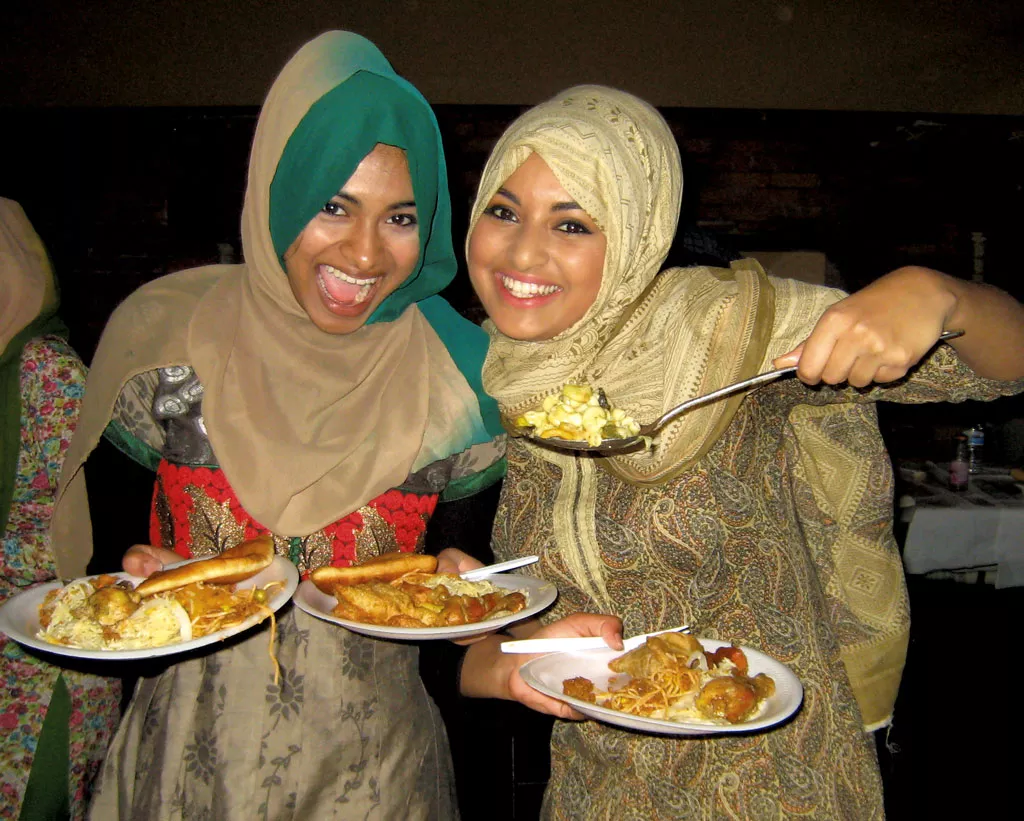 Kymelya Sari
Rumana Rafeek and Reema Sameen
"We have some converts here that live on their own," Abdullahi noted. "What I love about it is just to be here. So people like that would feel more comfortable and come here. So they don't have to spend iftar in their home, eating alone."
New convert Amina Raie is experiencing her first Ramadan and joins the iftars at the Colchester mosque on the weekend. During the week though, she breaks her fast either at home or gets invited to friends' homes.
"I live by myself, so it's not like eating alone is particularly shocking or new," she said. "Sure, it's a bit later on. Me and my cat have a great iftar together."
Raie admitted she had coffee withdrawal on the first day but since then, "It hasn't been bad at all," she said. "It's all a mental thing."
Raie, who grew up in Texas, was raised to eat extremely healthily and did not have to adjust her eating habits for Ramadan. Her diet consists of lots of water, watermelon, vegetables, lean meat, hard-boiled eggs, salads and protein-rich soup.
"I sneaked myself a little chocolate one night, though," she admitted. "And coffee is the best treat."
What has proved most challenging for Raie is sleep deprivation. She joins the congregation for taraweeh, or extra nightly prayers that Muslims perform during Ramadan. These typically end past midnight. But Raie stays up until 4 a.m., after she has eaten her predawn meal, or suhoor, and performed the dawn prayer. Her heart "sinks a little" when she sets the alarm clock and realizes she has to wake up for work in less than four hours. But she catches up on sleep over the weekend.
Summer can be a challenging time for Muslims in the U.S. to fast; the days can last for up to 17 hours. Although fasting is obligatory for most adult Muslims, some are exempt — the elderly and infirm, as well as women who are menstruating, pregnant or breastfeeding, for example. In the run-up to Ramadan, Imam Hassan gave lectures about fasting and the circumstances that would exempt one from it. He said there was no single fatwa, or religious edict, and he would give advice according to an individual's circumstance.
Soccer player Aiman Ginawi of South Burlington, who was named the 2014-15 Vermont Boys Soccer Player of the Year by USA Today, attends iftar at the mosque. He has had to play matches during Ramadan in the past few years.
"The first week is hard for me because I'm not used to it," he said. "No water, and it's hot during the summer." To compensate, he usually drinks more water on the eve of a game.
His coaches have offered to take him off the field if he felt unwell, but Ginawi said he's declined. He's been determined to play despite fasting. He said he's been in top form during Ramadan, citing a match three years ago in which he scored two goals and had one assist.
"After the game, I feel lightheaded," he said. At iftar, just drinking water is "like the best feeling ever."
But, after consulting the imam the 17-year-old did not fast when he had away games. Hassan said any type of travel involves hardship, and travelers are exempted from fasting. He also explained that one should abstain from fasting in situations where doing so would put one's life in danger, as was the case during the recent heat wave in Pakistan that killed at least 1,000 people.
Just as Ramadan is the time Muslims provide food for one another as a form of charity and strengthen their faith, it is also a time of overconsumption. After not eating or drinking for an entire day, it's not uncommon for Muslims to overindulge and "violate the wisdom of fasting." Hassan makes a point to remind his congregation to have a healthy understanding of the practice.
"They eat with their eyes and not their bellies, and end up wasting food," he said.
Most times, though, the leftovers are packed into boxes, to be eaten during the predawn meal.
Speaking through a translator, Luley Amir, Malyun Kassim's mother and one of the organizers of the Somali iftar, said she was happy to have been able to cook for the other communities and hopes that God will reward her.
Her other daughter, 18-year-old Habiba, said she is tired of making samosas. She usually doesn't even eat them. But she likes going to the mosque for iftars because "seeing different people is awesome."
"They get to try what I make, and it makes me happy," Habiba said.