Jeb Wallace-brodeur
Nikki Matheson (right) and Jeff Tolbert performing "Havana" at the "Worst. Song. Ever." competition at the Old Labor Hall in Barre
Everyone has a song that makes their blood boil. Maybe it's an inescapable, ubiquitous hit single that inspires a white-hot rage deep within. Maybe it's a tune with vapid lyrics or a juvenile melody that just won't leave your head. Most of us go out of our way to avoid such bedeviling ditties. So why would a group of Vermont musicians gather yearly to celebrate them?
At the annual "Worst. Song. Ever." competition, local musicians face off, battle-of-the-bands-style, presenting what they believe to be the worst songs ever recorded. This year's event, which took place at the Old Labor Hall in Barre on Saturday, was a fundraiser for the historic venue itself. It featured solo artists, duets and full bands, all ripping and riffing on the music they hate the most. And it was fun as hell.
The showcase is the brainchild of Lovejoy Dole, who also runs a live-jazz karaoke event, Jazzyaoke, as well as homegrown storytelling event Extempo, at venues in central Vermont and Burlington. She conceived "Worst. Song. Ever." years ago, when she ran a central Vermont trivia night.
The concept stemmed from a particular trivia round — also called "Worst. Song. Ever." — in which contestants had to identify brief audio clips of terrible tunes. She used tracks such as Clint Holmes' cloying "Playground in My Mind," Elvis Presley's culturally insensitive "In the Ghetto" and Richard Harris' maximalist stinker "MacArthur Park."
"What I noticed was, it would engender a lot of conversation after the game was over," Dole recalled during a recent chat with Seven Days. "People would have these friendly arguments about which song was worse."
She turned the concept into a large-scale event in 2013 and has repeated it roughly once a year since.
"There really are no sacred cows," Dole explained, noting that past entrants have played songs by wildly popular artists such as the Beatles and Billy Joel.
She said that people tend to choose songs that are vastly overplayed, as well as tunes with outdated cultural values.
"Ultimately, it's subjective," Dole said.
About 150 people, from teenagers to senior citizens, gathered for this year's show. The sizable stage was equipped with multiple amps, chairs, music stands, microphones, a drum kit and a lone conga. It would accommodate a large and varied group of performers throughout the evening.
Introducing the show, Dole took the mic to briefly lay down the rules. Namely, booing would not be tolerated, even if you disagreed that an artist's song was the worst ever. She said that the event was not for anyone with an "irony deficiency" or anyone who'd undergone a "humor-ectomy."
Audience members were encouraged to express their opinion about which song was worst by adding cash to maple syrup buckets staged in the back of the house, each representing one of the acts.
"It's not rude to get up in the middle of the show," Dole explained. "What's rude is the show itself."
With no proper introduction, two older gentlemen then took the stage. They performed a staid, acoustic rendition of Joanie Sommers' "Johnny Get Angry."
"It's so sexist," said Charlie Barasch, one half of the duo with Dave Boyer. The song, which was written by two men (Hal David and Sherman Edwards), is sung from the perspective of a pouty, flouncing girlfriend who's fed up with her beau's meek behavior.
After their performance, Dole returned to the stage to formally introduce the pair and make a brief oral presentation about the song. (She did this after every performance.) She noted its chart history and colorful comments from the internet, and she cracked that the song was a prime example of "topping from the bottom."
Next up, Miranda Miller and Shawn Chevalier performed Loretta Lynn's pro-birth-control number "The Pill." The pair used some appropriate props, including a stroller, baby doll and bottle.
"It's probably too raw for some people," Miller said following the performance.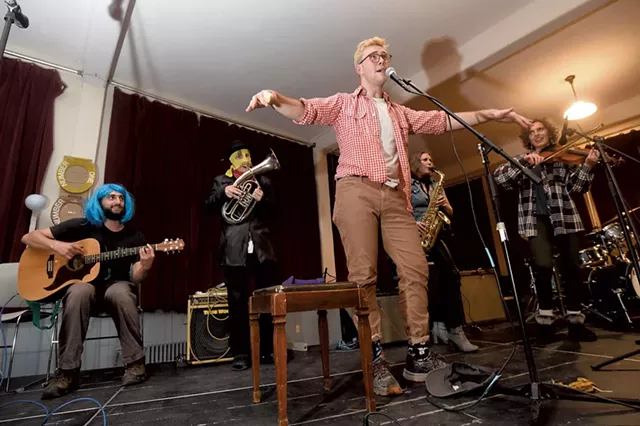 Jeb Wallace-brodeur
Third Day of School performing the Divinyls' "I Touch Myself"
Along with a brief history lesson, Dole also quoted some of her favorite YouTube comments, such as one that read, "Loretta Lynn said that many physicians told her that this song did more to promote the availability of birth control in rural areas than all the literature they'd distributed."
Next came the first full band, Glee Club of the Damned. They surprised the audience with a faithful rendition of Bonnie Tyler's smash hit and ultimate karaoke banger "Total Eclipse of the Heart."
"Have you ever seen the video?" asked vocalist Meredith Bell, referring to the clip's dancing ninjas, billowing curtains and slow-motion doves. "That's what makes it the worst song ever."
Another large group, known as Third Day of School, took on the Divinyls' masturbation anthem "I Touch Myself." Though the eggplant has in recent years become the produce item of choice to represent the male anatomy, front person Thomas Begley went old school by sensually peeling and consuming a banana during the middle of the song.
"['I Touch Myself'] is the answer to a question nobody asked," Begley said following the song.
The first set concluded with Camila & Camilo (real names Nikki Matheson and Jeff Tolbert) performing a Spanish guitar version of Camila Cabello's "Havana." Matheson took the stage in an over-the-top, Carmen Miranda-esque getup, complete with a towering flower headdress.
"It took 10 people to write it," Matheson said of why "Havana" was the worst song ever. She also pointed out that the bulk of the song's rhyme scheme inanely pairs Havana with "ooh na na."
During a brief intermission, attendees began to fill the buckets with dollar bills. Some indulged in an aptly titled concession item: the Wurst Brat Ever, courtesy of Morse Block Deli & Taps.
The second set began with another full rock band, its members dressed in the trademark trappings of hair metal. Sure enough, they launched into a low-key rendition of Quiet Riot's "Cum on Feel the Noize." The band's name: Try It Quiet.
"The lyrics don't mean anything, and when you play it slow, it's obvious," said band member Julia Chafets.
Next, a duo called Mothertruckers dug into C.W. McCall's "Convoy." During the chorus, a woman with LED lights affixed to her chest started a full-on dancing convoy of about a dozen people.
Another duo, JoeForce, offered a stripped-down acoustic version of Terry Jacks' "Seasons in the Sun." As Dole later pointed out, the English-version lyrics did not improve upon Jacques Brel's original French version, both of which are moribund and nearly incomprehensible.
"It's just the schmaltziest," said singer Joe Weinmunson.
The night concluded with a solo artist, George Desch. After setting up a guitar loop, he dug into "Driver's Seat" by Sniff 'n the Tears. He explained that when he first heard the song, he didn't know which was the title and which was the artist's name.
"[A] driver's seat has nothing to do with anything," Desch said. "It's just three unrelated verses."
Finally, it came time to crown the winner. Three decorated toilet seats served as trophies, to be placed around the necks of each of the top three acts. With more than $200 collected in their bucket, Third Day of School and their horny-AF take on "I Touch Myself" were crowned the winner. Glee Club of the Damned came in second and Camila & Camilo nabbed third.
For an evening dedicated to pure, unadulterated hatred, "Worst. Song. Ever." was a feel-good laugh riot. It was also a good reminder that taste is purely subjective: One person's treasure is another's trash.