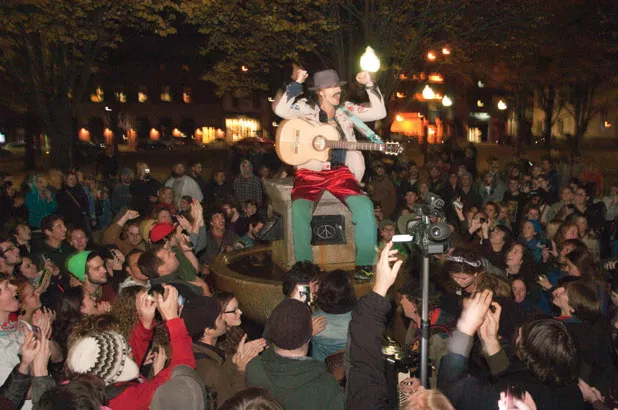 Eugene Hutz performing in City Hall Park in November
Floods. Fires. Protests. Hippies. Two thousand eleven proved an unusually dramatic year in Vermont and, by extension, Vermont music. So before we close the books on the year that was, here's a look back at some of the major stories from the last 12 months.
After the Flood
Irene. There simply was not a bigger story in Vermont this year than the widespread devastation caused by the tropical storm that ravaged the state on August 28. Even those who escaped unharmed were affected. Irene touched everyone. Not surprisingly, the biggest music stories of 2011 sprang from the aftermath of the storm.
At the top of the list are jam titans Phish. Vermont's most famous phoursome threw a benefit to end all benefits at the Champlain Valley Exposition in September. The jamstravaganza was the band's first show in Vermont since its "farewell" at Coventry in 2004, and anticipation was predictably high. Hundreds of eager fans waited more than 24 hours in line for tickets, camping out on the street in front of the Flynn Center the day before tickets went on sale, and turning downtown Burlington into something like the fabled Phish parking-lot scene for a night. Most would say it was worth the wait.
At the show, Phish tore through a mix of classics spanning nearly the entirety of their considerable catalog, while tens of thousands of fans wiggled and danced beneath a full moon — and a killer light show. All totaled, the Phish benefit grossed more than $1 million for flood relief.
Not to be outdone, Grace Potter and the Nocturnals lent their considerable cachet to local flood-relief efforts, as well. The band played a sold-out benefit show at the Flynn MainStage in October that was simulcast on Vermont Public Television. With that show, a charity auction and a $1000-per-ticket acoustic gig at Sugarbush, GPN accounted for more than $250,000 in relief donations.
While those two bands garnered the lion's share of press about the, well, flood of Irene benefits, they were hardly the only locals to rock for the cause. There were dozens of smaller Irene bennies in venues all over the state in the months following the storm. Additionally, a number of benefit compilation albums were released as the whole local scene rose to the challenge.
Closing Time
Two thousand eleven saw the passing of two beloved live-music institutions in Vermont: Langdon Street Café in Montpelier and Parima in Burlington.
Montpelier's quirky music hotspot was the first to go. Citing financial difficulty, LSC owner Meg Hammond and her partner/booking maven Ben T. Matchstick made the heart-wrenching decision to close the café's doors at the end of May. During its six and a half years, LSC became the lifeblood of Montpelier's music and arts scene. Perhaps no other venue in the state — including Burlington's Radio Bean, upon which LSC was loosely modeled — was as vital a cog in its community. "Montpeculiar" has become a little less so.
In the wake of LSC's closing, the capital city seems to be trying to rediscover its musical identity. A few venues have stepped up to soften the blow, including the reopened Black Door and Bagitos Café, both of which host live music throughout the week. And, of course, there's always Charlie O's and Positive Pie 2. But the void remains.
In Burlington, Parima closed, rather abruptly and amid great confusion, in September. While the impact of losing the Thai restaurant/live-music venue in Burlington was not nearly so profound as LSC's closing, it was still significant. In the year and a half that local songwriter Joe Adler had handled booking for the club, Parima went from scene afterthought to an increasingly vital asset. Adler upped the caliber and class of performers and turned the Pearl Street juke joint into a legitimate weekly entertainment option. Adler has since moved on to handle booking at Radio Bean and has found a new home, bringing a similarly progressive booking philosophy to the already eclectic café.
What's So Funny?
For the last few years, standup comedy in Vermont has been on the rise. And now, the burgeoning local comedy scene has a home of its very own. In October, Burlington welcomed Vermont's first comedy club, Levity.
Prior to Levity opening, ground zero for local comedy was the open mic at Patra Café. From established comedians honing their chops to newbies working through stage jitters, the Vietnamese coffeehouse was the place to be for cutting-edge local comedy. But when whispers surfaced this summer that Patra was on the market, calling into question the open mic's longevity, comedian Ryan Kriger jumped into action and purchased the café.
Levity now hosts weekly open mics on Thursdays, and a pair of regular showcases on Fridays. Moving forward, Kriger plans to begin a Saturday-night showcase and host improv-comedy nights. He also hopes to bring in regional and national touring comedians.
Odds and Ends
Irene wasn't the only local tragedy worthy of big-name benefit love. In January, the storage and processing facilities at Pete's Greens farm in Craftsbury were destroyed in a fire. So in February, a cast of local superstars, led by Phish's Trey Anastasio, rocked the Higher Ground Ballroom and raised some serious cabbage.
Indie promotions outfits MSR Presents and Angioplasty Media scored a coup this summer when they booked Neutral Milk Hotel's Jeff Mangum for a solo show at Burlington's Unitarian Universalist Church. The sold-out show was the first stop on the reclusive songwriter's much ballyhooed return tour. It was so successful that MSR and AM plan to utilize the church as a venue for similarly big acts on a regular basis. Next up: Sonic Youth's Thurston Moore on Sunday, January 29.
The Occupy Burlington encampment was treated to a surprise performance from a notable Burlington expat when Gogol Bordello's Eugene Hutz showed up for an impromptu performance atop the fountain in City Hall Park in October. Hutz wasn't the only star to lend his voice in solidarity with the Queen City camp. A few weeks earlier, Sarah Lee Guthrie and her husband, Johnny Irion, led protesters in a sing-along march up Church Street.
Grace Potter had a big year. First, the inaugural Grand Point North Festival on the Burlington Waterfront was an unbridled success. For two full days this August, thousands rocked to big-name acts such as Taj Mahal and Fitz and the Tantrums, as well as an impressive roster of local bands. Potter was even joined onstage by country superstar Kenny Chesney for a rendition of their duet, "You & Tequila." By the way, that tune was nominated for a pair of Grammies. Big year.
Potter wasn't the only Vermonter garnering Grammy attention. Local composer Al Conti is up for Best New Age Album for his 2011 record, Northern Seas.