Courtesy of Mary Lacy
Mary Lacy painting components of her trout mural
Vermont's summer weather can be unpredictable, but artists aren't: The season reliably brings painters outdoors. While some choose to set up easels and fill them with bucolic landscapes en plein air, others take their trade to urban streets, muralizing on all kinds of surfaces. Some are large, commissioned pieces that undergo a lengthy review process; others are less formal, permitted by a "yea" from the building owner who has little or no involvement in the artistic process.
By nature, murals are ephemeral. They don't always stand up to Vermont weather. They might be painted over or torn down the following year. They aren't designed to last but rather are intended to brighten up a spot of wall while spirits allow. With that in mind, we've scoped out a few of the public paintings that have popped up in Vermont this summer — or soon will.
Retaining Art
In September 2016, Vermont artist Mary Lacy embarked on a 10-state mural tour in her bucket truck. Lacy is known for her iconic fractal murals on the silos of Dealer.com, the hummingbird on the side of Monarch & the Milkweed, and a menagerie of animals in Burlington's vacant Moran Plant. For this tour, she painted elephants in Pennsylvania and an alligator in Louisiana and is closing out the project with trout in Bethel. That last roadside mural, at the intersection of Routes 12 and 107, is a part of a townwide revitalization initiative. Because of the degraded condition of the retaining wall, Lacy created her signature mosaic-style imagery on wooden cutouts to be painted by the community and installed on the wall throughout the month of August.
Upping the Ant(i)
Courtesy of Anthill Collective
Mural by Monk.E
The wall behind Handy's Service Center is no stranger to murals and graffiti — Scottie Raymond of Anthill Collective says he painted the green Albert Einstein face there in 2011. Two weeks ago, Anthill invited Montréal muralists Monk.E and Haks to help them revamp the wall. Monk.E contributed a seated figure wearing the skull mask; Raymond painted a portrait of Sitting Bull over Einstein's visage. "There's this underlying nature theme," Raymond says. "It's about respecting the Earth and remembering that the Native American people were here before we were, doing a much better job of stewarding the land."
Foodies
Courtesy of City Market/Onion River Co-op
Mural concept by Abby Manock for City Market
The new City Market/Onion River Co-op location in the South End will be a colorful one. Using public input on 24 submissions, co-op employees selected two muralists to paint three walls. Vermont native Abby Manock will take two walls facing Briggs Street, and the Poppyclock Collective (Haley Bishop Rockwood and DeAnna Lynn Kerley) will paint a large mural facing Flynn Avenue. Each incorporates nature and food themes. Director of community engagement Allison Weinhagen says the artists will begin painting in September.
Photosynthetic Pharmaceuticals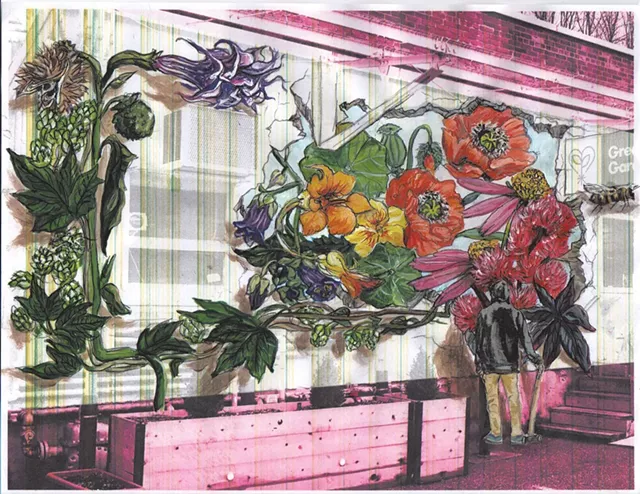 Courtesy of Green State Gardener
Mural concept by Kathryn Wiegers for Green State Gardener
In March, the owners of Green State Gardener put out a call for mural submissions for its Pine Street building. The goal was to create a visual component that would support the company's mission statement: Grow your own health revolution. The store, owned by Dylan and Kelsy Raap, is the retail front of a web-based company that seeks to support consumers in growing their own medicines, including cannabis. Finalist Kathryn Wiegers' mural includes images of fiddleheads, nasturtiums, echinacea and poppies growing through a broken wall. The mural will be painted on non-woven fiber and installed August 4, says Kelsy Raap.
Deco Décor

Courtesy of Sivan Saati
Sivan Saati's mural concept for the Roxy
Passersby have likely noticed that the concrete skirt on the College Street side of Merrill's Roxy Cinemas in downtown Burlington has been painted over. The wall formerly bore likenesses of famous characters such as Bugs Bunny, Alex from A Clockwork Orange and V from V for Vendetta. After construction on the roof is finished, local artist Sivan Saati will paint a new mural on the site — her first. The Roxy employee says the ceiling of the Flynn Center for the Performing Arts inspired her design. "I knew I wanted to maintain an art-deco, old-timey movie-theater theme that the Roxy already has," Saati says. She'll start painting at the end of August.