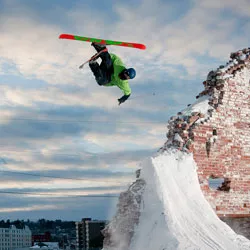 When two simultaneous storms pummeled Washington, D.C., with more than 40 inches of snow last February, Geoff McDonald and Christopher James of Meathead Films packed up their skis and cameras and invaded the city, whose streets were practically abandoned, to shoot footage for their latest ski movie, Work It Out.
"I'll never forget it," McDonald says. "It looked like a postapocalyptic world down there. We basically had a key to the city. We were jumping off everything."
They're still not sure if the shoot was legal: The Meatheads attracted some suspicious glances lugging the high-speed winch — which they use to ratchet themselves into unlikely locations — through the National Mall. But nobody stopped them. They caught air on the inundated steps of the Lincoln Memorial and launched themselves at night through the D.C. World War I Memorial's circle of columns.
You'd have to be dead inside to watch these antics in the film and not feel the thrill of it all — which, of course, is the point. Ski movies are generally released in the fall, serving as a kind of visual foreplay to the ski season's action.
For this reason, says McDonald, a lot of ski movies are basically just music videos, pairing a bunch of cool songs with some sweet tricks. Not so with the Meatheads. They like to weave stories and characters into their skiing, documenting the escapades of their 15 core skiers on and off the slopes. In Work It Out, for example, they follow Stacey Rachdorf, a New Hampshire skier and surveyor who spends his summers in the mountains, scouting crazy new places to ski.
McDonald and James, both in their late twenties, really aren't meatheads at all. They laid the foundation for their Burlington-based film company while still undergrads at the University of Vermont. A year after graduating in 2004, they incorporated. Now the partners do two productions a year: a full-length Meathead film and a 30-minute promotion for Stowe Mountain Resort.
Most ski film companies in the U.S. head west, looking to capture the massive peaks and lush powder that East Coast skiers can only dream about. But McDonald and James believed from the start they had all the inspiration they needed right here in Vermont. Their films aim to capture the toughness of East Coast skiers, who put up with crappy weather, huge sheets of ice and a narrow window of snowfall for the love of the sport.
"The East Coast ski community is pretty hardcore and pretty dedicated to getting out there early, no matter what the conditions," says McDonald.
This year's release, Meathead's ninth, focuses on the mid-Atlantic, which got lots more snow than Vermont did last winter. In addition to D.C., the filmmakers shot in unlikely locations such as Baltimore and New Jersey. When the snow still wasn't falling in the Green Mountains, they headed even farther east — to Hokkaido, Japan. The area is renowned for having some of the best powder skiing in the world, and, when the Meatheads arrived, it was perfect, McDonald says. A Japanese guide led them to secret backcountry spots while the snow dumped and dumped.
"And then, in typical Northeast fashion, it rained," McDonald says with a laugh. "We had to roll with the punches."
Even if you're not into skiing, the film has a kind of mesmerizing effect. It's not just trick after trick; the Meatheads slow it down with closeups of wet, falling snow and lush vistas. They shoot on high-quality film, and it shows.
"Film brings out a look that you cannot re-create with the hard-edged digital image," McDonald says. "It has this fluid look to it."
Meathead Films aims to take the film on a 60-stop tour through the U.S. and Québec, and then hit the slopes with the cameras to do it all over again. After last year's adventure in Japan, the two are psyched to include a trip abroad in all their films from now on. But they'll stay rooted in the American east.
"We want to take East Coast skiers to other parts of the world to show that we can ski just as well anywhere else," McDonald says.