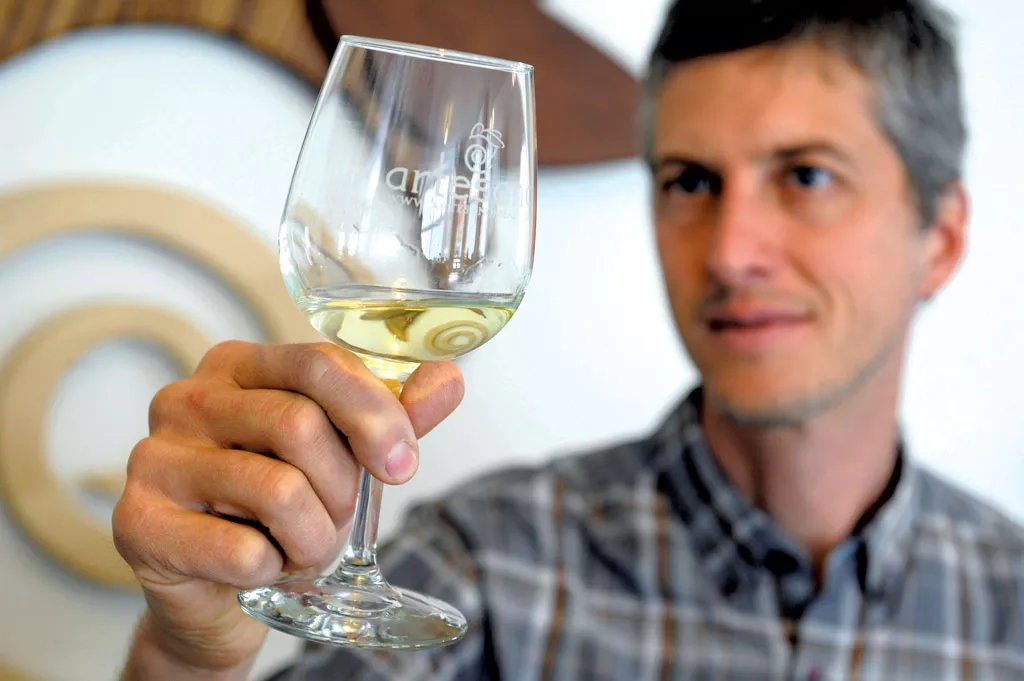 Jeb Wallace-brodeur
Mark Simakaski of Artesano
Downtown Groton has two churches, a post office and some town offices. There's also an al fresco junk shop in someone's front yard and a gazebo tucked into a tiny town green, now corn-stalked, pumpkined and mummed into the very visage of fall.
Years ago, the main drag also had a general store — one of the darkest, dingiest, dankest ones in all of Christendom — but now it's gone.
In its place stands a meadery.
On an easel chalkboard out front, the words "Wine tasting" beckon, with an arrow pointing toward the door.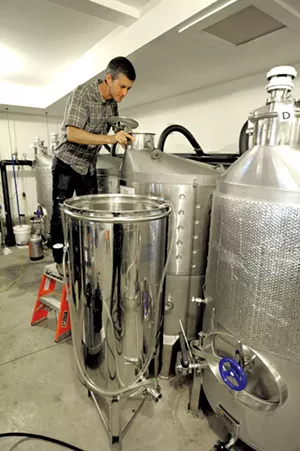 Jeb Wallace-brodeur
Checking the fermenting tanks
Inside, married mead makers Mark Simakaski and Nichole Wolfgang mix Vermont honey with water and yeast, fermenting and aging it into something akin to wine.
Their wine — sold under the name Artesano — tastes like honey, if that honey were evaporated, robbed of its syrupy sweetness and condensed back into a light, alcoholic liquid.
It's a modern version of an ancient beverage, said to be the oldest fermented drink in human history. Some may recall mead from literature. In his namesake epic, the hero Beowulf delivered mead-soaked Danes from the monster Grendel, and Chaucer references the old honey-cup in his Canterbury Tales.
The drink fell from favor in the past millennium. Its brewing tradition lost centuries ago, mead is a beverage without a contemporary narrative; until recently, it was an oddity reserved for new-agey home brewers and wenches at renaissance faires. But in recent years, the honey wine has begun to creep its way out of antiquity.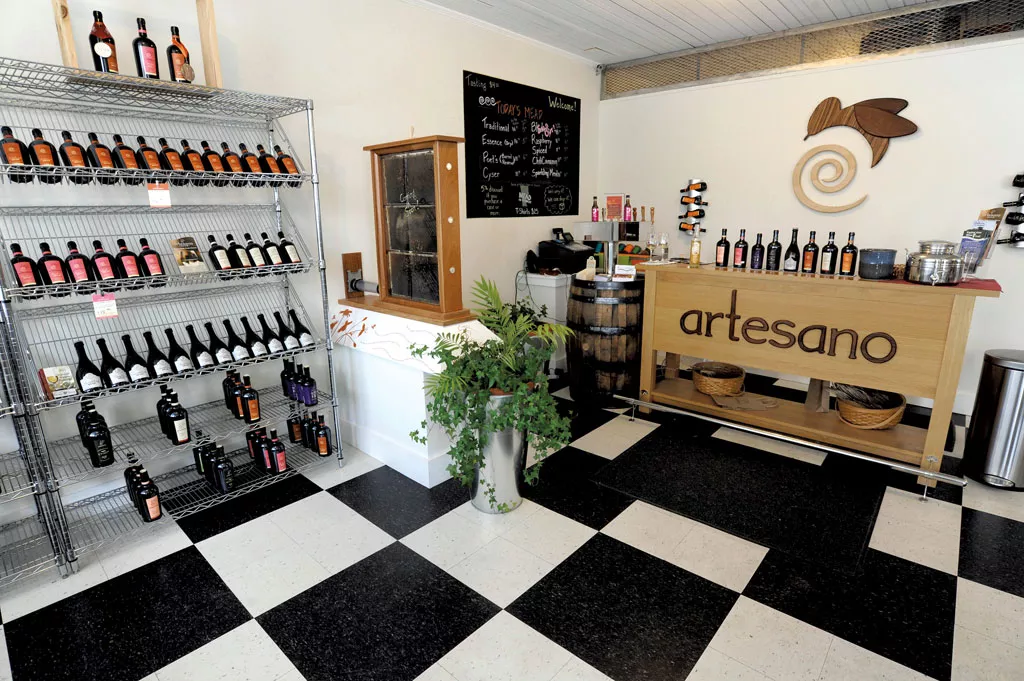 Jeb Wallace-brodeur
Artesano's tasting room
Though counts vary, sources suggest there are more than 220 meaderies in the U.S. — three times as many as 15 years ago. The industry seems to be piggybacking on the demand for handcrafted booze led by the craft-beer movement. For adventurous drinkers with a penny to spend, the world's oldest boozy beverage holds much to be savored.
Founded in 2008, Artesano was the first of Vermont's two meaderies to open. Its products are night-and-day different from those produced by Colchester's Groennfell Meadery, but the brewers at both companies agree that theirs is a drink woefully misunderstood.
Oliver Parini
Groennfell Mead
"We're the odd man out," Groennfell's head mead maker, Ricky Klein, tells Seven Days. Klein's wife, Kelly, is the company CEO, and both recount struggles with permitting. Their mead mimics beer — carbonated, with single-digit alcohol content — but the government controls it more like wine, they say, complicating everything from recipe writing to packaging and distribution.
Then there are the marketing troubles.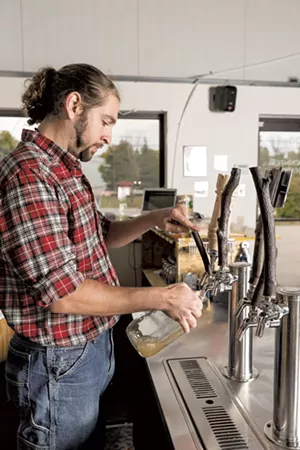 Oliver Parini
Ricky Klein of Groennfell Meadery
"Everything we do here is absolutely dry to the bone," Ricky says, pouring a sample at the tasting counter. "There's a chemical in honey that makes your brain think, Sweet, but it's not," he says of mead.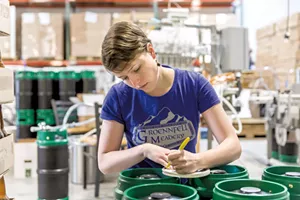 Oliver Parini
Kelly Klein of Groennfell Meadery
Groennfell's four flagship meads vary in flavor, but their base note is an effervescent, featherweight musk that scampers over the tongue — neither bashful nor bold, and tinged with yeast. It's warm and soft, a liquid with the body of a lager, and sweet by association only. "The sweet thing is a real problem for us," Ricky says. "It reinforces false expectations. I don't mind bee references, but I'm not a beekeeper."
In Groton, Artesano mead maker Mark Simakaski — who, incidentally, is a beekeeper but sources his production honey from farms in Westfield and New Haven — says he keeps a similarly secco agenda. "I go for light, crisp, dry [in my meads]," he says. "Because everyone thinks it's going to be heavy, thick, sweet."
Artesano's meads are higher in alcohol content than Groennfell's and made in classic wine styles. They age for a year or more in stainless steel or wood barrels and take about a month to ferment.
During a tasting, Simakaski's Essence Dry Mead carries a snappy minerality; the mead maker says he models it on white table wine. A bubbly cranberry mead reads like sparkling rosé. A test batch of fortified mead is poured from a glass jug behind closed doors, with oak cubes floating on top and sediment swirling off the bottom. It has heavy oak on the nose, caramel and vanilla in the quaff, and a deep, fruity finish — all the hallmarks of a fine dessert wine. The port-style mead will enter production this fall and be ready for Christmas 2015 drinking.
But the wine-style production and branding — Artesano is listed on the Vermont Winery Passport, which takes drinkers to vineyards and wineries around the state — brings its own challenges.
Simakaski says he spends lots of time educating the consumer. "People walk up to me at market, like, 'Gimme your best red,'" he says of giving someone a first taste of mead. "You see the gears turn; they're like, What am I tasting? That's the flavor of mead. That's what it tastes like ... It's nice if your palate does a little work to figure it out."
He describes most of his customers as "people without preconceived notions about what mead is"; open-minded drinkers who can absorb the drink's flavor without superimposing their own (usually sweet) ideas about the taste of honey, or images of sword-swinging Norsemen.
Artesano meads are not the cup of yore, which Simakaski says was likely made from honey and rainwater, served mid-fermentation when the alcohol levels were fairly low and the drink was still sweet. "When you hear about people drinking and drinking and drinking in the mead hall, it was that early fermentation," Simakaski says. "More beer-like."
That early mead was probably closer to what the Kleins make at Groennfell, though theirs undergoes a full fermentation, down to the last drop of sugar. They market it as "craft mead," rather than "honey wine." "Our product isn't really like wine at all," Ricky says. "So to call it 'honey wine' would be really misleading."
Groennfell's goal is to make a drinkable, affordable beverage that people can consume like a beer. "The only way we thought this would work," Kelly says, "was to make the first everyday mead ... When we looked around the market, we saw that there just wasn't anyone making something like that yet."
The Kleins' meads take about a month to produce and cost $9.99 for a four-pack. They say they're courting the kind of people who would drop $12.99 on a four-pack of Heady Topper. "I don't want people who are mead drinkers," Ricky says. "I want people who don't know they're mead drinkers yet. I'm going after the craft-beer people — the guys that go to Mule Bar."
The couple also hopes for the business to grow — as far and fast as possible. Eight months into their operation, the Kleins are poised for rapid expansion. "We're looking to [distribute] out of the state in the beginning of [2015]," Ricky says. "And when we expand, we want to go big."
To keep prices affordable, the Kleins work with economies of scale, which have forced them to look afar for their honey. "We wanted to get Vermont honey," Kelly says. "But when we talked to Chas Mraz from Champlain [Valley] Apiaries, he was like, 'If you guys grow at all, you'd have to literally buy every pound of honey the state produces.' We were like, 'Oh, good point.'"
So Groennfell's honey comes from a beekeeper in Ontario, about three hours away. "The guy's name is Pete," Ricky says. "I don't know his last name; he's one of those spit-in-the-hand-handshake kind of farmers." Working with Canadian Pete means Groennfell can grow to its owners' hearts' content and continue to source honey from the same farm.
At Artesano, Simakaski says he plans to stay small, but every year, he sells all of his annual output — and knows he could sell more if he made it. This summer, he started collaborating with Cold Hollow Cider Mill to produce a honey vinegar, which hit shelves at the Waterbury Center cidery this past weekend.
But Simakaski has grown to the limits of his current building and wants to stay put. "Should I build a warehouse? Do I rent more space?" he wonders aloud. Probably not. "I can make a living here," he says. "I can pay my bills ... [When you get bigger,] you end up managing people to do what you like to do."
The folks at Groennfell are on a different path. With splashy "Ask the Mead Maker" YouTube videos that target the beer-drinking masses, their efforts are aimed at building a honey empire. But both meaderies hope to raise an old goblet to new mouths, unencumbered by the weight of history.
The original print version of this article was headlined "Mead Market"