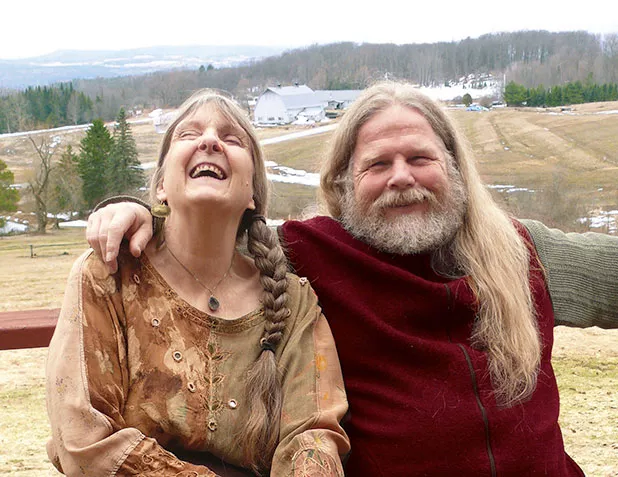 Leanne Ponder & Tim Jennings
After sex, storytelling is probably the oldest form of entertainment known to humankind. We seem to be hardwired to enjoy a good yarn well told. It might take a neurobiologist to explain why the brain finds this so satisfying, but we don't need science to tell us that children are soothed by bedtime stories, that grownups are captivated by books on tape or podcasts … or that Vermonters Tim Jennings and Leanne Ponder can transfix listeners of all ages. They certainly do that in person, but the magic persists on disc, as evidenced by their new recording, The King & the Thrush. More on that in a moment.
Jennings and Ponder are master storytellers and musicians — on concertina and harp, respectively — who live in East Montpelier and make a living from their considerable talents. It's a modest living, to be sure, though why great storytellers are not paid handsomely is a mystery. The pair sometimes performs in a musical duo called Sheefra, but telling stories has been their main gig for more than two decades at festivals, schools, theaters, libraries and other venues across the country.
"Telling" is too neutral a word, however, to convey how Jennings and Ponder deliver a tale. Jennings, an impish fellow with long blond hair and a full beard, has a commanding roar and growl. Ponder, a graceful woman with a braided mane and a penchant for long skirts, offers a feminine counterpoint in an expressive and comforting alto. When Jennings' voice leaps out to startle you, Ponder's reassures. Along with this dramatic emotional counterpoint, Jennings and Ponder have perfected a rhythm of alternating and sometimes overlapping voices that is hypnotic and utterly captivating.
They also choose their material well: folk tales whose themes are universal. While old, these stories never go out of style. On The King & the Thrush, which was recorded before a live audience, Jennings and Ponder offer four "tales of goodness and greed" interwoven with Celtic music. The title story in particular serves their theme well, and I'm not going to give away the reason here. Suffice it to say that adults will filter the conclusion through the lens of modern global tensions — speaking of universal — while even small children can grasp the "moral of the story."
If that sounds heavy, it's not. Jennings and Ponder are frequently funny, and seem to regard their stories' characters with bemused compassion — even the foolish, crass and mean ones. It's no surprise the couple's previous recordings have garnered awards from the American Library Association and the Parents' Choice Foundation, or that they won a competitive Vermont Arts Council Creation Grant to make The King & the Thrush possible. Jennings and Ponder are promoting it with nine live shows around Vermont, this week through January. The official CD release party is this Friday in Montpelier. Do tell.