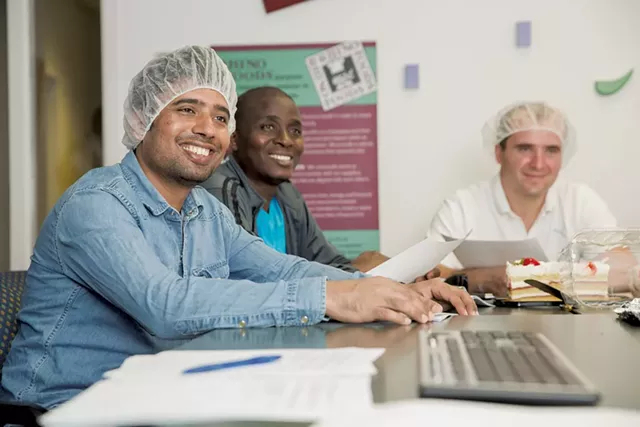 Oliver Parini
Left to right: Pawan Parajuli, Theogene Mahoro and Almedin Dedovic
On the evening of May 31, Chanon Bernstein sat in the conference room at Rhino Foods manufacturing company with a pen and seven certificates. An English instructor from Vermont Adult Learning, he carefully signed each one. The first read: "Theogene Mahoro has successfully completed the Rhino Foods English at Work course."
An hour later, Mahoro and his coworkers — who had completed their shifts or were midway through them — arrived with cakes, samosas and sodas to celebrate the last day of their 18-week English at Work course. When Mahoro received his certificate from Bernstein, he couldn't stop smiling.
"Thank you so much!" he said, beaming.
The English at Work course grew out of a partnership among the private nonprofit Vermont Adult Learning, the Community College of Vermont and the Working Bridges Employer Collaborative.
Launched 10 years ago by the United Way of Northwest Vermont, Working Bridges is a strategic network of employers concerned about the retention, advancement and financial well-being of employees who have low-to-moderate wage jobs. According to director Lisa Falcone, it aims to help primarily workers who face generational poverty.
In recent years, though, participating employers have identified another prominent concern: limited English proficiency among their foreign-born employees.
"It's an issue about safety at workplaces, [and] it's an issue about the ability for people to culturally build a united workforce," Falcone explained. "It's an issue about: How can we move people forward [in] the workplace?"
As Vermont's workforce population shrinks, local manufacturers are increasingly dependent on foreign-born employees. "The only growth is around refugee resettlement," Falcone said.
Since 1980, the Vermont Refugee Resettlement Program has received more than 8,000 people, according to program coordinator Matt Thompson. Most have settled and found jobs in Chittenden County. But, in the past few years, employers from farther afield — Franklin and Lamoille counties — have hired refugees, too, he noted.
Although numerous English classes exist for refugees and immigrants, the reality is that many adults are unable to attend because they're working. Rhino Foods employee Vincent Kabengele is one of them. The former electrical engineer from the Democratic Republic of Congo attended classes for just two weeks at the Sara Holbrook Community Center in Burlington.
"[I was] very tired. It wasn't easy for me," Kabengele said. Although he hopes to return to the engineering field, he faces a formidable challenge. "No English — it's difficult," he pointed out.
"I go to work after three months," said Dzevad Krestalica, who arrived in Vermont in 2000 from Bosnia and has been working at Rhino Foods ever since.
Another Bosnian employee, Sabina Sahmanovic, said she picked up English by watching television. But the most effective way to learn it, she added, was through interaction with her coworkers.
When Working Bridges staff decided to offer a pilot English course, they thought it would be most effective to do so in the workplace. "Bringing classes to [a] worksite is head and shoulders above sending someone, after work, to a local church to go to English classes," Falcone noted.
One advantage: Students wouldn't have to worry about arranging for childcare and transportation, she explained.
So, in March 2016, the United Way and CCV funded a course at Twincraft in Winooski. In it, an adult-learning instructor taught 11 employees conversational English for use in the workplace.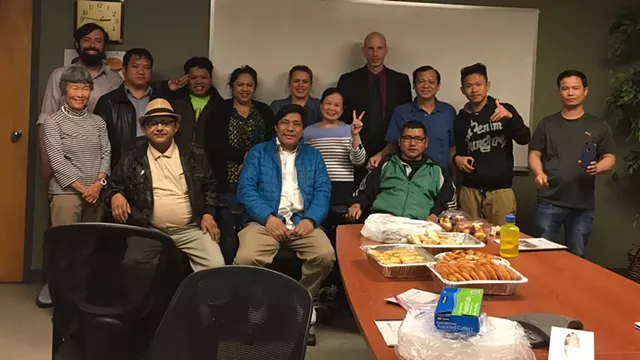 Elizabeth Perrin
Twincraft employees with Chanon Bernstein (standing fourth from right) and Dan Capps from Vermont Adult Learning (standing far left)
Less than a year later, funding from the Vermont Department of Labor allowed more Twincraft employees to take the course and made possible the similar course at Rhino Foods.
The English at Work program is not Rhino's first attempt to offer language support to its employees, said human resource generalist Lorri Miller. The company employs 120 people, a quarter of whom are former refugees.
A few years ago, Rhino invested in Rosetta Stone language education software. There was a "good response at the beginning," Miller noted. But that enthusiasm fizzled out; employees didn't want to burden their coworkers by leaving the production line in order to log on to the program. Even when employees could use it at home, the response was tepid.
Offering an 18-week English at Work course costs about $9,000, most of which covers the instructor's fee. But Twincraft and Rhino Foods are also making an investment. Workers either get paid overtime or spend the last couple of hours of their shift in class. This practice underscores the companies' commitment to the professional development of their employees, said Falcone.
"This is not just about a social service program," she stressed. "Our whole model is based on [the fact that] it's good for business."
Twincraft plant manager Zach Parker admitted that some employees grumbled about the benefits that their foreign-born coworkers received. But management has been resolute about providing language support. Michele Asch, vice president of leadership and organizational development, has a simple message for detractors: "Diversity is our strength. You don't have to agree. You don't have to stay, either."
To prepare class materials, Vermont Adult Learning instructor Bernstein visited both Twincraft and Rhino Foods several times to familiarize himself with employees' responsibilities. He also met with supervisors to discuss their expectations and to customize the curriculum.
At Twincraft, Bernstein taught students how to call in sick, what to do when they wanted to take a vacation, how to report an accident, how to ask for help and how to ask someone to repeat a question. He also gave them small-talk topics to practice with coworkers.
For example, in the days just before the Super Bowl in January, Parker said he was surprised when his Nepali coworkers asked if he thought the New England Patriots were going to win. "Are you a football fan?" Parker asked them. "No, [the] teacher told us to ask you," was one reply.
For the more advanced students at Rhino, Bernstein focused classes on grammar, including verb tenses, pronouns and possessive nouns. Students wrote in dialogue diaries about topics of interest such as sports and their families, and Bernstein responded with follow-up questions.
After 18 weeks, the results were tangible. "I think, overall, the classes have been great for the students," wrote Mike Bolduc, a maintenance technician at Twincraft, in a written testimonial to Parker.
"They've learned a lot and grown a lot, and they seem happier ... because they can actually have a simple conversation such as, 'Hey, how are you? How was your weekend?'" Bolduc added.
Parker also noted that, after the first class in the course, two employees were promoted.
Until he joined Rhino Foods about nine months ago, Pawan Parajuli hardly spoke English at all. But, after participating in Bernstein's class, Parajuli said, "Now, I'm good. I understand everybody." Other Rhino Foods students said they now practice speaking English with their children.
With increased language proficiency comes the possibility that employees may seek career advancement elsewhere, admitted Asch, the Twincraft vice president. "But that's not something [that gets] in the way of us wanting to offer this program," she said. "Part of being a responsible and good employer is to know [that] you're going to lose some people as they gain more skills."
The success of the English at Work program has prompted Vermont Adult Learning and VRRP to work even more closely in recent months. The refugee resettlement agency offers its own English language classes. In order not to duplicate efforts, VRRP will serve the hospitality industry, while Vermont Adult Learning will continue its work in the manufacturing sector.
Meanwhile, both Rhino Foods and Twincraft are eager to continue offering English at Work courses to employees, who are keen to learn more. There may be opportunities for employees to enroll in more advanced classes to become certified production technicians.
For his part, Bernstein told his students at Rhino Foods that teaching them was the "best job" he's had.
"I'm always so happy to be here," he said. "It was so enjoyable."