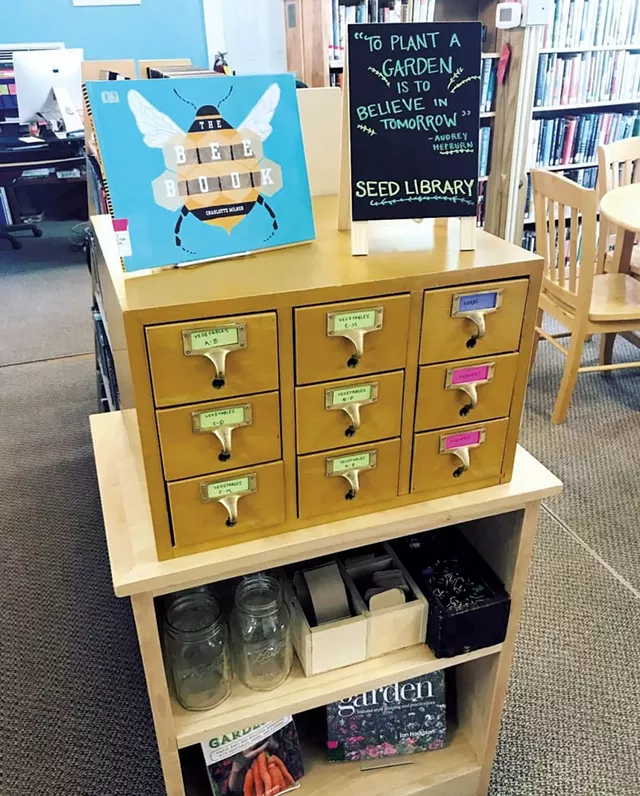 Courtesy of Jericho Town Library
Jericho Town Library's seed catalog
Wish you owned a telescope so you could spend a winter evening checking out the starry skies? A sewing machine to stitch up a child's Halloween costume? Hula hoops for a 6-year-old's birthday bash?
Before you buy these items, ask if you can borrow them from your local library.
Vincent Livoti, the Vermont Department of Libraries' special populations consultant and director of the ABLE (Audio, Braille, Large-print and Ebooks) Library, notes that libraries "serve the interests and needs of our whole diverse community, and those needs often extend beyond books and story time to nontraditional items."
Numerous libraries in the Green Mountain State have enthusiastically embraced this beyond-the-bookshelf lending concept. The Jericho Town Library maintains a "Library of Things," a unique collection that includes a food dehydrator, a canning kit, board and outdoor yard games, a sewing machine, and a juggling kit. Patrons and Homecard holders can borrow nontraditional items for three weeks and renew them three times, unless someone else has requested them. Its seed library, housed in a wooden card catalog and stocked with contributions from local gardeners, can be accessed by any visitor free of charge — no library card required.
Libraries are "community hubs that offer access to new skills, tools and a sense of belonging," said Jericho library director Lisa Buckton. Many items in the "Library of Things" — including the pressure canner, puzzles and games — have been donated by patrons who hope others will benefit from their use.
Snowshoes are a popular item at the Lincoln Library. In warmer months, the library lends out tennis rackets. Librarian Wendy McIntosh says the rackets are used on the town's court, but she's also spied games on the library lawn. Activity packs are Lincoln's newest acquisition — one contains wooden trains, and a second includes an American Girl doll and clothing. These items can be checked out for one week.
Winooski Memorial Library offers garden tools and a tree pruner, seed-saving screens to dry seeds harvested from the garden, and a light therapy lamp to help lift users' moods in the dark days of winter.
courtesy of st. albans free library
A telescope patrons can borrow
St. Albans Free Library patrons are able to explore the natural world with binoculars, a telescope and a microscope — and borrow a GoPro camera to record their adventures. St. Albans' collection also includes health-oriented gear, including a fitness starter kit with dumbbells, a kettlebell set and workout DVD, and a meditation kit that includes a Tibetan singing bowl. Patrons can test out a blood pressure monitor before purchasing their own, or borrow a Dutch oven to simmer soups. Parents embarking on a long car ride can take out the library's portable DVD player, along with DVDs.
Burlington's Fletcher Free Library houses a sizable collection of items — from giant versions of dominoes and Connect 4 to a bubble wand. Families can also sign out novelty cake pans, including a Harry Potter set; a snow brick maker; a garment steamer; power tools; and a bicycle pump.
Quechee Library lends out a glass punch bowl and cups. The set was donated to the library a number of years ago by an elderly neighbor who also shoveled the library walkway and offered her homegrown raspberries and garden produce to the staff. In addition to a cache of e-readers, the library loans a set of dinner and dessert plates to accompany that punch bowl, plus folding tables and chairs.
Most libraries also have free admission cards to Vermont state parks and historic sites, and some offer free or discounted museum passes. Pierson Library in Shelburne, for example, loans passes to the Lake Champlain Maritime Museum in Vergennes, the Birds of Vermont Museum in Huntington and the Wild Center in Tupper Lake, N.Y.
At the Castleton Free Library, patrons can borrow a fleet of five bicycles for adults and children, with helmets and locks. The bikes are due back by closing on the next day the library is open. Library goers can also sign out Frisbees to fling on the disc golf course at neighboring Castleton University — when they need a break from the books, that is.
The Homecard Program
The small size of our state allows librarians to share ideas and resources. In 1991, librarians in Chittenden County created the Homecard Program. Any resident with a library card at a participating library may borrow books and items from any other participating library. The resident's hometown card must be in good standing (so return those overdue books or ante up for the lost ones). Borrowed material must be returned to its original library, and some restrictions apply. Bixby Memorial Free Library in Vergennes, for example, does not lend its museum and park passes to Homecard holders.
The program now includes more than two dozen libraries in Addison, Lamoille, Grand Isle, Franklin and Chittenden counties. Find the list of participating libraries at brownelllibrary.org/find/homecard, or check with your local library for details.
Jennifer Johnson, library advancement assistant at the Vermont Department of Libraries, contributed to this column.