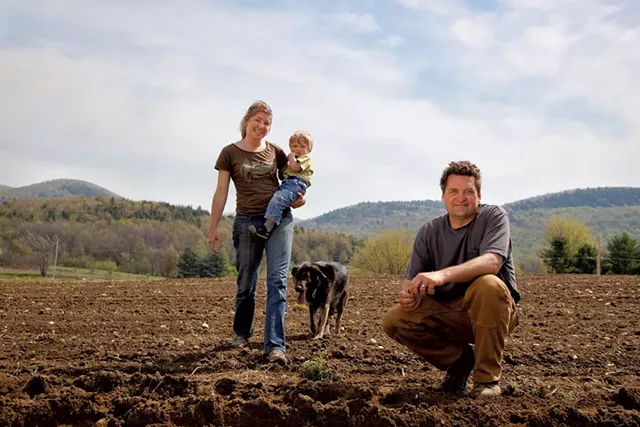 Courtesy Of Natalie Stultz
From left: Keenann, Hans and Eric Rozendaal at Rockville Market Farm in 2010
The family of Eric Rozendaal, a local farmer who died last month, has established a fund in his name at the Vermont Land Trust. The Eric Rozendaal Farm Innovation Award will grant $5,000 a year to a "Vermont farmer who exemplifies Eric's model as a skilled, creative, entrepreneurial farmer," according to the VLT website.
Gil Livingston, former VLT president, announced the creation of the award at a Sunday afternoon event to celebrate Rozendaal's life. The gathering took place at Rockville Market Farm in Starksboro, a diversified vegetable farm that Rozendaal started in 2001 on land conserved by the VLT.
Jan Rozendaal, Eric's father, told Seven Days that Eric's daughter, Louissa, and his sister, Kara Rozendaal Hankes, conceived the idea of creating a farmer's fund to honor Rozendaal.
"Eric was a guy who was always trying to innovate, always trying to do something new and different that would sustain Vermont farming and make it profitable and sustainable," Jan said. "His ideas helped a lot of young farmers get started. We thought it would be an appropriate way to remember him. That's what it's all about."
Nick Richardson, current president of VLT, said his organization is excited to work on a project that will benefit new and beginning farmers. The fund will be "consistent with Eric's life and his work at his farm in Starksboro," he said.
"Eric was somebody we had a deep connection with," Richardson continued. "He was a leader in the local food movement and somebody we thought of as a really shining example."
The financial award will have both symbolic and material impacts, Richardson said: "When you're a diversified farm operation, $5,000 can make a huge difference." He noted that it will be "really worthwhile and interesting" to participate in the creation of the Rozendaal farm fund. "This [fund] will help us in a formal way," Richardson said. "Where do we see the next group of farm leaders? We really need that right now: farmers to build off that base."
Jan said he envisions the annual gift as helping "some struggling young guy who's trying something out of the box ... It's a little something we could do to keep Eric alive in the farming community. That's the goal."
Find more information or donate at vlt.org/eric.