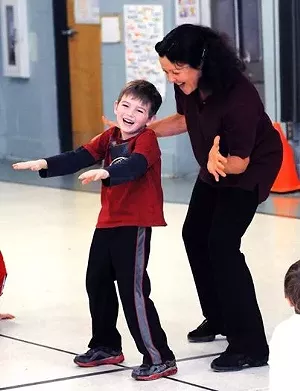 Karen Amirault with a student
If your kids like dance — in all its forms — you might want to consider signing them up for a camp taught by Karen Amirault. The Burlington-based dance teacher has led her own eponymous dance company for 30 years.
For the last 20 years, the group — which performs regularly at First Night Burlington, Kids Day and school assemblies — has included teenagers.
Amirault began teaching kids after a show at Georgia Elementary School in the early '80's, when the school principal encouraged her to apply to become am Artist-in-Residence through the Vermont Arts Council. Since then she's been doing residencies in schools throughout the state. When she comes across talented teens she thinks will work well with her current company members, she invites them to try out for her group.
Through the years Amirault says she has seen a change in her students as young people have gotten more access to digital media. Being able to watch dance moves online — especially breakin' and hip hop styles — fuels kids' interest and makes them more open to trying it themselves, she says.
Amirault's week-long camps give young performers ages 6-18 the opportunity to learn a variety of dance styles. They take place on the Memorial Auditorium stage in Burlington, so participants can really imagine what it feels like to be in front of an audience, Amirault says.[jump]
The daily schedule — 9 a.m. to 2:30 p.m. — is action-packed. In the morning, aspiring hoofers participate in back-to-back classes that focus on African/Latin, Hip Hop and Broadway/Tap styles, with small breaks in between each session.
After a mid-day breather, which often includes lunch in City Hall Park, campers keep it moving in the afternoon. They work in groups to choreograph their own pieces — with some help from Amirault and her assistant, Nick Caycedo — drawing on different styles they've practiced in the morning .
On the last afternoon, there's an informal performance open to families and the public where each camper participates in five dances based on the styles they've learned during the week.
Amirault's camps are open to beginners as well as more experienced dancers, she says. Many of her students return year after year. In fact, assistant teacher Caycedo is a dancer she taught when he was a teen.
"My joy is helping people discover their talents, their range of motion and emotion and the joy of movement," Amirault says. "A lot of people have come to dance saying, 'I'm not a dancer.' My philosophy is that everyone can dance."
For more information about Amirault's summer dance camps, email her at amirault@burlingtontelecom.net or visit
enjoyburlington.com
.